Thomas Seeks His 1st World Indoors Medal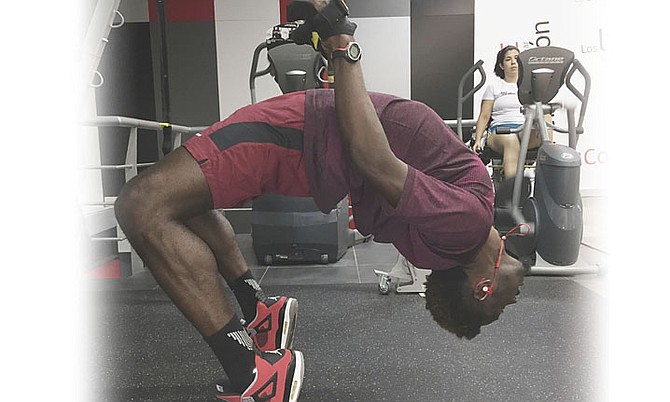 Donald Thomas in training.
#By BRENTSTUBBS
#Senior Sports Reporter
#bstubbs@tribunemedia.net
#With just a little over a week left before the start of the International Amateur Athletic Federation's (IAAF) 17th World Indoor Championships in "TrackTown USA" Portland, Oregon, Donald Thomas said he's looking forward to making an impression at the Oregon Convention Centre.
#"I've been working hard on a lot of the minor stuff so that I can be in peak condition when I get to Portland," said Thomas, who will be one of the nine athletes representing the Bahamas at the championships, scheduled for March 17-20.
#The 31-year-old Grand Bahamian will go into the championships with a personal best of 2.33 metres or 7-feet, 7 3/4-inches, which he posted to finish third in Banská, Bystricaon February 4.
#The performance is listed as the fifth best in the world with only Gianmarco Tamberi of Italy (2.38m/7-9 3/4), Mutaz Essa Barshim of Qatar (2.36/7-8 3/4), Chris Baker of Great Britain (2.36m/7-8 3/4) and Marco Fassinotti of Italy (2.35m/7-7 3/4)jumping higher.
#Thomas will join the other members of Team Bahamas, including Tynia Gaither (the only female) who will compete in the 60m, Adrian Griffith, who will contest the men's 60m, Michael Mathieu and Alonzo Russell in the men's 400m and the men's 4 x 400m relay team that will comprise of Mathieu, Russell, Chris "Fireman" Brown, Shavez Hart, Ashley Riley and LaToy Williams.
#BAAA president and first vice president Rosamunde Carey and Tonique Williams are expected to travel with the seven- member delegation that includes team manager Julie Wilson, head coach Peter Pratt, assistant coach Rupert Gardiner, team doctor Keir Miller and team physiotherapist Khalid Hanna.
#There is a possibility that men's triple jumper Leevan "Superman" Sands and Pedrya Seymour, the women's 60m hurdler, could also make the trip. The deadline for athletes to make the qualifying cut was on Monday, but there's some indication that the IAAF has extended an invitation for both Sands and Seymour to compete, if they are available.
#In preparation for the championships, Thomas said his training has been going very good and he's just waiting on time to compete.
#"I've never got an indoor medal, so I would really like to get one here," said Thomas, whose résumé includes the IAAF World Outdoor Championship title from 2007 in Osaka, Japan, the 2010 Commonwealth Games title from Delhi, India, Pan Am Games' 2011 Guadalajara gold and 2007 Rio deJaneiro silver as well as the CAC Games gold from 2010 in Mayaguez.
#"So it would be a joy to get a medal at a major world championships like indoors. It's definitely going to have the best in the world in my event. It's different from the 100 metres where you have some of the big boys sitting out. In the high jump, all of the top jumpers will show up to compete. So it's going to be a high level of competition."
#With that in mind, Thomas said he just wants to go to Portland and represent the Bahamas to the best of his ability.
#"I'm not going to make any predictions or anything like that, but I'm in tip-top shape and ready to compete," Thomas said. "I didn't compete too much indoors. I mainly focused on training. This is my second year under the same programme, so I just wanted to limit myself to one or two meets.
#"I had some good jumps. I matched my PB (personal best) in my first meet and I went back to the drawing board to work on some stuff so that I can perform here (World Indoors)."
#The World Indoors will also help to propel Thomas to the Olympic Games in Rio de Janeiro in August where he will also be going after his first Olympic medal.
#"That's the ultimate goal, but I have to get past this one first and then I will focus on Rio," he said. "Right now, this is the main focus, so I'm putting all my energy into this, making sure that I am in the right condition. But I'm set and ready to compete in Portland."
#The men's high jump will be a straight final contested at 6:22pm EST on Saturday, March 19.
#Athletes will get to compete for prize money, ranging from $40,000 for first place, $20,000 for second, $10,000 for third, $8,000 for fourth, $6,000 for fifth and $4,000 for sixth place. The relay teams will share the same figures. A bonus $50,000 will be awarded for any world record accomplished.