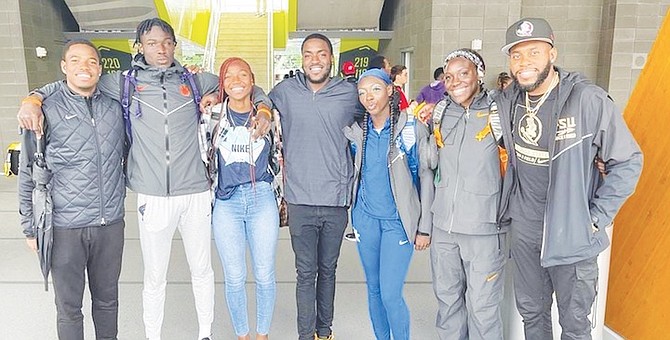 LEEVAN SANDS, far right, with some of the other Bahamian athletes who competed at the NCAA Outdoor Championships.
As of Wednesday, June 15, 2022
#By BRENT STUBBS
#Senior Sports Reporter
#bstubbs@tribunemedia.net
#WHILE he basked in the success of the Florida State Seminoles men's track and field team, Olympic bronze medallist Leevan "Superman" Sands was just as in awe from what he saw from the Bahamian athletes competing at the National Collegiate Athletic Association's National Outdoor Championships.
#Sands, a first year assistant coach with the Seminoles, helped guide Florida State to a fourth place finish in the men's division of the four-day championship last weekend at the Hayward Field in Eugene, Oregon.
#The Seminoles, coached by Bob Braman, came into the meet ranked at number three.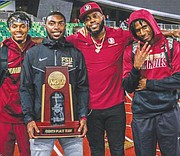 LEEVAN Sands with some of the jumpers from Florida State.
#"It was our best showing since 2012 and I'm happy to have been able to assist in our team success," said Sands, who worked specifically with the jumpers. "I'm very proud of what our team was able to do.
#"I've only been here for the past nine months and the jumpers were able to buy into the programme that I gave them. They said they were so glad to have an Olympian on the staff and that is where they want to go. They want to become an Olympian, but they also want to win Olympic medals."
#The 40-year-old Sands, who is preparing to retire from competing in the sport after winning a medal in just about every major competition, including a gold in the men's triple jump in 2004 and the long jump in 2003, said he's delighted to be a part of the coaching fraternity where he can now pass his knowledge on to the next generation of jumpers. "We have some very good jumpers and I am very pleased about what the future holds for them," Sands said. "We still have some more work to do with them because about four of them will be going to the USA Trials for the World Championships next weekend, so I will be there with them as a coach. "If they make the team, I will be at the World Championships in July to assist them in the World Championships. So I'm excited about the direction that the programme is headed and we look forward to next year."
#While at the championships, the Bahamian national triple jump record holder got a chance to share a moment with some of the Bahamian athletes who competed for their respective schools at the NCAA Nationals.
#"I was very proud of what I saw from the Bahamian athletes," Sands said. "It seems that the programme is heading into the right direction because we have some athletes who can make their presence felt in the future."
#Sands, a former athletes' representative for the Bahamas Association of Athletic Associations, said he was rather impressed by the performances from the athletes, but he was particularly pleased with Shaun Miller Jr, whom Sands believes will be the next legitimate high jumper for Ohio State and Clemson's sprinter Wanya McCoy and Texas Tech's Terrence Jones.
#"I was hoping to see Charisma Taylor (of Tennessee) perform, but a slight injury forced her out of the competition," Sands said. "She will be back next year, so I'm looking forward to seeing what she can do once she gets healthy."
#Always in the mood for recruiting athletes, Sands said he's hoping that one day he can get some Bahamians on the roster of the Seminoles, but he noted that the standard is a little high and in order to get a scholarship, the student-athletes have to be well-grounded.
#"I know we have some Bahamian athletes who can compete for Florida," he said.
#"I will continue to look out for them because I want to have some athletes competing for the Seminoles. But they have to be academically inclined as well. I will continue to pursue Bahamians, but they have to be ready."
#Sands was one of a few Bahamians who were a part of their coaching staff at the Championships.
#Among the others were head coach Lonnie Greene and his assistant "Golden Girl" Debbie Ferguson-McKenzie for the University of Kentucky and Norbert Elliott, the head coach for Purdue.
#Kentucky, featuring Megan Moss, was fourth in the women's standings, while their men's team finished tied with two others for 36th place.
#Purdue didn't score in either division.
#The Florida Gators, coached by Mike Holloway and featuring Denisha Anderson, who ran on the women's 4 x400 metre relay team, won both the men and women's titles.
#The best individual performance by a Bahamian came from Florida International University Panthers' Rhema Otabor, who picked up a fourth-place finish in the women's javelin.