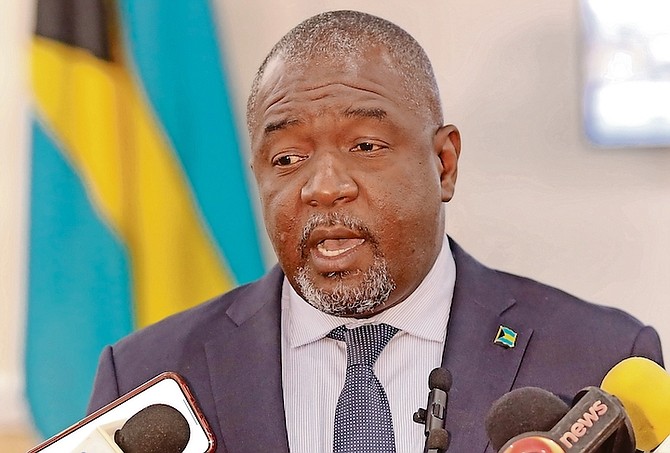 Minister of Youth, Sports and Culture Mario Bowleg.
#By BRENT STUBBS
#Senior Sports Reporter
#bstubbs@tribunemedia.net
#With a 25 percent increase that pushes their budget allocation to little over $5.8 million, Minister of Youth, Sports and Culture Mario Bowleg produced a comprehensive programme.
#Minister Bowleg's much-anticipated contribution to the budget debate in the House of Assembly yesterday touched on the return of the hefty grants to sporting federations, Sports in Paradise, athletes' subvention and the Bahamas Games.
#Quoting from the legendary Nelson Mandela, Bowleg noted that while "sport has the power to change the world, to inspire and to unite people in a way that little else does," it creates hope where once there was only despair and it is more powerful than governments in breaking down racial barriers" as it "laughs in the face of all types of discrimination."
#National Federation Grants
#He assured the national federations, which are in compliance with the Ministry, will have their annual grant of $80,000, which was first established 30 years ago, be restored after it was drastically cut to $20,000 in recent times. All B core sports, according to Bowleg, will receive an increase of 10 percent in their annual grants this fiscal year as well.
#Sports in Paradise
#"My hardworking team and I are revolutionising the Bahamas' Sports in Paradise and sports tourism brand," said Bowleg, the immediate past president of the Bahamas Basketball Federation, which brings a number of events to the country.
#"We are encouraging persons to book it, come to the Bahamas – but when you come, don't forget to bring your sporting gear."
#He also noted that work is being done on the Kendal Isaacs Gymnasium in preparation for the men's national basketball team practice sessions for the second window of the FIBA Basketball World Cup Qualifiers on July 4.
#While Grand Bahamian Chavano "Buddy" Hield, of the Indiana Pacers in the National Basketball Association, has already committed to competing on the team, the BBF is still waiting on confirmation from Deandre Ayton of the Phoenix Suns and Kai Jones of the Charlotte Hornets. The qualifier, according to Bowleg, is just one of the many events that heralds the "Sports in Paradise" schedule over the next few months, including the Hoop Fest Basketball Tournament in December when Los Angeles Lakers' Lebron James is expected to make an appearance to watch his son play.
#Bowleg also commended National Football League player Michael Strachan of the Indianapolis Colts for spearheading a list of NFL stars that participated in the inaugural Bahamas All- Pro Celebrity weekend that also featured Michael Vick, former quarterback and 2010 Comeback Player of the Year; Los Angeles Charges' Keenan Allen, a five-time Pro Bowler and Rashad Fenton, Melvin Ingram and DJ Swearinger.,
#The event was staged on the heels of the Cleveland Browns O-Line players training camp, led by quarterback Deshaun Watson, at the Thomas A Robinson National Stadium.
#The Bahamas and its Caribbean director Greg Burrows are preparing to stage the Babe Ruth Caribbean Baseball Championships, featuring teams from the United States, China, the Caribbean and Cuba, at the newly refurbished Baillou Hills playing field.
#It's expected that more than 20 teams in the under-12 and under-6 age group categories will participate in the five-day tournament from July 7-11.
#Bowleg also signified the commitment by the North American, Central American and Caribbean, headed by Mike Sands, to take their NACAC Track and Field Championships to Grand Bahama August 19-21 at the Grand Bahama Sports Complex.
#Next year, Bowleg revealed that NACAC will bring the 50th edition of the CARIFTA Games to the Thomas A Robinson National Stadium over the Easter holiday weekend.
#The government has earmarked $1 million to ensure that the event is a success.
#In their Blueprint for Change, Bowleg also disclosed that a technical team will be going to the World Athletics' World Championships in July in Eugene, Oregon to present their formal communication to have the World Relays return to the Bahamas.
#Athletes' Subvention
#Having heard the cry of the professional and amateur athletes, who have been pleading for support, Bowleg stated that his ministry will supply a total of $1.4 million into the Elite Athletes Programme to assist more than 100 athletes across 11 different sporting disciplines, inclusive of track and field, swimming, tennis, boxing, cycling, judo, volleyball, basketball, bodybuilding/fitness, golf and baseball.
#"The objective of the 'Elite Athlete Subvention Programme' is to provide financial assistance to our athletes, to reduce the financial burden of cost associated with their training and competition expenses," he said. "This financial assistance programme has proven to be of valuable importance to our elite and developing athletes, as they are now able to focus more on their development rather than having to concern themselves about where the next dollar is coming from."
#Under the (Philip) Davis led administration, Bowleg said they think different and knows the benefits of investing in the country's athletes, coaches and other stakeholders.
#"Sports is one of the vehicles we are going to use to build a better tomorrow," he stated. "To build and prepare our athletes for the world stage, we must start the search at home."
#Bahamas Games
#To that end, Bowleg said they have commissioned a Bahamas Games Secretariat, headed by former Director of Sports, Martin Lundy, who along with his team, are actively and aggressively engaged in assessing, formulating, and executing plans for the return of an exciting and highly competitive Bahamas Games."
#The games, known as the Bahamas Jubilee Games, are scheduled for July 5-16, 2023 in collaboration with the Bahamas' 50th Anniversary of Independence.
#It's expected, according to Bowleg, that 16 sporting disciplines, including softball, basketball, track and field, lawn tennis, swimming, field and beach soccer, indoor and beach volleyball, bodybuilding, boxing, cycling, baseball, youth Olympic sailing, regatta sailing and golf, will take place.
#Teams and islands expected to participate are New Providence, Abaco, Acklins, Andros, Bimini and the Berry Islands, Cat Island, Eleuthera, Exuma and Ragged Island, Grand Bahama, Long Island, Rum Cay and San Salvador and MICAL – Mayaguana, Inagua, Crooked Island and Long Cay. It will be the sixth edition of the mini-Olympic style games that got started in 1989 and continued in 1991, 1995, 1998 and 2001 when the last one took place.
#Special Olympians praised
#Bowleg also commended the Bahamas Special Olympics on their return home on Sunday from Orlando, Florida where they dominated the Special Olympics USA Games. The 23-member delegation, inclusive of Vashni Thompson, Austin Green, Bronson Aranha, Stephen Russell and Deron Forbes, was praised for their stellar performance.
#Bowleg said Bahamas Special Olympics president Gilbert Williams and the entire administration team, parents and volunteers must be commended for their hard work.
#He also singled out the men's national soccer team that he watched on Friday night at the Thomas A Robinson National Stadium where they played and lost 2-0 to Nicaragua.
#The team played their home game in the series on Monday night in Nicaragua, losing 4-0.
#Bowleg also announced that he will not forget his constituency of Garden Hills and will stage the annual Mario Bowleg Care Summer Camp June 27 to July 1 where participants will learn the fundamentals of the games of basketball, volleyball, baseball and swimming.