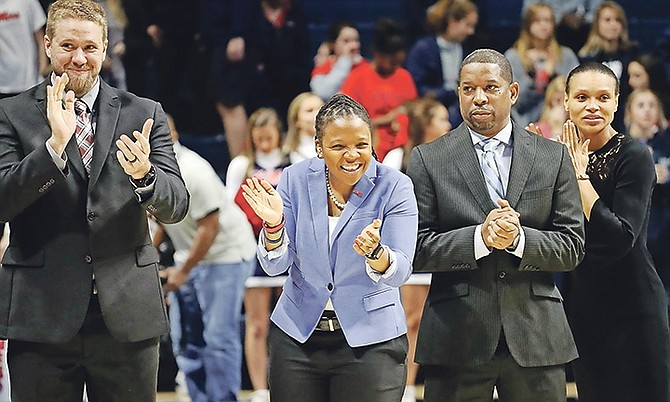 #By RENALDO DORSETT
#Tribune Sports Reporter
#rdorsett@tribunemedia.net
#The Ole Miss Rebels displayed their long-term commitment to head coach Yolett McPhee-McCuin and her direction of the Women's Basketball programme with a four-year contract extension.
#McPhee-McCuin, pictured, who became the Rebels head coach exactly a year ago, agreed in principle to the deal yesterday, which will run through the 2023 season.
#"I can't believe it's been a year already. I was extremely grateful for the opportunity last year, and to this date the feeling has not changed. I would like to thank vice chancellor for Intercollegiate Athletic Ross Bjork and chancellor Larry Sparks for their vote of confidence in my staff and myself as we take the necessary steps to build this program back into a national brand," she said.
#"This year has not looked like success as far as wins and losses, but if you had a chance to watch us play this year it is evident that we are heading in the right direction. There is no doubt that with time and continued effort we will be a force to reckon with in the SEC."
#Her first season as head coach of the Ole Miss Rebels' women's basketball programme came to an end early in the postseason.
#The Rebels fell to the Florida Gators 67-54 in the opening round of the Southeastern Conference tournament.
#The Rebels finished 9-22, 3-13 in conference play. The season was highlighted by the first ranked road win for the Rebels since 2011 when Ole Miss defeated the Kentucky Wildcats for the first time since 2007.
#The team also improved their win total by two from the 2017-18 campaign.
#She also increased the team's profile off the court throughout Oxford, Mississippi, through several community outreach efforts.
#"I sincerely appreciate everyone that has attended a game, reached out to us on social media and supported our programme," McPhee-McCuin said.
#"It is my hope that we can continue to fill The Pavilion and make women's basketball games the place to be in town. Let's make it known to everyone that Oxford loves women's basketball. If you haven't been to a game, let me be the first to invite you to one next season. I promise you, you won't be disappointed."
#McPhee-McCuin made the Dolphins a dominant team in the Atlantic Sun Conference and finished with a 94-63 record (50-24 in ASUN play) and three post-season appearances.
#She became the first Bahamian head coach in an NCAA Division I basketball programme when she was announced as the Dolphins head coach in April 2013.
#Prior to her time at Jacksonville, McPhee-McCuin was an assistant at Clemson from 2011-13, where she was recognised as one of the top assistants in the nation by National Women's Basketball Insider.
#While with the Tigers, McPhee-McCuin solidified her reputation as one of the best recruiters in the country, spearheading the No. 16 class in the nation in her final year at Clemson, which included five McDonalds All-America nominees.
#Before her stint at Clemson, McPhee-McCuin was on staff at Pittsburgh for two seasons in 2009 and 2010. She was part of a pair of postseason appearances with Panthers, who rose to No 14 in the national rankings and advanced to a Sweet 16.
#Her coaching career also includes stops at Portland, Frank Phillips College and Arkansas-Pine Bluff, where she earned her master's degree in physical education with a perfect 4.0 GPA.
#McPhee-McCuin received her bachelor's in business management and administration from Rhode Island in 2004, playing in 56 games over her junior and senior years at URI and helping the Rams advance to the 2003 A-10 title game. She played her first two seasons at Miami-Dade Community College.
#She achieved another first in 2013 when she was named The Bahamas' women's national basketball team head coach, and McPhee-McCuin immediately set out on her path to seek Olympic qualification for the country at the Tokyo games in 2020.
#Under McPhee-McCuin's leadership, The Bahamas finished with the gold medal at the 2015 Caribbean Basketball Confederation Championships and turned in a fifth place finish at the 2017 Women's Centrobasket Championships.