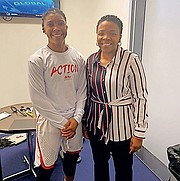 Valarie Nesbitt, left, and head coach Yolett McPhee-McCuin.
#By RENALDO DORSETT
#Tribune Sports Reporter
#rdorsett@tribunemedi.net
#Valarie Nesbitt's season came to a premature end following a surprising announcement by the Ole Miss Rebels' media relations.
#The Rebels dismissed the junior point guard just 15 games into her tenure with the programme.
#"Right now, we're trying to build a positive culture so that we can have a programme that lasts," head coach Yolett McPhee-McCuin told the Oxford Eagle.
#"I'm really focused on above-the-line actions. Right now, Valarie just needs a pause on basketball here with us.
#"Her actions just have not been above-the-line consistently. So I just believed it was in our best interest to move separate ways," said McPhee-McCuin.
#In her last appearance with the Rebels, Nesbitt finished with four points in 13 minutes of the team's 79-35 loss at No. 10 Texas A and M Aggies on Monday to open Southeastern conference play.
#Ole Miss fell to 7-8 on the season.
#Nesbitt was in the midst of making what appeared to be a seamless transition to NCAA Division I basketball following two years at the JuCo level.
#She led the Southeastern Conference in steals at 3.2 takeaways per game and had six games this season with at least four.
#She was the Rebels' second-leading scorer at 11.3 points a game and was also second in minutes played at 24.3 per game.
#McPhee-McCuin did not offer specifics behind the grounds for the dismissal, but only added that Nesbitt's actions did not reflect the way she wished to run the programme. "No level of player, no talent can make me sacrifice what we're trying to build," she said to the Eagle.
#"I've known (Nesbitt) for a long time. She'll probably be a part of my life moving forward, just not in this fashion, right now.
#"I'm just giving her that freedom to be able to right some of her wrongs. And not just right her wrongs, just grow personally. That's just where we are right now."
#McPhee-McCuin and the Rebels now lose a key component in their rotation as they continue a difficult schedule in SEC play. A total of 10 of the SEC's 14 teams currently reside in the NCAA RPI-top 100. Ole Miss holds the nation's 42nd-toughest future schedule, according to the NCAA's strength of schedule rankings.
#Nesbitt became the first Bahamian player signed by McPhee-McCuin in her tenure as the head coach of the Rebels. She has successfully recruited Bahamians to her programmes in the past – Jonquel Jones to Clemson and Shalonda Neely to Jacksonville.
#Nesbitt previously starred at Chipotle Junior College where she averaged 17.1 points, 6.9 rebounds and 3.8 assists per game as a sophomore.
#As a freshman, she was named a Panhandle Conference first team selection when she averaged 10.5 points, 3.5 rebounds and 3.2 assists per game while shooting 46 per cent from the floor in 26 contests.
#McPhee-McCuin was named the head coach of the Ole Miss Rebels women's basketball programme in April 2018 as they looked to rebuild and contend in the SEC.
#In her first season at the helm, the Rebels finished 9-22, 3-13 in SEC play. The season was highlighted by the first ranked road win for the Rebels since 2011 when Ole Miss defeated the Kentucky Wildcats for the first time since 2007. Following her first season, both sides agreed in principle to a deal which will run through the 2023 season.