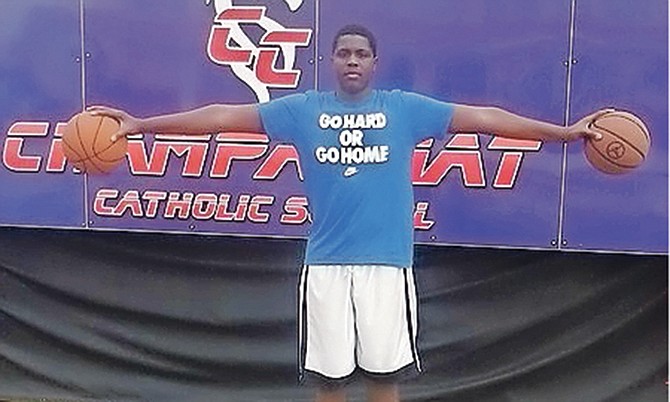 Nashad Mackey
#By RENALDO DORSETT
#Tribune Sports Reporter
#rdorsett@tribunemedia.net
#NASHAD Mackey concluded his collegiate basketball career with the Embry-Riddle Eagles as one of the programme's all-time leaders.
#The Eagles' season ended with an 82-74 loss on the road to Eckerd College and they finished the season at 13-18, 6-14 in the Sunshine State Conference.
#Mackey finished with 19 points and 11 rebounds in the finale.
#In the penultimate game of the season, Mackey played his last home game on the Embry Riddle campus on senior night and posted 27 points with 16 rebounds in a 90-81 win over Palm Beach Atlantic.
#In Mackey's two-year run with the Eagles, he registered 39 double-doubles in 50 career games in an Eagles uniform, averaging 17.2 points, 12.2 rebounds, 2.0 assists and 1.1 blocks per game.
#Mackey's 17.2 points per game ranks third all-time in Eagles history, while his 12.2 boards per outing is easily the top mark in 31 seasons of ERAU basketball.
#As a junior, Mackey produced a number of career milestones and postseason awards. He was named to the All-Conference second team as well as the All-Newcomer team when the Sunshine State Conference office announced the 2017-18 men's basketball postseason awards. Mackey made school history when he became the first Eagles player to earn an All-Conference selection. He had an immediate impact on the programme as they transitioned to NCAA Division II with his record-breaking junior season.
#He averaged 17.3 points and 12.5 rebounds per game, both team leads. In 28 starts, he also set a new single-season double-doubles record with 23 on the year and ended the season with 13 such consecutive games. He posted a total of 350 rebounds, another school record, ranked second in NCAA Division II.
#He finished with nine 20-point games, including one 20-point, 20-rebound game in an upset of No. 10 Barry University. He also shot 88.8 per cent from the free throw line this season, ranked sixth among single-season totals in programme history.
#Mackey transferred to the Eagles and NCAA Division II level after he posted stellar individual numbers and garnered postseason awards at the JuCo level.
#During his stint with the Daytona State College Falcons, he was named the Mid-Florida Conference Player of the Year and was also named First team All-State in the conference as a sophomore.
#"I try to live in the moment and enjoy every minute of life, so I don't necessarily have any plans but a few ideas. Some of my ideas beyond basketball this season is to work on my nutrition and working on my game, giving myself the best opportunity to play at the next level," he said. "Career-wise I am thinking of playing professionally or attending graduate school and pursuing a corporate career."