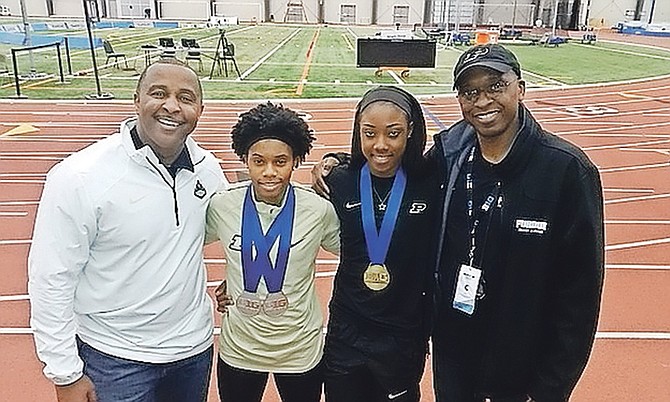 Rolando 'Lonnie' Greene (left) is shown with athletes Devyenne Charlton and Carmiesha Cox and coach Norbert Elliott.
#ROLANDO 'Lonnie' Greene is grateful to have been afforded the opportunity to move from one head coaching job in college track and field to another.
#In his transition from Purdue University to the University of Kentucky, Greene intends to continue to strengthen his Bahamian connection with his coaching staff and the athletes on the team.
#Over the weekend while here to participate in the Bahamas Athletic Foundation's Coaches Professional Development Conference at SuperClubs Breezes, Greene shared a passionate interview on his road to success from a sub-par jumper at AF Adderley High School to one of the elite coaches in the NCAA Division One ranks.
#"When I went to college at Murray State University, I was a bio-chemist major out of AF Adderley," Greene said. "When I went there, the biological science and physics was great. I never took chemistry in high school, so it ran me out of the bio-chemistry class. I realised that I couldn't be successful there.
#"So I ended up not knowing what to do and so I went into career planning and placement and they gave me this multi-talented test to do. I took it and the professor said with the talent that I have, I need to be working with people. I looked at this dude and I said I wanted to be a doctor. That was my flesh, but God had something else in plan and in store for me."
#At grad school at Southwest Missouri State University, Greene said he called Patrick Bailey, who was at Central State Missouri, and he encouraged him to pursue his new found dream of becoming an athletic coach and after he engulfed himself in everything that had to do with the sport, he finally got his first break as an assistant coach at the University of Arkansas.
#"For me, did I ever think I would be a college coach, 'no,' but I know I'm in the place where God would have me to be," he said. "I know that, so I'm just going to continue to be a good steward of what he has blessed me with, holding people to the highest expectations."
#Trying to hold back the tears in his eyes, Greene said he could not have had a better experience than he did for the past six years as the head coach at Purdue where he transformed the Boilermakers' athletic team as the toast of the Big Ten Conference where he earned a number of individual accolades.
#"I'm grateful for that opportunity," he said. "They gave me a shot, they gave me an opportunity when I knew I was ready. I went there for the interview and after I got the job, I was 'Lord, why did I get this job. Why couldn't I get a Texas or Florida or a programme that was banging.
#"But I think when I looked back at it all, he did it that way because of the impact that he was going to allow me to make. I think it was great that way. I interviewed for the Texas job. Notre Dame wanted me to come this year, but I told them I wasn't interested. Then Kentucky and the way they orchestrated it, I just had to work on some things from a professional standpoint."
#That came as a result of the journey that he went through at Purdue. "I would not have done it any other way," Greene reflected. "I thought we were successful, I thought we were making an impact, I thought we were graduating kids with some engineering degrees, business degrees and we had kids that were 10, 12, 16 times All-America.
#Bahamian Devynne Charlton, just to name one, was 12-time Big Ten champion, 12-time first team All-American, Athlete of the Year on numerous occasions.
#One of the highlights during his tenure in Purdue, according to Greene, was not winning titles or helping his athletes to shine, but it was when one of his former athletes returned and introduced his son, whom he named Rolando after him.
#"When he said coach Rolando, I want you to meet Rolando, I just broke," Greene stated. "He could have named his son after his dad, but he named his son after me. And this was a Caucasian kid, this wasn't a black kid. After I pulled myself together, I asked him how is the kid going to go around with a black name and the father said to me, 'he's going to be fine.' He lives in North Dakota as an engineer.
#"Watching Devynne run 7.8 for the 60m hurdles, watching her just barely losing the NCAA title in the 100 hurdles, knowing that she came to us running 13.8 and now running 12.6 and is one of the better hurdlers in the world and watching her make the World Championships as a student in college, knowing that she is getting a marine biology degree.
#Those were considered some of his highlights, coupled with watching another Bahamian Carmiesha Cox go to graduate school and work on her MBA and being a multi-time All-American. Those are the things that Greene said he will cherish for the rest of his life.
#If there was any low point on his pathway, Greene said he had to ask his wife, LaTayna Stewart-Greene, to give up a principal job and follow him to Purdue where he had to convince the athletes there not only to be the best they can be, but at the same token, try not to finish last in the conference.
#"The proof is in the puddling because Purdue is now a nationally respected institution ranked in NCAA division one track and field," he pointed out.
#Looking back at all of the successes at Purdue, Green said he could not have done it without the coaching staff that he was blessed with. He attributed a lot of his successes to persons like fellow Bahamian Norbert Elliott and his wife, who served as assistant coaches. Now in his departure, Norbert Elliott has assumed the head coaching job at Purdue.
#"Norbert was one of my heroes in track and field. When Norbert came home from UTEP as a junior or senior, he came home for high school nationals and I was jumping with a hamstring injury and everybody was gravitating to Wendell Lawrence and Dudson Higgins," Greene recalled.
#"Norbert saw me and he called me to the fence. He asked me what happened to my hamstring and I told him I pulled it. He said move your approach three feet back and run. He said tear the hamstring and jump. That simple advice allowed me to jump 49-feet, 2-inches to get a scholarship to go to college."
#Surprisingly their paths crossed again in the United States where they were assistant coaches. In their conversations, they both agreed that if either of them got the call as a head coach, they would seek each other out to work as their assistant.
#"God just had it that I got the call first at Purdue and when I called him and asked him if he was ready to put his money where his mouth was, he said 'let's do it,'" Greene said. "It was great. But I was amazed at the end of my tenure at Purdue how God worked it out where he put all the cards in my hands and I was able to recommend Norbert Elliott to take over and I gave them all of the reasons why.
#"So that the programme don't die, I recommended that they give him the chair. They might lose a body or two, but they won't have a mad exodus out of Purdue. God just gave me a voice and I was able to use it for good and he was the one. Purdue got it right when they hired him to take over as the head coach after I left.They got it right. The men will be great. The women might take a step back, but they will get it together."
#From one Bahamian assistant to another, Greene said it didn't take rocket science for him to lure "Golden Girl" Debbie Ferguson-McKenzie from the University of Houston as an assistant to join him at Kentucky.
#"She's a Bahamian. They told me I had to hire a woman. She's a Bahamian, but I knew she was out there, so she would have had to tell me no," Greene stressed. "Charity begins at the house. Charity begins at home. She's a home girl. I've known Debbie from she was a little girl at St Andrew's School and I tried to recruit her back then, but I was just too young for coach Pancho (Frank Rahming) to entrust her to me, so they sent her to Norbert, who was an assistant at the University of Georgia."
#Whenever their paths crossed at meets, Greene said he always treated Ferguson to a "turkey leg" meal and so when the opportunity presented itself this year for her to work with him at Kentucky, he couldn't resist and she quite naturally accepted the offer.
#"She's doing an excellent job right now," Greene said. "She's the conduit between myself and coach Hall. So when you have an opportunity to help another Bahamian, who wouldn't. I know I would. You tell me you're from the 242, I would help you. It's just the Bahamian pride, but I know she will do it in an excellent way."
#Like he did at Purdue where he had some outstanding Bahamian talent, Greene believes that they have the next real deal in Bahamian sprints in Divine Parker, who is in her freshman year after competing for St Anne's School.
#"That's our next sprint queen," Greene quipped without hesitation. "I don't care what nobody says, I don't care who you see holding the trophy, that's the Bahamas' next sprint queen, in my opinion. She works directly with coach Hall, but he's excellent with what he does. She is buying in like there's no tomorrow.
#"She's going to be the next one. Shaunae Miller-Uibo is taking the Bahamas to great heights and will continue to do that, but I think Divine is the next one. We have some others out there doing some stuff, but I think Divine will be the next sprint queen in the country. I won't be surprised if she's not at the World Championships next year. She's looking that good and she's only been with us for about five weeks."
#Although he's living out one of his passions as a head coach, Greene believes that if he wasn't coaching, he believes at age 51 years old, he probably would be in ministry preaching the gospel.
#"I probably would be in the pulpit somewhere. I don't know if it would have been here or in the US, I would be in ministry," he said. "But the way I look at ministry, I believe I'm doing it now because I remember when one of my athlete's father was dying from cancer, I was able to pray with him and make him to understand that his father was healed because he went to a better place.
#"To have a kid walk into my office and ask me to pray for their mother, I believe I am in ministry. I don't have to stand in the pulpit, but I know I can preach the word if I have to. So if I wasn't coaching, I would be in people's business preaching the word of God. I just want to be someone who wants to make an impact."
#Motivated by a message on purpose he heard from the late Dr Myles Munroe while he was in college, Greene said he asked God to show him his purpose and it wasn't medicine or law, two fields he was eager to pursue at the time. He said it was making an impact as a coach and that is what he is doing now.
#"I always wanted to retire at age 65, so I think I have about 13 years left to fulfil that," he stated. "Five years from now, I hope to still be coaching, 10 years from now, I want to continue. 15 years, me and my wife will probably be trying to figure out what we will be doing with our grandchildren."
#But, in the meantime as a Bahamian, Greene said if the Bahamas Association of Athletic Associations calls him today to coach the national team, he will jump to the opportunity in a heartbeat.
#"I would be here tomorrow if they say 'Lonnie would you be one of our coaches'", he insisted. "Barring any emergency that would affect my wife or my children or one of my athletes, I would be there every day of the week and twice on Sunday. It will be an honour. Anytime you get to serve your country in any which way, it is an honour. I don't care how simple or advanced, it is an honour."