As of Tuesday, December 13, 2022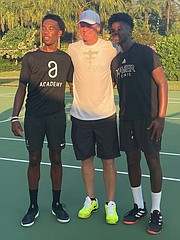 SHOWN, from left to right, are Michael Major Jr, Bahamian tennis legend Mark Knowles and Jacobi Bain at Baha Mar.
#By BRENT STUBBS
#Senior Sports Reporter
#bstubbs@tribunemedia.net
#IT was a rare opportunity when high school sensation Michael Major Jr and collegian Jacobi Bain got to play against some of the top tennis players in the world at home.
#Thanks to legendary host Mark Knowles, that opportunity came on Saturday as the top junior tennis players teamed up to represent the Bahamas in an exhibition match at the third Baha Mar Cup at the Baha Mar Tennis Club.
#The duo fell victim to the American pair of James Blake and Jessica Pegula, but it didn't matter that they fell short 6-3 in the final score. They were both just eager to be on the same court with Blake, one of the former top men's players in the world and Pegula, who is now the top American female player ranked at No.3 in the world. "It was honestly amazing. I've never felt like that ever," said the 16-year-old Major Jr, who is completing his final year at Windsor High School through the Albany Tennis Academy. "I would normally be a little nervous, but as soon as I got on the court, I kept a smile on and I was having fun the whole time."
#Although he and Bain have not played together since he left for college, Bain said he was even more delighted to renew his relationship with Bain. The duo were actually tied at 3-3 in the one set match, but the Americans used their experience to win the next three points to hold on for the win.
#"Jacobi is one of my long-time friends. He just went to college, but we were training at the same academy, so it was good to finally play with him," Major Jr said. "Today was actually the first day I saw him since he came back and so it's just great to play with someone whom I have known for such a long time and who has had such an influence on my life in tennis."
#The feeling was mutual for 19-year-old Bain, who is back home after taking a break from his sophomore season for the Xavier University of Louisiana Gold Rush men's tennis team.
#"It was a great experience. I just want to thank Mark Knowles for putting this on and giving us an invite to play. It was great for me," Bain said. "It was also the first time me and Michael played doubles in a long time, so it was good to get that opportunity here."
#While Bain is preparing to head back to New Orleans before the end of the month, Major Jr is contemplating where he will pursue his collegiate career.
#"I got just a D1 (division one) college offer. I have an official visit in January," said Major Jr, who declined to disclose the location. "Tennis has been good for me."
#Having already gotten his feet wet from his freshman year last year, Bain said he's eager to see what progress he has made for this year.
#"My season has been amazing. I've played some doubles and made finals in regionals in singles and doubles. I forfeited the singles and just played the doubles and lost in the third set," Bain said.
#"Then I played in the ITF Cup and lost in the quarterfinals and finished the preseason ranking at number six."
#Major Jr is coming off a trip to Bradenton, Florida, where he participated in his last tournament two weeks ago where he reached the third round of the qualifying.
#"I thought I could win the tournament, but I got to see what I need to improve on, but there's always a next time," Major Jr said.
#There's another time coming up for Major Jr to compete against the top Bahamian male players when the Bahamas Lawn Tennis Association hosts its annual Giorgio Baldacci Open National Championships, scheduled for December 19-22 at the National Tennis Center.
#The tournament serves as the first qualifier for the men's Davis Cup and women's Billie Jean King Cup teams.
#For Major Jr, the goal is to make the team. But before he participates in the tournament, he will be travelling on Wednesday with Justin Roberts to Jamaica to play against their Davis Cup team before they return home on Sunday. "Me and Justin playing together is dangerous," Major Jr said. "Just imagine if we both make the team along with Jacobi. I think we can do some damage."
#Bain said while the focus is on making the Davis Cup team at the tournament, he will be using it to prepare himself for his return to college in January.
#"I will be out to try my best and see how far it will take me," Bain said. "I still have a lot of tennis to play at college, so I'm really looking forward to that right now. If I make the team, it would be great, but if I don't, I still have college to look forward to."
#While home, Bain said he wants to take advantage of the home-cooked meals that he missed the most. "I miss my conch," he stressed.
#Even though he will be eating more than he would at school and relaxing and having some fun with his family and friends, Bain said he's not neglecting any opportunity he has to get on the court and play some tennis.
http://www.tribune242.com/news/2022/dec/13/major-jr-bain-face-top-tennis-players-world/?news