As of Tuesday, December 13, 2022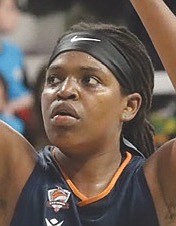 JONQUEL Jones
#By RENALDO DORSETT
#Tribune Sports Reporter
#rdorsrtt@tribunemedia.net
#JONQUEL Jones continues to lead CBK Mersin to the top of the standings in Turkey's Herbalife Nutrition Women's Basketball Super League, and contention in FIBA EuroLeague play.
#Mersin improved to 9-1 with a 90-61 win over seventh ranked Hatay. Jones finished with 29 points and 19 rebounds. She shot 9-14 from the field and 3-5 from three-point range.
#Jones' other Turkish league performances this month include 21 points and 16 rebounds in a 79-75 win over Canyaka and 28 points, 16 rebounds in an 81-80 win over Besiktas. She currently averages 19.3 points, 12.9 rebounds and 3.5 assists per game.
#In FIBA EuroLeague play, Jones continued her dominance but the club fell to 2-3 on the season in Group B. She finished with 18 points and 14 rebounds in a 76-72 loss to Italian club Beretta Familia Schio.
#Jones has four double doubles in four EuroLeague appearances, highlighted by 24 points, 19 rebounds, two steals and two blocks to lead her club to their first win of the 2022 EuroLeague campaign with a 68-61 win over French club Basket Landes.
#Mersin will face Spar Girona on November 16 in Mersin, Turkey.
#Jones highlighted a season of high-priced acquisitions that initially vaulted Mersin to no.3 in the FIBA EuroLeague power rankings, however, they fell to no.6 in the latest edition after a pair of losses.
#Jones is averaging 19.3 points and 14.5 rebounds per game in EuroLeague play.
#In 11 EuroLeague games last season with Russian powerhouse UMMC Ekaterinburg, Jones averaged a team-leading 17.1 points, 9.1 rebounds, 2.3 assists and 1.1 blocks per game.
http://www.tribune242.com/news/2022/dec/13/jonquel-jones-posts-29-points-19-rebounds-blowout-/?news