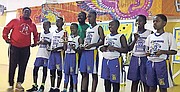 The Teleos Cherubims.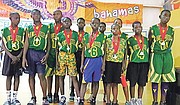 The DW Davis Royals.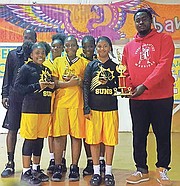 THE Temple Christian Suns.
#THE Temple Christian Suns retained their mini boys and primary girls titles as the Freedom Baptist Academy's sixth annual Majority Rule Basketball Tournament concluded over the weekend.
#And at the end of the two-day tournament on Saturday at the Anatol Rodgers Gymnasium, the Teleos Cherubims and DW Davis Royals faced each other as they split the mini and junior boys' crowns. There were no teams entered this year in the junior girls' division.
#Temple Christian's head coach Keno Demeritte commended Jerome Lucas and Mikhilo Strachan for guiding the Suns to their repeat performances in the primary divisions.
#"Both teams remained poised and focused throughout the tournament," Demeritte said. "They worked together as a unit from players 1-10 with good ball movement, tight defence and they followed instructions to the T.
#"We did not have any selfish ball play, but everyone looked for one another on offence and covered their teammates' back on defence. It was a complete team effort."