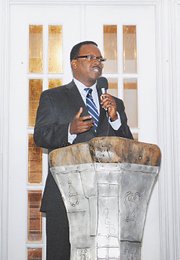 Minister of Youth, Sports and Culture, Dr. Daniel Johnson.
#By RENALDO DORSETT
#Sports Reporter
#rdorsett@tribunemedia.net
#MINISTER of Youth, Sports and Culture Dr Daniel Johnson called Marathon Bahamas an example of the "business of sports," a movement which looks to transcend the Bahamas to a regional and global sporting powerhouse.
#"I must commend the organisers for their ability to, in a short time, establish a world class event. They are doing something that I am establishing in our ministry, not events, but a complete festival. So this is now race weekend. It is not just one race, they are having different aspects of this event to engage fans and participants the entire weekend," Johnson said.
#"As we build we are going to build on the things where we are already number one, which is using our talents and resources in both the arenas of competition and hosting. We are going to continue to build on this fun, family-type challenge atmosphere and environment to get people back to the ideas that sports is fun and it is something that everyone can do and, of course, this is big business and it is an industry."
#Thousands turned out last weekend for Marathon Bahamas Race Weekend which also included the The Susan G Komen Bahamas Race for the Cure 5K.
#The marathon race course was designed to showcase the diversity of this popular tourism destination, including many of the historical buildings of downtown, highlight the splendor of Paradise Island, the beauty and charm of Cable Beach and transverse along the ocean to a dramatic ocean front finish at Arawak Cay.
#Despite the thousands of competitors, a strong Bahamian presence was visible at the winner's podium with Sidney Collie who finished third overall in the full marathon.
#Collie, the top Bahamian finisher for the second consecutive year, finished with a personal record time of 2:45.14s. He claimed the $1,000 prize offered by Bahamian businessman and distance runner Glen Bain given to the top native Bahamian who crossed the finish line.
#Collie has participated in Marathon Bahamas since its inception and began his marathon running career in 2005.
#His first international race was the Jacksonville Bank Marathon and since then he has completed numerous international marathons and half marathons including, 2011 A1A Marathon (where he earned a 4th place finish), West Palm Beach Marathon, Boston, and ING New York.
#"It felt wonderful because I PR'd also and I took about two minutes off my time. It was difficult training for it compared to some of my competition because the gentlemen from the states, they train at a higher altitude, whereas here in the Bahamas we train at the sea level so when they get ahead it's really hard to try to come from behind and catch them, but I just wanted to go out there and try my best," Collie said.
#"I've done three marathons in the states, the New York Marathon, the Boston Marathon but I could not have done this well without the support I had from my family, and my club Roadmasters, my coaches, my church, everyone was very encouraging."
#Sunshine Insurance (Agents & Brokers) Ltd, with MARSH, its international affiliate, in its role as the lead sponsor and organiser for Marathon Bahamas, has fostered a strategic partnership between Marathon Bahamas and Susan G Komen for the Cure, the global leader of the breast cancer movement and the world's largest grassroots network of breast cancer survivors and activists – a partnership that could significantly impact the health of Bahamians, especially in the areas of breast cancer and other women's health issues.
#It is an annual event, not only to raise money for the beneficiaries but also to bring attention to the dreaded disease that affects so many of our Bahamian women. One hundred per cent of the money raised by the Race for the Cure will remain in the Bahamas to fund breast cancer and women's health programmes.