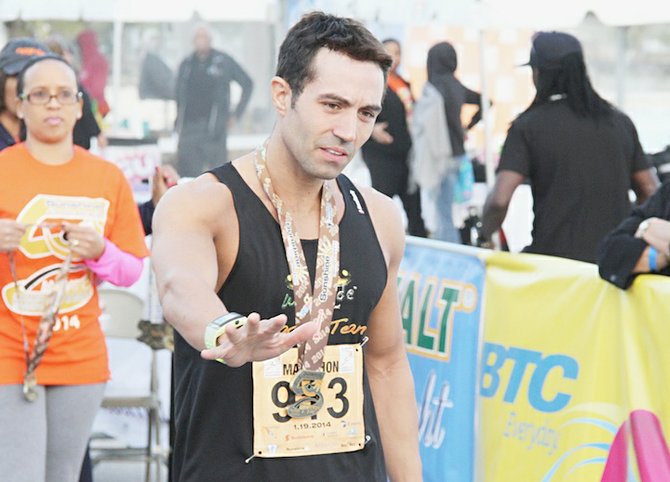 Half Marathon winner Jonathan Volpi.
#SUSAN G KOMEN RACE FOR THE CURE RESULTS HERE
#By RENALDO DORSETT
#Sports Reporter
#rdorsett@tribunemedia.net
#A husband-and-wife duo emerged as the major storyline Sunday morning as Sunshine Insurance's Race Weekend concluded with the fifth edition of Marathon Bahamas.
#Justin and Melissa Gilette crossed the finish line at Junkanoo Beach as the top overall male and female respectively in the 26.2 mile race. It was the 72nd marathon victory for the 31-year-old Gilette in his career, which ranks him No. 5 among the list of international marathon winners.
#The Goshen, Indianapolis native clocked in at 2:36.57s, and despite some slight fatigue heading into the event, was pleased with his performance in his first international marathon.
#"It was a very good race. It was basically a free tour of the island. You sign up for a marathon and you get a tour of the island, it was a very very pretty race. I have run probably about 130 marathons in my life, this is the 72nd marathon I have ever won and this one stands out because at the finish line was like a party going on. It was a little bit slower time than what I was shooting for. I did a marathon last weekend and that coupled with the travel left me a little bit fatigue," he said.
#"This was the first time I've ever done an international marathon and everyone on the course was just cheering us on, whether you were from the Bahamas, or from the USA, or from some other country it was just great that people come out to support this great event and I definitely know that a lot of people that ran today are looking forward to coming back."
#He noted that the atmosphere surrounding the course gave the race a special notoriety, one which will help the event continue to grow exponentially in the near future. "When you are running into the wind you just want to give up, but mentally you have to overcome that and once you hit about mile 16 and a half and you're coming back, and you still see runners going out, and they all cheer for you, you just get a high. The only struggle was the heat and the wind because we're not acclimatised to that," he said. "This marathon will take off. Once they get a little bit more advertising in the USA and people figure out how to get here the cheapest. I could see this being double the numbers in a couple years. The rewards are really unique with the conch shell and the way the medals look, there are people that really like to win unique things."
#Mrs Gilette, 31, was the top overall female finisher in 3:04.01s. "It was a really nice day. It was nice that it was cloudy from a runner's perspective. It took me a while to get in a rhythm so I was a little worried early on I wasn't quite getting the pace that I wanted but I was able to pick it up later in the race and was able to run four minutes faster in the second half," she said.
#"It's exciting. It motivates us to know that the other is out there working hard and training. Since we have two kids we can't run together very often but it's a motivator to get out the door when you know the other one just ran 10 miles."
#The top Bahamian finisher in this year's event was 40-year old Grand Bahama native Keithrell Hanna in a time of 2:49.25s. Hanna dedicated his performance to iconic athletics coach and educator, Errol Bodie Sr, who passed away in 2013.
#Fellow Bahamian Sidney Collie, 34, finished third overall in 3:03.32s. "It means a lot to me. Last year my coach was here and he recently passed away so I wanted to perform well for him," Hanna said. "I just wanted to go out and run my race and not follow the crowd, but just set my pace and as I came back start picking it up. I went with the frontrunner [Gilette] for a couple miles, but I said 'you know something, I'm going to let him go' so I stepped back off his shoulder and kept my pace."
#He looks for his performance, and more participation in Marathon Bahamas to bring more attention to distance running in the Bahamas.
#"We as distance runners, some of them just look down on us, but I think the sport can go to another level. I think this will encourage a lot of Grand Bahamians in particular because they know I came from a mighty long way to get to this point and I'm still going."
#In the half-marathon, a pair of winners from 2013 returned to reclaim their titles.
#Jonathan Volpi, 30, took first place on the men's side in 1:11.27s. The Florida native said despite his role as a frontrunner, he had his goal set on the course record as he charged ahead.
#"I was just out there running. I was by myself the whole way, but I was just trying to set a new course record. It wasn't beach weather but it was good for running. It was really dry out. I was sweating a little bit but mostly it was really dry which is really good for running long distances. I'm from Florida so I train in the heat and humidity all year so to have a nice day like this is good," he said.
#"It is a really organised race. It was bigger than it was last year, which was my first time competing here so it's good to see that it's growing. There were some really good international runners here, which is good."
#On the women's side, Angela Cobb, last year's marathon winner was unable to compete in the 26-mile event due to an injury but took first place in this year's half in 1:26.23s.
#"I had a few injuries going on. I had fractured my vertebrae back in November so I really wasn't training at all. Unfortunately I wasn't able to run the full like I wanted to so I went with the half this year. Going into it I really didn't know what was going to happen. I started running about two weeks ago. For me, I felt out of shape but the weather was great here so it was a great day for running," the 30-year-old Florida native said. "I felt pretty good. I had a little pain going down my leg. I just wish I could have trained for the full, but it happens."
#Sidney Deleveaux was the top Bahamian finisher in the half, second overall in a time of 1:25.28s.
#Saturday morning featured the The Susan G Komen Bahamas Race for the Cure 5K. Hundreds of runners and walkers took to the route which began at Montagu Beach and finished at the Atlantis Resort on Paradise Island. Sunshine Insurance (Agents & Brokers) Ltd, with MARSH, its international affiliate, in its role as the lead sponsor and organiser for Marathon Bahamas, has fostered a strategic partnership between Marathon Bahamas and Susan G Komen for the Cure, the global leader of the breast cancer movement and the world's largest grassroots network of breast cancer survivors and activists – a partnership that could significantly impact the health of Bahamians, especially in the areas of breast cancer and other women's health issues.
#It is an annual event, not only to raise money for the beneficiaries but also to bring attention to the dreaded disease that affect so many of our Bahamian women. 100 per cent of the money raised by the Race for the Cure will remain in The Bahamas to fund breast cancer and women's health programmes.