As of Wednesday, August 24, 2022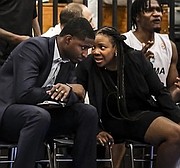 ASSISTANT coaches Mikhail McLean and Yolett McPhee-McCuin chatting on the bench.
#By BRENT STUBBS
#Senior Sports Reporter
#bstubbs@tribunemedia.net
#FORMER Bahamian basketball player Mikhail McLean is happy to take a break from his duties as an assistant director of player development at the University of Houston to serve as an assistant coach on the men's national basketball team.
#McLean is in town for his third appearance on the coaching staff, this time as the Bahamas prepares to face Venezuela 8pm Thursday at the Kendal GL Isaacs Gymnasium in the first game of the fourth window of the FIBA World Cup Qualifier before they head off on Monday to face Argentina in their second game.
#"The expectations are high because we have better players coming out," said McLean, who will assist Golden State Warriors' assistant coach Chris DeMarco, who will serve as the head coach for Team Bahamas.
#"We've been having a training camp and not just showing up to play, so the expectations is high to win for sure."
#Although the team has not been formally named, McLean said they have some talented players to carry the team in this round, including the return of Grand Bahamian Chavano "Buddy" Hield from the Indiana Pacers and Kai Jones from the Charlotte Hornets.
#"It's a different learning opportunity coaching the pros. Scouting and coaching against pros is a completely different ball game, but it helps to sharpen my game so when I get back to college, I can use some of the tip bits from that to my advantage.
#"So, it's been a great experience being out here learning from Buddy and Chris DeMarco and some of the players. It's been a rewarding experience for me so far. I'm really enjoying it."
#McLean has also enjoyed a great deal of success as a player turned coach at the University of Houston.
#He competed for the Cougars men's basketball team in 101 games during his collegiate career with 34 starts. He scored a career-high 14 points against crosstown-rival Rice as a senior and grabbed 10 rebounds at TCU in 2012 before being sidelined with a foot injury.
#In the classroom, he was a four-time member of the conference Commissioner's Honour Roll/All-Academic Team during his career and received the Conference USA Winter Spirit of Service Award in 2013.
#McLean received his bachelor's degree in health promotions in three years from the University of Houston in 2013.
#He followed that with his master's degree in health education from UH in 2015.
#As part of the Houston basketball staff, McLean played a key role in the program's resurgence.
#The Cougars won 20+ games in four consecutive seasons and captured back-to-back American Athletic Conference championships for only the second time in school history.
#The Cougars also enjoyed NCAA Tournament appearances in 2018 and 2019, including a Sweet 16 berth in 2019, and were poised for a third straight NCAA appearance in 2020 before the COVID-19 pandemic cut the season short.
#The programme has also reached national prominence by being ranked in the Top 25 in the Associated Press and Ferris Mowers Coaches Poll for three consecutive years.
#Three starters and seven lettermen return from the Cougars' 2021-22 team, which posted a 32-6 overall record, advanced to the NCAA Tournament Elite Eight, swept the American Athletic Conference regular-season and tournament titles and finished among the nation's Top 10 for the second straight season. "We had a tough year last year in our rebuilding stage.
#"This year, we're really excited about what to expect from this team," he said.
#In the meantime, McLean said he's still keeping his eyes open for the next Bahamian talent to join him and suit up to play for the Cougars men's basketball team in the very near future.
http://www.tribune242.com/news/2022/aug/24/mclean-expectations-are-high-because-we-have-bette/?news