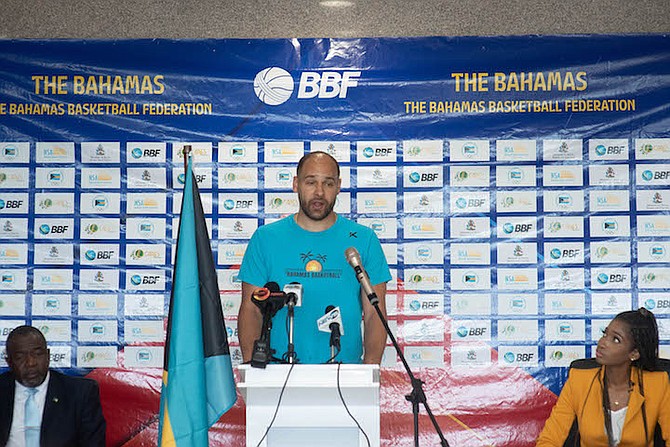 MYCHEL THOMPSON JR speaking at yesterday's press conference. Thompson Jr is expected to be one of the 12 players to suit up for Team Bahamas when they take on Venezuela 8pm Thursday at Kendal Isaacs Gymnasium. Photo top: Moise Amisial/Tribune Staff
As of Wednesday, August 24, 2022
#By BRENT STUBBS
#Senior Sports Reporter
#bstubbs@tribunemedia.net
#WHILE his father, Mychal 'Sweet Bells' Thompson, paved the way as the first Bahamian to play in the National Basketball Association and the first foreign-born to be drafted number one, Mychel Thompson Jr said he's excited to be able to continue to make his contribution as the first member of his family to play for Team Bahamas.
#Thompson Jr, a former player in the NBA with the Cleveland Cavaliers from 2011-2012, is expected to be one of the 12 players to suit up for Team Bahamas when they take on Venezuela 8pm Thursday at the Kendal Isaacs Gymnasium in the first game of the fourth window of the FIBA World Cup Qualifier.
#"It's something I always wanted to do, even though I've been doing it for eight years now," said Thompson Jr about competing for the Bahamas on the national team.
#"It's always great to come home and play in the Bahamas. I love playing in front of the home crowd and with my team-mates. It means the world to me and I'm hoping that I can continue to help take this programme to the next level."
#Meanwhile, his father had a flourishing career that started at the Miami Jackson Senior High School Generals, coached by Jake Caldwell.
#Thompson teamed up with three other Bahamians – Cecil Rose, Osbourne 'Goose' Lockhart and Charles 'Cowheeler' Thompson – and Cuban refugee Julio Gonzalez during their senior year in 1974 to form what was called the "Jackson 5" as they went to a perfect 33–0 record and winning the Class 4A state championship over Winter Park High School.
#Thompson went on to play for the University of Minnesota Gophers where he excelled to the point that he was the number one draft by Portland in the NBA, playing for eight years before he was traded to the San Antonio Spurs in 1987, the same year that he was then shipped to Los Angeles where he earned his two NBA titles.
#During his era, Thompson Jr said his father didn't get to play on a national team for the Bahamas, so the 34-year-old, 6-foot, 6-inch swingman is glad to live that experience for his 67-year-old father, who was a 6-10 centre.
#"I'm glad to be able to put the Thompson name on a Bahamian jersey," said Thompson Jr, who played collegiately for Pepperdine from 2007-2011. "It means the world to my dad. My brother, Klay Thompson (of Golden State) didn't get to do it because he played for the United States.
#"When he sees me doing it, it means a lot to him as well because he never got to play for the Bahamas. So, I'm happy to represent the Thompson family on the national team."
#While he longs for the day that Klay Thompson could get his release from USA Basketball and they could combine their skills on Team Bahamas, Thompson Jr said he's delighted to be on the same court with Hield, another sharpshooter in the NBA.
#"Buddy has a lot of pride. Seeing how much he cares means a lot to me," said Thompson Jr, who watched as Hield worked with the junior players in a camp and a touring team he takes to the USA to compete.
#"He really loves this country and the things he does for this country is just remarkable. He's a great guy and a great player. I'm just so happy that he's decided to come home and play for the team while I am playing on it."
#He encouraged the Bahamian public to come out and cheer on Team Bahamas on Thursday night.
#The team then heads off to face Argentina in their second game of the window on Monday night.
http://www.tribune242.com/news/2022/aug/24/mychel-thompson-jr-excited-be-playing-his-country/?news