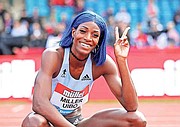 Shaunae Miller-Uibo
#By RENALDO DORSETT
#Tribune Sports Reporter
#rdorsett@tribunemedia.net
#Shaunae Miller-Uibo and American Allyson Felix will add another chapter to their rivalry today when they face off in a new initiative for World Athletics – the 'Weltklasse Zurich Inspiration Games.
#The reigning Olympic 400m champion and Diamond League 200m champion will compete against Felix and Mujinga Kambundji of Switzerland in the 150m from their respective locations.
#"We're just very excited that we are able to put on a meet, to be able to compete and just put on a show for everyone that's watching. It's been a weird and tough year but I think that we are all going to have some fun with it and put on great performances," Miller-Uibo said in the pre-meeting press conference.
#"It'll be tough doing a time trial by ourselves, and that's exactly how I'm looking at it going into it. With me I'm usually training with the guys and I'm always trailing someone and always running with someone so I think it's going to be a different feel but I'm really excited for it and hoping for the best."
#The meeting is being staged using seven different venues around the world and involves 28 athletes in eight events.
#Miller-Uibo will race out of Clermont, Florida, while Felix – the six-time Olympic champion – will race from Walnut, California and Kambundji competes in Zurich, Switzerland.
#According to World Athletics, a software system will be built around the start guns, which will be synchronised and operated centrally from Zurich. The race will start at the same global time in the three venues – a first in athletics.
#"I did have a few questions on how it was going to be set up but I was also very thrilled. Obviously it was the first notice of a track meet for us. I thought it was going to be exciting and fun and we get to put on a performance for a crowd and the spectators," Miller-Uibo said.
#"I'm one that feeds off of the crowd big time so it is going to be a little bit difficult. Like I said I'm taking it in as a time trial so I'm just going to go in there, be focused, locked in, and just trying to give a good 150….I'm not one that really gets nervous, especially for one offs. I get nervous in practice, but it's when we have continuous sets so it's going to be interesting. I love one off runs and I'll see how it goes."
#Viewers will watch them race in a synced-up three-way split-screen.
#"The thing I'm going to be worried about is not knowing where your competitors are at. We're so used to being in the same race with each other and feed off of one another so it's going to be just hitting the gas until you hit the finish line and see exactly where you place," she said.
#"I'm glad that they were able to put on the meet for us to be able to compete and bring inspiration to all those during this pandemic. I'm just really excited with it, have fun with the rest of the season and refocus for next year," she said.
#Miller-Uibo comes off a July 4 performance at the Showdown in Otown Meet at the Montverde Academy in Montverde, Florida where she won both the 400m (50.52 seconds) and 200m (22.61).
#"Im very pleased with it. We were happy that our coaches were able to come together and put on a meet for us in the Clermont area and so we were able to get one in and see where we are at and I think [my coach and I] were very happy with it," she said.
#"I'm just really happy to be back, competing and being able to let loose. I think that's going to be the main thing. I'm hoping that the weather holds up, it's been raining occasionally here in Florida. I'm hoping the sun is out and we can put on a great performance."
#It was her first meet since October's World Championships and like all athletes, she noted her struggles adjusting to the "new normal" amid the COVID-19 pandemic.
#"I wouldn't say that I'm as sharp as I would be around this time, right before the pandemic we were gearing up to being in the best shape of our lives. After the pandemic things happened to slow back down, we've been working on a few different things, strengths being one of them but even with that things are not where they were so I guess we will have to see exactly what type of shape we are in," she said.
#In addition to her signature events, Miller-Uibo has been a world leader in the 150m in recent years at the Adidas Boston Games. She won the event in 2018 in a time of 16.23, a record time performance on a straight track. And she repeated as the 150m champion at the 2019 event in 16.37.
#Following the disappointment of the postponement of the Tokyo Olympics to 2021, Miller-Uibo said the recent developments with competition gave athletes a goal to train toward when motivation could have been lacking.
#"I guess it could go both ways. On one hand, I guess it was really good that we got a chance to get a little bit better at certain things. But on the other hand, everyone was really prepared for this year, we were putting in so much work and to see it all kind of just crumble away, it was a little bit devastating. We are just going to get ourselves back up and get ready to compete next year. As far as the plans, that's all up to coach, we will sit down and talk about it and we'll see how things go," she said.
#"There was a bit of dip as far as the motivation goes. After the Olympics had been postponed I think everyone kind of took a little drop. For us it's just working on different things, there are so many different things we have to work on, we're not perfect, so we're working on those things and trying to get as great as we can at them. The motivation is still there for me, just taking it one step at a time.
#The Inspiration Games are a part of the Wanda Diamond League. The format is a partnership between World Athletics, the Wanda Diamond League, Swiss Timing and broadcaster SRG SSR.
#"I loved the idea right away, I've just been training and training and training so anything to break it up. Out here in California there is no real race possibility so this seems like something great, I just loved the concept, it's different, it's creative and you just have to figure out how to get it done," Felix said.
#"I'm not really sure what to expect, I think it's the first time we've done anything like this. So I'm just approaching it to have fun and hopefully give people something to watch and be entertained by. I think we've all missed sports so much and I think this just reinforces the importance of sport and what it does to bring people together."