Shaunae Finishes Second In 150m – As Athletes Compete From Different Locations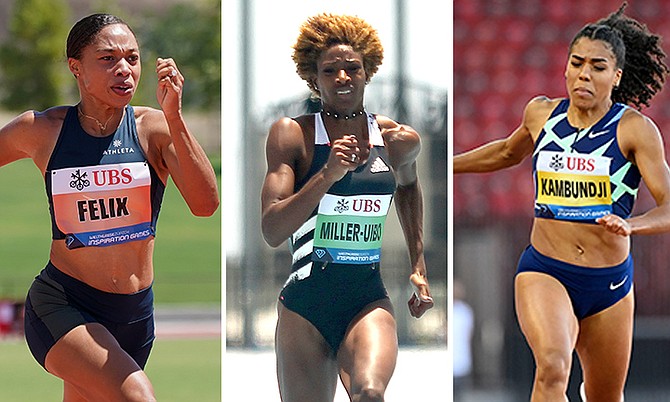 Allyson Felix, Shaunae Miller-Uibo and Mujinga Kambundji compete in the 150m.
#By BRENT STUBBS
#Senior Sports Reporter
#bstubbs@tribunemedia.net
#American Allyson Felix came out on top in her rematch with Bahamian Olympic 400 metre champion Shaunae Miller-Uibo as they competed against Switzerland's Mujinga Kambundji in the 150m at the Welklasse Zurich Inspirational Games on Thursday.
#The event was in a new format where the athletes got to compete in the same race, but in different locations. It was one of seven events contested.
#Felix crossed the finish line first in 16.81 seconds in Walnut, California; Miller-Uibo, competing out of Bradenton, Florida, was second in 17.15, while Kambundji, the World Championships' 200m bronze medalist, was third in 17.38 as she competed in Zurich.
#"I'm very happy with it (results)," Miller-Uibo said. "I will give God thanks for me coming here and competing again.
#"It was a fun race. The 150m is obviously not as taxing as the 400, but it was really fun."
#Miller-Uibo and Felix last competed head-to-head at the 2017 World Championships in London, England where Miller-Uibo faded down the stretch for fourth place as her legs buckled in a bizarre finish.
#Felix went on to secure the bronze medal behind American gold medalist Phyllis Francis and Bahrain's silver medal Salwa Eid Naser. In the meeting before that, Miller-Uibo won the gold at the 2018 Olympics in Rio de Janeiro, Brazil.
#This year, Miller-Uibo and Felix were hoping for another clash at the Olympics in Tokyo, Japan, but the games were postponed until July, 2021 because of the spread of the coronavirus.
#Coming off her defeat to Naser at the 2019 World Championships in Doha, Qatar, Miller-Uibo said she just wanted to get a chance to compete before she prepares for next year.
#"It's good just to get some meets and get to compete, but the main focus is going to be next year," she said. "I'm using (this year) as a building year."
#Felix, the most decorated American female athlete of all time, said the race was a strange one, considering that she didn't have any teammates as she normally does in practice.
#"It's hard to challenge yourself, so I think the big thing was just running solo," she said.
#But Felix said she was just glad that she was able to inspire people through her performance.
#"It was really important (to inspire people through the Inspiration Games)," she said. "I think we see the hardship everyone is going through and we just wanted to bring a little bit of joy, pause a moment and appreciate the support."
#In competing in her first race of the year, Kambundji said her start was okay, but at the end it got a little harder.
#"Maybe later in the season, I could do better," she stated.