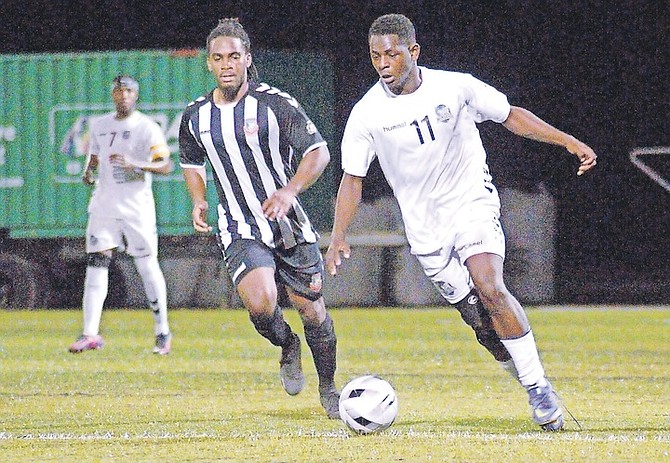 UNIVERSITY of The Bahamas midfielder Ronaldo Green (white 11) dribbles the ball up the field. Green scored three goals as The Mingoes lost 5-4 on penalty kicks. (UB ATHLETICS)
As of Wednesday, January 25, 2023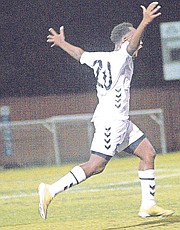 UNIVERSITY of The Bahamas midfielder Collins Ngigi (white 20) celebrates his first goal of the season. (UB ATHLETICS)
#THE University of the Bahamas Mingoes Men's Soccer side was knocked out of the Bahamas Football Association Hummel Cup competition, losing to Dynamos 5-4 in penalty kicks after the match ended with a 5-5 tie.
#The match was important match for The Mingoes as Dynamos handed the team its last loss of 2022.
#The Dynamos started the match off fast and scored early in the 10th and `18th minutes.
#Mingoes midfielder Ronaldo Green responded with a brilliant goal in the 26th minute and then scored another in the 33rd minute to tie the match at 2-2.
#In the 42nd minute, midfielder Nathan Well scored with a spectacular bending corner to put The Mingoes up 3-2.
#Three minutes later and just before the break, Collins Ngigi scored his first goal of the season and put The Mingoes up 4-2 to end the half.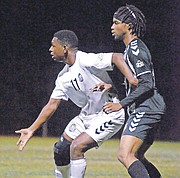 UNIVERSITY of The Bahamas midfielder Ronaldo Green (white 11) calls for the ball. (UB ATHLETICS)
#Coming out of half time, Dynamos responded fast with goals in the 47th, 54th and 58th minutes to give Dynamos the 5-4 lead.
#In the 65th minute, Green was tackled in the box for a successful penalty kick to tie the match at 5-5 where it would end and go to penalty kicks.
#Green was sent out first for The Mingoes and surprisingly missed – the only miss for not only for The Mingoes but the entire penalty shootout.
#Dynamos took the match 5-4 in penalties and advanced to the next round of The Hummel Cup.
#Head coach Dion Godet said the team had several opportunities to put the match away and win it in regulation.
#"We allowed the game to go into penalty kicks and I say allowed because we had a lot of opportunities on offence tonight," he said. "Dynamos had a lot of opportunities as well and it was a very entertaining game and congrats to Dynamos who move on. Tonight we simply didn't finish all of our opportunities and we had a couple of defensive breakdowns.
#Godet said the match does set the tone for the rest of the regular season.
#"It was our first game back after the break and I saw some positive stuff from the guys and hopefully we get better and build on that and get back on a winning streak in very short order."
#The Hummel Cup is a tournament that starts in the middle of the season and seedings are based on standings at the Christmas break. The tournament then runs at the same time as the regular season and has its own trophy.
#The Mingoes next play Renegades in regular season action on Sunday, February 5 at The Roscow A.L. Davies Field.
http://www.tribune242.com/news/2023/jan/25/mingoes-lose-penalties-after-5-5-thriller/?news