Programme aiming to expand operation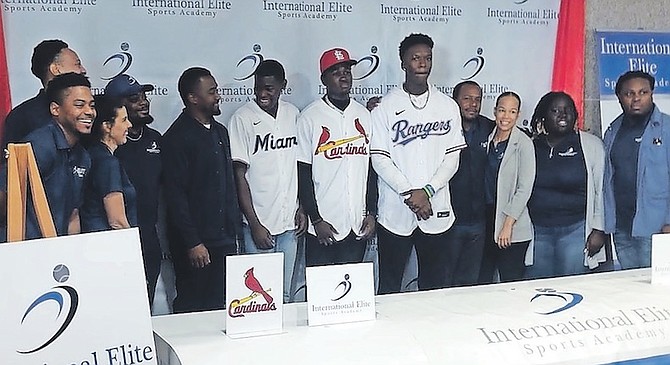 I-ELITE professional players along with coaching staff.
As of Tuesday, January 24, 2023
#By BRENT STUBBS
#Senior Sports Reporter
#bstubbs@tribunemedia.net
#SINCE the inception of the International Elite Baseball Academy in 2012, coaches Geron Sands and Albert Cartwright have not just signed players to professional baseball contracts, they have also secured athletic scholarships to high school and colleges in the United States.
#Over the past week, I-Elite signed four players to professional contracts, pushing the total to about 20. Cartwright said it's just as testimony to the fact that the programme is working and is growing in leaps and bounds.
#"I think, with the challenges that we've faced in the past two years with Covid-19 and being able to get over that obstacle, it says a lot for us to be able to still get the deals for the players," Cartwright said. "So it's exciting to see the progress they are making as they trust the process."
#Sands said it's just a part of the mandate of I-Elite.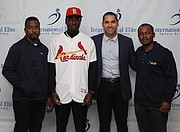 ANDRU ARTHUR, the latest signee, is shown with coach Albert Cartwright, Cardnals' international crosschecker Damaso Espino and coach Geron Sands.
#"We kind of look at turning pro as a big accomplishment when it's really not," Sands said. "I think kids going to school and getting their degrees is just as good as getting into the pro ranks. While getting an education, they still get to play baseball. So what we try to do is to find out where the kids fit and then we place them in the direction to achieve their goals."
#When they got started, Cartwright said not too many people believed in what they were trying to accomplish and so it was a challenge to get themselves established. But he noted that he's pleased with the progress they have made so far.
#"Back then, we had to change the scope of Bahamian parents in terms of trying to take a different look at the route that we are taking to take to get these players to play professional baseball," he said. "So I'm confident that as we continue to grow, more people will believe in us and we can continue to turn this thing up another notch."
#Sands, who worked as the manager of the Bahamas national team that participated in the fourth Caribbean Cup held in the new Andre Rodgers Baseball Stadium in December, said they are now looking at expanding their operation by taking their summer league teams to play in the USA, while they will also bring in some teams to compete in the new stadium.
#"We want to expand baseball from the youth level to adults," Sands said.
#I-Elite currently have about 20 players enrolled in their programme in Fox Hill. With the departure of the four new pro signees, Sands said they have to recruit about seven players to compliment their operation.
#"I-Elite is all about helping young people achieve their goals through sports, in this case, it is the sport of baseball," Sands said. "There are a lot of scholarships out there to continue their education, so all we want to do is give our support and input to help young Bahamians achieve their goals through sports and education."
#Cartwright, a former minor league player, said they are elated to open the eyes of these players to all of the opportunities that are available for them outside of The Bahamas.
#"Our goal is to take baseball to the next level, whether it's high school, college or the pro ranks and give guys the opportunity they might not have been afforded before," Cartwright proclaimed. "We just want to open their eyes to the baseball world on and off the field because at the same time, a lot of these young guys come in at 11 and 12 and we have to mentor them to become young men and better guys in our society."
#Each player who signs their contract goes to the Dominican Republic for their first sessions with their new clubs and then they prepare for the rookie level of competition. Depending on where the leagues are situated, they move to the United States to play for the affiliated teams in the organisations.
#"If they don't make it, all of these guys have college scholarships attached to their contracts," Sands said. "That's one of the first things we do when we negotiate for them. All of them have a college scholarship attached to their contracts, so if something happens while playing baseball, they have the opportunity to go to college and get their degree."
#While there is an educational component to the programme that is led by Danielle Sands and Arlene Major, Sands and Cartwright do a lot of their instructional work with the players on the field at the Pinewood Park.
#The other coaches assisting in the programme are Stephen Curtis, Pedro Dean, Aneko Knowles, Donovan Cox (in Grand Bahama), Marcian Curry (in Florida) and Martyra Turnquest (who deals with strength and conditioning).
#And for the past year, coach Dachye Stubbs had been working with the girls softball programme.
#Interested persons wishing to get their children involved in the programme, which also includes softball for girls, can contact I-Elitesports.com on Instagram, gmail or facebook.
http://www.tribune242.com/news/2023/jan/24/professional-contracts-four-i-elite-players/?news