MAKING HISTORY: Team Bahamas members at the International Automobile Federation (FIA) Motorsport Games at the Circuit Paul Ricard in Marseille, France.
As of Thursday, October 27, 2022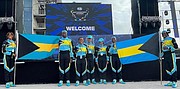 TEAM BAHAMAS at the International Automobile Federation Motorsport Games at Circuit Paul Ricard in Marseille, France.
#By RENALDO DORSETT
#Tribune Sports Reporter
#rdorsett@tribunemedia.net
#Team Bahamas is poised to make history for the local development of the sport when they compete in the 2022 International Automobile Federation (FIA) Motorsport Games.
#The seven-member team of Dominick Robinson, Jashai Burrows, Caden Burbridge, Chris Bain, Maria Scott, Gisele Liriano and Romando Hudson are expected to compete against drivers from 72 countries at the Circuit Paul Ricard in Marseille, France. Hudson, Bain, Burrows and Liriano are scheduled to compete in the four-hour Karting Endurance race.
#Top co-ed competition will also feature teams from Chinese Taipei, Hong Kong China, Peru, Georgia, Uzbekistan, United Arab Emirates, Israel, Malta, Poland, Portugal, Belgium, Spain, Slovakia, Czech Republic, and the United Kingdom. Each will compete in identical Tillotson T4 machinery. Official practice will commence on Friday, October 28, ahead of qualifying on Saturday morning. The four-hour medal race will take place at 11:30am on Saturday. Burnbridge and Scott are scheduled to compete in the Karting Slalom competition. The entry list includes 21 teams competing in a parallel slalom course in relay format. The co-ed event features drives 14-16 years old.
#Teams must complete three laps – one test and two timed runs – to establish an overall leaderboard.
#The fastest teams will then progress to the knockout phase of head-to-head time trials, culminating in the final to determine the medal winners.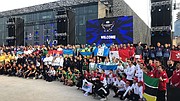 #The Bahamas will compete alongside Poland, Hong Kong China, Peru, Germany, Estonia, Slovakia, Malta, Spain, Georgia, Uzbekistan, Nigeria, Kosovo, Hungary, Albania, Israel, Ukraine, Belize, Canada, Netherlands, and Belgium.
#The Karting Slalom competition begins on Friday and concludes with the medal rounds on Sunday.
#The multi-discipline FIA Motorsports games return to competition for the first time since 2019 due to the COVID-19 pandemic. The Karting segment of the event has grown from 30 contested events in 2019 to 57 this year. Karting was also featured as a demonstration sport at the 2018 Youth Olympics in Buenos Aires, Argentina.
#In total, this year's event will feature 10 new disciplines, and The Bahamas will be one of 29 first time countries participating.
#At the opening ceremony, Robert Reid, FIA Deputy President for Sport, said the growth of the sport and its diversity should be celebrated.
#"[At the FIA] we're first and foremost a federation of member clubs. We stood on a manifesto of regional empowerment and [national] sports clubs are very important to us. To see so many of them here, not just European clubs represented but clubs from all over the world is great. We also stood on a commitment to double motorsport participation, so the grassroots are very important to us," he said. "Motorsport is expensive at the top and it doesn't have to be at the bottom end, so it's important to celebrate that at events like this one. The fact that nations have come even with one competitor is brilliant. Well done to everybody who's come along, to all the countries for putting the teams in, and to the competitors for being here. You couldn't have a better display of equality, diversity and inclusivity than we've seen tonight."
#Events will be live streamed on the official FIA Motorsport Games YouTube channel and Facebook page.
http://www.tribune242.com/news/2022/oct/27/motorsport-mania/