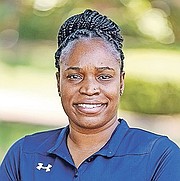 Tacara Moxey
#By BRENT STUBBS
#Senior Sports Reporter
#bstubbs@tribunemedia.net
#The rich legacy of Bahamian student-athletes and coaches continued at Saint Augustine's University (SAU) in Raleigh, North Carolina with Tacara Moxey being named the head coach of the Falcons' women's volleyball team.
#The former track and field star, who excelled in volleyball for the Rattlers at CI Gibson, has been elevated from assistant coach to the head coaching job with immediate effect.
#"It feels great. It feels great," were the first words echoed by Moxey in her interview with The Tribune. "The love and support and people just believing in me is awesome. "I've been coaching for a while and when the opportunity presented itself, I just spoke it into existence. A lot of people felt like I was the right person suited for the job and that they needed more people like me, so I'm very humbled to have been given this opportunity to carry on the Bahamian tradition here."
#Moxey, who graduated from St Aug in 2003, helped the Lady Falcons pad their conference championship total. As a standout player, she helped the volleyball team win three consecutive CIAA championships.
#The Lady Falcons also claimed a conference crown during her first stint as assistant coach. Last year was her second tenure on the Lady Falcons' staff. She was an assistant coach at then Saint Augustine's College in the mid-2000s.
#Last year was her second tenure on the Lady Falcons' staff.
#Moxey is well known on the international and club levels as well. She was captain of the junior national team and played on the senior national team in the Bahamas, her home country.
#She follows in the footsteps of her former coach Edrick 'Drip' Poitier, the last Bahamian coach to head the Falcons' programme.
#Among the others who coached at St Aug were the late Tom 'the Bird' Grant, Cynthia 'Mother' Pratt and Leslie 'Russia' Cartwright.
#"I know I have some big shoes to fill," said Moxey, who thanked her high school volleyball coach Michelle Bailey, Margaret Albury, Edrick Poitier, Leslie Cartwright, Raymond Wilson and Mother Pratt for the role they all played in pushing her in volleyball career. "This is not something that I am going to take lightly. I'm going to put my all into it and just develop the girls as I give back to the programme that has helped to develop me to where I am today."
#With one player currently on the Falcons roster in senior Chandra Mackey, a native of Abaco, Moxey said she will definitely be returning home to recruit some potential players to join St Aug's.
#"We've always had a volleyball legacy here at St Aug and so I want to get it back to where it used to be," she said.
#"I want to be able to give some more Bahamian ladies a chance to get a higher education and to display their volleyball talent at the next level."
#She has coached several club teams and currently coaches N.C. Academy, which captured the City of Oaks Challenge 16-and-under division crown this year.
#All in all, Moxey has logged some 13 years of coaching on her résumé. After graduating from CI Gibson in 1997, Moxey went to Oklahoma. Then in 2000, she enrolled at St Aug. After graduating from St Aug, she stayed on as an assistant coach and has also coached in the club system in Raleigh.
#"I love it. Volleyball has done so much for me. I've been around the world and I've met people from different cultures, so it has afforded me a wealth of experience," she stated.
#"I would love to be able to be a blessing to somebody because of what it did for me and my family. So I will definitely be looking at helping out as many Bahamians as I can."
#Due to the coronavirus, the Falcons' season has been suspended for the fall and will be pushed back to spring of 2021. Classes at St Aug, however, will commence on campus August 5.
#Moxey, 40, now joins Grand Bahamian Yolett McPhee-McCuin as a Bahamian female head coach of a sports athletic programme in the United States. McPhee-McCuin is in her third season as the head coach of the Ole Miss Running Rebels women's basketball team.
#There are a number of men serving as head coaches on various athletic programmes throughout the United States, including Rolando 'Lonnie' Greene, Norbert Elliott, Derrick Atkins and Chris 'Fireman' Brown.