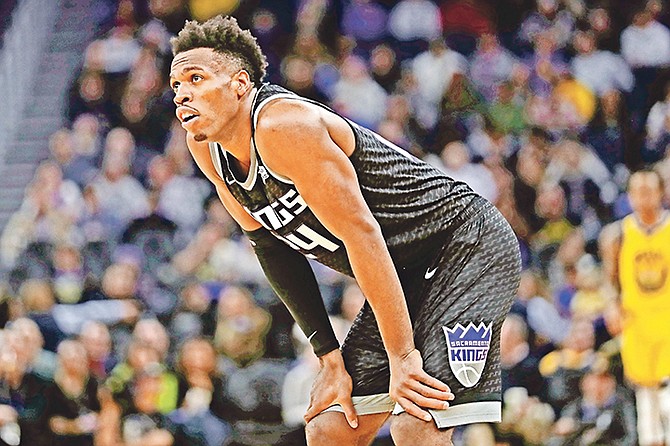 Sacramento Kings guard Buddy Hield.
#By RENALDO DORSETT
#Tribune Sports Reporter
#rdorsett@tribunemedia.net
#Chavano "Buddy" Hield cleared the initial COVID-19 protocol and joined the remainder of the Sacramento Kings in Orlando, Florida, for the NBA 2020 season restart.
#Hield will now be required to quarantine at the Kings' designated hotel at the Walt Disney World – the Yacht Club Resort. To return to participation in team activities, Hield has to test negative for COVID-19 twice at least 24 hours apart.
#Hield was one of three players and an additional undisclosed member of the Kings organisation to test positive in June as leaguewide testing began in preparation for its return to the court.
#The league's protocol mandates that players with a positive test were required to quarantine and produce two negative tests in order to receive clearance to join the team in Orlando.
#Players were also unable to train or exercise during the two-week period from the date of the positive test.
#Hield and forward Jabari Parker have joined the team in Orlando, while centre Alex Len has not been cleared.
#The Kings will scrimmage three times, with the first occurring on July 22. They begin the official seeding games and NBA restart on July 31, when they will face the San Antonio Spurs.
#The remainder of the Kings' schedule includes matchups against the Orlando Magic (August 2), Dallas Mavericks (August 4), New Orleans Pelicans (August 6), Brooklyn Nets (August 7), Houston Rockets (August 9), Pelicans (August 11), and Los Angeles Lakers (August 13).
#Hield returned to the court on June 10 for competitive play for the first time since March when the pandemic sidelined the NBA.
#The Kings sharpshooter participated in the Skinz League Tournament at the Hive Sports Complex in Edmond, Oklahoma and scored 45 points, including 13 made three pointers.
#Through 64 games this season, Hield is averaging 19.8 points per game and is shooting 40 per cent from beyond the arc, making 3.8 three-point field goals in about 10 attempts per game. Hield also added 4.8 rebounds and 3.1 assists per game.