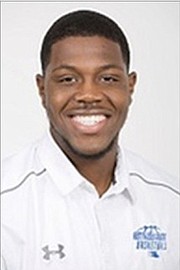 NASHAD MACKEY
#By RENALDO DORSETT
#Tribune Sports Reporter
#rdorsett@tribunemedia.net
#NASHAD Mackey has always been heralded for his scoring and rebounding, but we can now add improved defence to his skillset during his first season with the Embry Riddle Eagles.
#The junior forward was named the Sunshine State Conference defensive player of the week when the league announced its weekly honours yesterday.
#Embry Riddle recently got their first Sunshine State Conference win with an 86-77 triumph over No.10 Barry University for their first win over a ranked opponent this season.
#Mackey finished with 26 points and 20 rebounds on 8-10 shooting from the field, including 4-5 from three-point range and 3-4 shooting from the free throw line.
#He became just the second Eagle in school history to record a 20-20 game.
#En route to winning the weekly honour, Mackey led the Eagles to a pair of wins. Mackey scored 10 points and grabbed 14 rebounds while registering three assists, a block and two steals in the Eagles' first ever conference win over NSU
#On the season, Mackey is averaging 16.1 points and 12.0 rebounds per game.
#He transferred to the Eagles and NCAA Division II level after he posted stellar individual numbers and garnered postseason awards at the JuCo level.
#During his stint with the Daytona State College Falcons, he was named the Mid-Florida Conference Player of the Year and was also named First team All-State in the conference as a sophomore.
#Mackey played in over 850 minutes for the Falcons in his sophomore season, leading his team in time on the court. For the Falcons he averaged 15.1 points per game on the season, and 18.8 points in conference play. Mackey also averaged three times as many boards as his next teammate statistically, averaging 14.4 rebounds per game in conference contests.
#He said the educational opportunities at Embry-Riddle were at the forefront of his decision process.
#"I always valued my education. Being an engineering major, Embry-Riddle is one of the best programmes nationwide. The university and campus is growing rapidly. Also Embry-Riddle is a winning programme under the leadership of Steve Ridder, who is father of the head coach at Daytona State.
#"I also developed a great relationship with the entire coaching staff through this recruiting process and I believe they had my best interest at heart," he said.
#In his freshman season with the Falcons, he averaged 9.8 points and 10.1 rebounds per game while shooting 47 per cent from the field and 26 per cent from three-point range. He led the team in double doubles with several standout performances, including 28 points and 11 rebounds in a 105-78 win over South Georgia Technical College and 18 points and 15 rebounds in a 77-74 loss to Florida Southwestern.
#This season is ERAU's third and final year of the NCAA II transition process after spending its entire history in NAIA.
#Mackey was a former standout for the CR Walker Knights with before he relocated to the US and the Champagnat Catholic School Lions programme in Hialeah, Florida, along with fellow Bahamians Jaron Cornish and Oswald Parker.
#He was named to the Miami Herald's All-Dade first-team for 4A-2A schools in Dade County, Florida, and also named to the Florida Association of Basketball Coaches (FABC) and Source Hoops 2014-2015 Boys Class 2A All-State Teams.
#He posted averages of 19 points, nine rebounds and three blocks per game as a high school senio