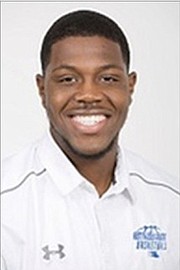 NASHAD MACKEY
#By RENALDO DORSETT
#Sports Reporter
#rdorsett@tribunemedia.net
#HIS final season at the Junior College fell short of his ultimate team goal of a national championship, but Nashad Mackey's stellar individual numbers continue to garner postseason awards.
#Mackey, the 6'6" guard/forward for the Daytona State College Falcons, was named the Mid-Florida Conference Player of the Year and was also named First team All-State in the conference.
#Mackey played in over 850 minutes for the Falcons this season, leading his team in time on the court. For the Falcons he averaged 15.1 points per game on the season, and 18.8 points in conference play.
#Mackey also averaged three times as many boards as his next teammate statistically, averaging 14.4 rebounds per game in conference contests.
#Falcons assistant coach Ian Gibson lauded Mackey's effort this season.
#"Probably the best rebounder in the state. Great kid, great person, does everything right on and off the floor every single day. You can always depend on him to do everything that we ask," Gibson said.
#Mackey is expected to continue his basketball career at the NCAA Division II level after he signed with the Embry-Riddle Eagles in November.
#He said the educational opportunities at Embry-Riddle was at the forefront of his decision process.
#"I always valued my education. Being an engineering major, Embry-Riddle is one of the best programmes nationwide. The university and campus is growing rapidly. Also Embry-Riddle is a winning programme under the leadership of Steve Ridder, who is father of the head coach at Daytona State. I also developed a great relationship with the entire coaching staff through this recruiting process and I believe they had my best interest at heart," he said.
#In his freshman season with the Falcons, he averaged 9.8 points and 10.1 rebounds per game while shooting 47 per cent from the field and 26 per cent from three-point range.
#He led the team in double doubles with several standout performances, including 28 points and 11 rebounds in a 105-78 win over South Georgia Technical College and 18 points and 15 rebounds in a 77-74 loss to Florida Southwestern.
#"My time here at Daytona has been a blast, I've spent countless amounts of hours working on my game and making a body transition. It paid off quite fine. I became more athletic and agile, making the game a whole lot better for myself," he said. "I think I'll fit into the programme effectively. My skill set is sufficient to make immediate impact and, who knows, maybe an all conference player. At this level division two and with this programme I can play anywhere on the court from 1-5."
#This season is ERAU's third and final year of the NCAA II transition process after spending its entire history in NAIA.
#Mackey was a former standout for the CR Walker Knights with head coach Trevor Grant. He relocated to the US and the Champagnat Catholic School Lions programme in Hialeah, Florida, along with fellow Bahamians Jaron Cornish and Oswald Parker.
#Mackey was named to the Miami Herald's All-Dade first-team for 4A-2A schools in Dade County, Florida, and also named to the Florida Association of Basketball Coaches (FABC) and Source Hoops 2014-2015 Boys Class 2A All-State Teams.
#He posted averages of 19 points, nine rebounds and three blocks per game.
#This offseason his attempt to make the men's senior national team was seen as a learning experience and motivation to get better.