Four competitors to take part in Head of Charles Race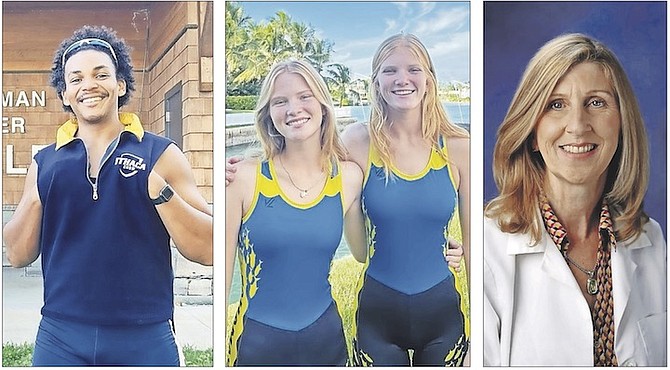 FROM LEFT: Dehron Smith, sisters Jessica and Poppy Proffitt and Dr Kathryn de Souza.
As of Wednesday, October 12, 2022
#By BRENT STUBBS
#Senior Sports Reporter
#bstubbs@tribunemedia.net
#FOUR competitors, all of whom have gained some international experience, will be representing the Nassau Rowing Club at the Head of Charles Race that will be held in Cambridge, Massachusetts from October 21-23.
#NRC's president Kyle Chea will serve as coach of the team that will have Dehron Smith competing in the Men's Championship Sculls Division; Dr Kathryn de Souza in the Grand Master Veterans Single Sculls Division and sisters Jessica and Poppy Proffitt will team up to contest the Youth Women's Under 17 Doubles Sculls Division.
#Chea said the expectations are very high for the team that will represent the Bahamas – they leave on October 19th for the competition.
#"I feel great about this team," Chea said. "Kathryn de Souza is a seasoned marathon runner, so this long distance race is very suited to her skill set. It's a five-kilometre race, so I think she will be very well.
#"Jessica Proffitt competed in this race last year, so she comes with a familiarity of the course and so she wants to improve on her performance. They both raced in a regatta held in Canada over the summer, so they bring a high level competition "
#As for Smith, who is currently enrolled st Ithaca College in New York, Chea said he competed in Italy in the Under-23 World Championships and they are looking forward to him honing his skills.
#"It will be a tough competition because it is a global level of competition with everyone from club level to national team rowers racing," Chea said. "But the crews and the entries we have will be able to represent us well."
#Dr. De Souza, a 58-year-old Physician specialising in Sports Medicine/Physical Medicine and Rehabilitation, has been rowing for 4 1/2 years. She is coming off her international debut in the Head of the Schuylkill regatta in Philadelphia last year where she placed 5th in the Women's Masters Lightweight 55-59 age group.
#"I have been a long time marathon runner and started rowing as a way to cross train for running. It was fun to pick up a new sport in my 50s," Dr de Souza said. "I am hoping to finish mid fleet in the Head if the Charles Regatta. There are 55 women in my age category."
#Although they have a small team, Dr de Souza said they are fortunate to be able to train year round on one of the most beautiful rowing venues in the world at Lake Cunningham.
#"The Proffitt sisters are lightening fast and Dehron Smith is a collegiate rower, who represented the Bahamas at the Under 23 World Championships this summer, so we have an excellent chance of doing well at the Head of the Charles next week," Dr de Souza said.
#"Hopefully we will have more members of the Nassau Rowing Club competing in the Head of the Charles next year. Several of the Masters rowers and I are planning to compete in the 2023 World Rowing Masters Regatta in South Africa and I plan to row in a few more Head races (5k/ 3.1 miles) in the US next year."
#Smith, a 22-year-old senior at Ithaca College where he is majoring in Athletic Training, is hoping that the experience he gained at the 2022 Under-23 World Rowing Championships will help him as he competes in his second race in a single.
#"It's an awesome venue to gain race experience and once again set an example of what's possible in the sport for my teammates at Ithaca college and for younger rowers at home," Smith said. "This is a different style than the spring races so I hope to set a solid standard to use as a benchmark as I work to improve over the coming months."
#After graduating from Nassau Christian Academy in 2017, Smith went to Ithaca College where he was a walk on to their rowing team in his freshman year and he admitted that he immediately found a home.
#"I was welcomed and it really helped my transition into college to be among people who encourage me to be the best version of myself," he said. " It helps that I love competing at anything and everyday is an opportunity to challenge myself with the team."
#Smith said his initial international competition this summer really put elite rowing into perspective for him and that's why he feels Ithaca College has been the best place for him to improve and to realise his full potential.
#"I hope to set some ambitious personal best for the spring season when we do the majority of our racing and contribute to a victory in our school's first appearance at the IRAs in early June," Smith summed up.
#The Proffitt sisters are just as eager about competing in the event as Dr de Souza and Smith.
#Jessica profit, a 16-year-old 11th grader at the Lyford Cay International School, has been rowing since she was 11 and she has rowed competitively and gone to regattas for two years, including the Head of the Indian Creek Regatta (Miami, October 2019), Head of the Charles Regatta (Boston, October 2021), Miami International Regatta (Miami, April 2022), CanAmMex International Regatta for Team Bahamas (Ontario, Canada, July 2022)
#She noted that last year, she participated in Head of the Charles in the same race in a double with her older sister Sascha and while it was an amazing experience, she was able to learn a lot about the race and how to train for this next upcoming regatta.
#"I believe that going into the competition this time around with this new knowledge has made me feel more prepared and confident for our race," she said. "Our training for this regatta has also been a lot more more intense than last year, especially since last year we were only just coming out of COVID.
#"We have been continuously conditioning ourselves for the past month through a very difficult training plan, and while it was extremely challenging, our training will definitely boost our success for this race. Along with our training and past experience in the regatta, my team and coaches have also been extremely supportive and motivating throughout our training, and this has helped me to develop my skills for our race."
#As for the team selected for this race, Jessica Proffitt said the NRC provides an extremely supportive and encouraging environment for rowers.
#"Training for regattas can be challenging, but my teammates always push me to do my best," she said. "The team going to Head of the Charles is very diverse in terms of age and experience, and so I believe that we have a lot to offer at this upcoming regatta."
#Poppy Proffitt, a 14-year-old ninth grader at Lyford Cay International School, has been rowing for three years with participation in the Miami Regatta and CanAmMex.
#"For this regatta, although it is going to be a little scary as this is my third international regatta that I have participated in, I hope to take this experience as a way to improve, have fun, and to meet other rowers," Poppy Proffitt said.
#"I have been training every day of the week for the past month. I hope that with our intense training plan and all the strength that we managed to build, we will be successful in the race and place high. I want to show everyone what I have accomplished and learned from training hard this month."
#As a member of the NRC, Poppy Proffitt said everyone is so supportive and kind.
#"Going to this regatta, Jessie and I will also be with some of the Windsor rowing members from The Bahamas, which is very exciting," she said. "At CamAmMex, both of our crews trained together and they are very friendly."
#Poppy Proffitt said she plans on continuing rowing until university.
#"I would like to continue rowing competitively and take part in more upcoming international regattas," she stated. "When I get older, I would love to help teach new rowers at the NRC summer camps, including possibly becoming the rowing captain."
#After she graduates in two years, Jessica Proffitt said she hopes to move into rowing at a collegiate level.
#"Regattas like Head of the Charles provide a great opportunity to get in touch with some of the best colleges in the world, and so its my plan to harness this opportunity and start looking at some of my options in Boston whilst I am there," she said.
#For Dr de Souza, she's just hoping that the NRC will be able to host an international regatta in The Bahamas in the near future and she can display her skills with her team-mates at home on Lake Cunningham in front of the Bahamian crowd.