Wellington Miller is honoured on National Heroes Day
As of Wednesday, October 12, 2022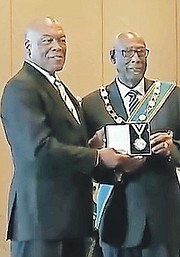 FORMER Bahamas Amateur Boxing Federation president and Bahamas Olympic Committee president Wellington Miller receives his award from Governor General CA Smith.
#By BRENT STUBBS
#Senior Sports Reporter
#bstubbs@tribunemedia.net
#FORMER Bahamas Amateur Boxing Federation president and Bahamas Olympic Committee president Wellington Miller was invested with the Companion Order of Merit in an official ceremony on National Heroes Day on Monday at the Baha Mar Resort.
#The honour from the Bahamas Government comes just a month before Miler will be returning to the same venue on Wednesday, November 16th to be indicted into the National Hall of Fame by the Ministry of Youth, Sports and Culture.
#In the national honours on Monday presented by Governor General Cornelius A. Smith, Miller said he was delighted to be among the more than 200 persons, including 20-plus persons from the sporting world, who were recognised for their contribution to nation building.
#"First of all, I want to thank God for allowing me to see this day and to be in the best shape of my life to receive this honour," Miller said. "I want to also thank the persons who recommended me and the committee for accepting the recommendation.
#"I know there were many recommendations they received, so I'm just happy that my own was one that they accepted. It makes you feel good because you have been working all along and you never know that there were persons out there who were watching what you've been doing."
#It's a recognition that Miller said he never envisioned nor aspired to receive from the time he started making his contribution. He insisted that his satisfaction came from assisting the many young men in boxing.
#"When you look at it, to come from Andros and a small settlement like Conch Sound and an even smaller town like Miller Hill, to come to Nassau and to climb that height to now receive the third highest honour the country can give out is very amazing," Miller stressed.
#The retired Immigration Officer, who now serves as a newly ordained Deacon in New Covenant Baptist Church and the current president of the Men's Department of the Bethel Baptist Association, said it just shows that if you work hard, be consistent and be honest, you can achieve anything.
#"To be honoured for something that I have been doing for such a long time, it couldn't come at a better time," Miller said. "So I encourage all young people who are volunteering their service, don't just try to get in to get paid, but to make a difference in the lives of the persons you come in contact with.
#"I also want to thank the Bahamas Government for accepting the nominations of so many sporting persons. I think we had over 40 persons who were involved and some are still active in their various sporting disciplines. Sometimes people don't know the work we put into sports and the amount of young people we help to change their lives."
#As a former amateur boxer, Miller called on the Bahamas Government to include sports in their anti-crime prevention plan because if boxing can take young men from the Simpson Penn School and make them respective citizens of our country, so many other sporting bodies can do the same.
#"I'm sure that many other sporting bodies can attest to how they have taken many young boys and girls off the street and put them into some wholesome sporting activities to make them better citizens," Miller disclosed.
#For 25 years, Miller has served as an executive in amateur boxing. He was first elected as president in 1984 until 2000. He had decided to take some time off to raise his two young sons, but Miller was asked to serve as vice president under Alvin Sargent that same year. At the next election in 2004, he was re-elected as president until he demitted office for good in 2017.
#However, Miller was then elected to serve as a vice president in the BOC under the leadership of the late Arlington Butler in 2000. After serving two consecutive terms, he was elected in 2008 as the president, serving in that capacity until 2018 when Rommel Knowles was first elected as the new president.
#"I don't have any regrets. I would do it all over again without any reservations," said Miller about his tenure in office. "I enjoyed my time. I met a lot of people and I got to help turn the lives around for so many young people."
#As he celebrated the national honour with his family and friends, especially those who were also honoured, newly minted Miller will be heading off on Friday to represent the BOC at the meeting in Seoul, Korea. He will return on October 25th.
http://www.tribune242.com/news/2022/oct/12/wellington-miller-honoured-national-heroes-day/?news