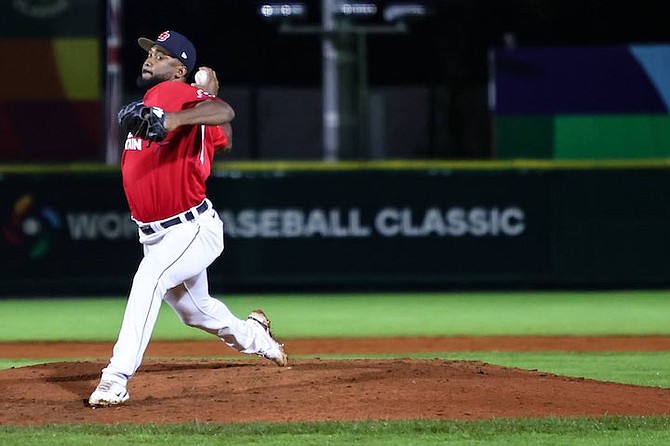 PRO baseball player Chavez Fernander in action for Great Britain. Photo: Great Britain Baseball
As of Tuesday, September 20, 2022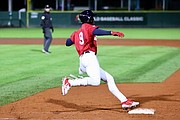 D'Shawn Knowles in action for Great Britain. Photo: Great Britain Baseball
#By RENALDO DORSETT
#Tribune Sports Reporter
#rdorsett@tribunemedia.net
#Team Great Britain has dominated competition thus far at the World Baseball Classic Qualifiers and is now one win away from advancing to the marquee tournament in 2023.
#Great Britain is slated to face Spain at 1pm today at the Armin Wolf Arena in Regensburg, Germany. The winner joins the list of qualifiers at the World Baseball Classic next March, while the loser will be relegated but will still have an opportunity to qualify with a win in the third-place game.
#All WBC qualifying games will be broadcast on MLB.com, at Worldbaseballclassic.com and on the World Baseball Classic's Facebook and YouTube pages.
#The Great Britain roster includes outfielders Anfernee Seymour and D'Shawn Knowles, pitchers Tahnaj Thomas and Chavez Fernander, catcher Ural Forbes and Albert Cartwright as a member of the coaching staff.
#Cartwright has served as the first base coach through the first two games of the tournament.
#Great Britain is currently ranked at no.23 in the WBSC rankings while Spain is ranked no.19.
#GB opened the tournament with a 14-4 win over no. 22 France in a game that was stopped after eight innings due to the 10-run mercy rule.
#Seymour went 3-5 with 3 RBI and scored three runs. Knowles went 1-3 with an RBI and scored two runs.
#Britain scored in each of the final six innings. Every Great Britain starter reached base at least once, and all but one had at least one hit.
#In game two, Seymour and Knowles continued their production at the plate, while both pitchers saw action in relief duty. Great Britain scored an 8-1 win over the host country Germany to advance to the first-place game.
#Seymour finished 2-4 with two RBI and scored two runs with a stolen base while Knowles was 2-4 with a stolen base.
#Fernander took the mound in the eighth inning and recorded one strikeout.
#Thomas closed out the game in the ninth inning and also recorded a strikeout. Six Great Britain pitchers held Germany to just one run on four hits. The game went into a rain delay during the top of the fifth inning with Great Britain leading 3-1.
#Once play resumed, they added five more runs, including Seymour's two-run triple. Germany and Panama serve as the two respective sites of the qualifiers this fall. Each location will host a six-team pool, with the top two teams from each qualifier advancing to the main event in March 2023.
#The Pool B Qualifier is scheduled for September 30 to October 5 in Panama City and includes no. 13 Panama, no. 15 Nicaragua, no. 25 Brazil, no. 27 Argentina, no. 31 Pakistan, and no. 46 New Zealand.
#The newly expanded 20-team, top-tier global tournament serves as the World Baseball Softball Confederation's official professional-level National Team World Championship
http://www.tribune242.com/news/2022/sep/20/one-win-away-wbc-qualification/?news