WNBA Finals: Jonquel Jones and the Sun are eliminated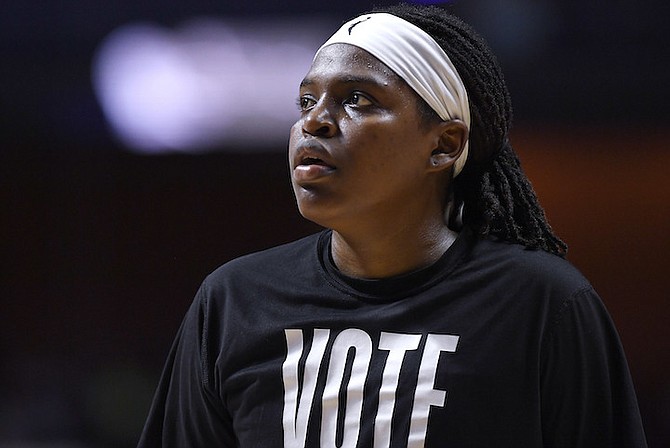 CONNECTICUT Sun's Jonquel Jones during Game 4 the WNBA Finals on Sunday in Uncasville, Connecticut. (AP Photo/Jessica Hill)
As of Tuesday, September 20, 2022
#By RENALDO DORSETT
#Tribune Sports Reporter
#rdorsett@tribunemedia.net
#THE 2022 season ended on a disappointing note for Jonquel Jones and her Connecticut Sun.
#The Sun were defeated by the Las Vegas Aces 78-71 Sunday night in game four of the WNBA Finals. The Aces closed out the series with a 3-1 edge to claim their first title in franchise history.
#Jones finished with 13 points and eight rebounds.
#Trailing 73-71 with 1:18 left to play, Jones pulled down an offensive rebound but was unable to convert the putback amid a trio of Aces defenders.
#Las Vegas followed with a 5-0 run in the final minute to close out the game and the series.
#"This team has heart. This team has a lot of pride. This team, everybody has made sacrifices for us to be able to be back here," Jones said. "The chips didn't fall the way we wanted them to. But there's a lot of selflessness and a lot of sacrifices to be able to have this team back together and make this run."
#Jones averaged 16 points and 8.3 rebounds over the course of the series.
#"You know, while it's tough and it's disappointing, we get to say that we were one of the last two teams standing and playing for a championship," Jones said.
#"So I've got a lot of pride and a lot of joy with the moments that I've had with this team and have the ladies that have been ready to play with every night."
#It was the Sun's second appearance in the WNBA Finals in the last three years following a 2019 loss to the Washington Mystics. The Sun have exited the playoffs in the semifinals or finals in the last four seasons.
#The Sun also hold the unenviable record of being the franchise with the most WNBA postseason wins (37) without a title.
#"Incredibly proud of our team and our resilience and our fight. It was a grind out there, both teams playing so hard, both teams playing so well in stretches defensively, and just incredibly proud of our effort….It was a great game and great for our league," said Sun head coach Curt Miller.
#"Our team, we talk about it, that it's going to hurt when you care as much as we do, and they put their hearts and soul into seasons. When you come up short, it really hurts. That means that there was something that mattered and something special amongst that group of players when it hurts that much."
#Jones had a 2022 season to remember following her 2021 MVP campaign.
#She was named to the All- WNBA Second Team, the All Defensive Second Team, and received her fourth WNBA All- Star selection, voted a starter for a third time.
#Jones led the Sun in points (14.6), rebounds (8.6) and blocks (1.2) per game. Jones hit a plethora of career milestones this season, moving into first all-time in blocks (270), third all-time in rebounds (1,633) and sixth all-time in points (2,657) in Connecticut Sun franchise history.
http://www.tribune242.com/news/2022/sep/20/wnba-finals-jonquel-jones-and-sun-are-eliminated/?news