Phoenix Suns To Lean Heavily On Deandre Ayton This Season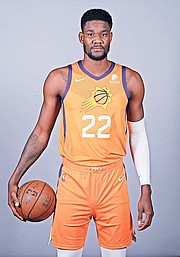 Phoenix Suns' DeAndre Ayton poses for a photograph during media day at the NBA basketball team's practice facility on Monday in Phoenix. (AP Photo/Matt York)
#By RENALDO DORSETT
#Tribune Sports Reporter
#rdorsett@tribunemedia.net
#THE Phoenix Suns have made several additions to its roster, but will still lean heavily on the improvement of second year centre Deandre Ayton as the franchise progresses.
#Ayton addressed his role under new head coach Monty Williams at Suns media day. As a rookie, he took just four threes last season without a single make, a trend he looks to change in 2019-20.
#"He [Williams] is right there when I'm shooting all them threes in practice," Ayton said. "I'll be working out and he's right there watching. I put up a lot of threes in these workouts, so it's kind of opening my eyes that they really want me to shoot these threes. So I'm not going to hesitate."
#In his lone collegiate season at Arizona, Ayton shot 35 three pointers at just over 34 per cent, but shifted away from the shot during his rookie season in Phoenix. "In our offence, there's a number of opportunities in the trail spot where he can knock down the 3 or transfer the ball," Williams said. "He's worked on it, and my philosophy is if you've worked on it, do it. If you have it in your game and you've spent the time and put the sweat in, do it in the game."
#As a team, the Suns have missed the playoffs for nine consecutive years but are optimistic after the addition of veteran point guard Ricky Rubio to play alongside Ayton and star guard Devin Booker.
#Ayton was named one of three finalists for the 2018-19 Kia NBA Rookie of the Year Award. His debut season in the NBA had several milestones and the 2018 NBA Draft's No.1 overall pick established himself as a force in the league for years to come. He finished his rookie season with averages of 16.3 points, 10.3 rebounds, 1.8 assists and 0.9 blocks on 59 per cent shooting from the field in 71 games. He missed five straight games with a sprained left ankle to conclude the season but still set several franchise records. He finished with 39 double-doubles, a Suns rookie record and No.12 among all players. He also set the Suns rookie rebounding record with 729 boards.
#His field goal percentage was the third-highest in NBA history by a rookie qualified for the league leaderboard and the highest by a rookie who is averaging a double-double.
#Despite his individual success, the Suns finished at 19-63, the worst record in the Western Conference and the worst in franchise history since its first year of existence.
#With Ayton's selection as the No.1 overall pick, The Bahamas joined the United States, Canada, Nigeria, and Australia as the only countries with multiple No 1 overall NBA draft picks.