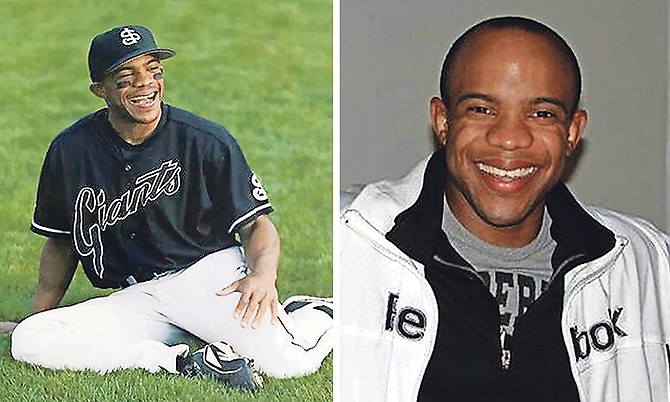 Antoan Richardson
#By RENALDO DORSETT
#Tribune Sports Reporter
#rdorsett@tribunemedia.net
#At the midway point of Major League Baseball's shortened season, Antoan Richardson and the San Francisco Giants are in the midst of the National League wild-card race.
#The Giants are currently on a six-game winning streak and improved their record to 14-16 with a 6-1 win over the Arizona Diamondbacks Sunday night at Oracle Park in San Francisco, California.
#Halfway through the season, the Giants are third in the NL West and No. 7 in the NL overall. Eight of the 15 teams in the NL will advance to the playoffs.
#The Giants open up a three-game home stand tonight against the Los Angeles Dodgers.
#San Francisco got off to a slow start to the season at 8-16 but have worked their way back into contention for a playoff spot at the 30-game mark in the 60-game season.
#"I believe in this club, I believe in the resilient nature of this club, I believe in the offensive strides we've made, obviously the starting pitching has been one of the strengths of this club, I believe in our capability from every angle right now," first year manager Gabe Kapler said to the Mercury News.
#Over the course of the last six games, the Giants have outscored opponents by 29 runs with a differential of 42-13.
#In February 2019, Richardson re-joined the Giants, the club where he began his professional career. In his role as an outfield coordinator, he was tasked at overseeing on-field development throughout the organisation.
#He had the opportunity to serve as a first base coach at the major league level for the first time late last season.
#Richardson coached first for the Giants for a single game last June in their 5-3 win over the Milwaukee Brewers.
#Regular first-base coach Jose Alguacil was away from the team attending his son's graduation, and the Giants rewarded Richardson with the call-up.
#Kapler brought Richardson on as a full-time member of the staff for the 2020 season.
#In the offseason prior to the COVID-19 pandemic, Richardson had an immediate impact following the team's first few Spring Training games, particularly on its base running.
#The Giants posted a whiteboard in their clubhouse at Scottsdale Stadium which recognised the "baserunning BOSS" from each game. Kapler credited Richardson for the team's emphasis on leads and turns this spring in an effort to gain the edge on the basepaths.
#He also joined several players and staff that knelt during the national anthem before the Giants' 6-2 exhibition victory against the Oakland Athletics.
#The group included right fielder Jaylin Davis, who is African American and appeared in just 17 games for the Giants.
#Davis said he leaned on Richardson for support as one of the few minorities in a leadership position within the game. As a player, Richardson was drafted by the Giants in the 35th round of the 2005 MLB Draft.