'I Didn'T Expect To Be Here After The Coronavirus Came Along'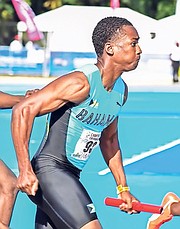 Davon Johnson
#By BRENT STUBBS
#Senior Sports Reporter
#bstubbs@tribunemedia.net
#HE graduated in the St Anne's Class of 2019 as the valedictorian, but now Red Line Athletics' sprinter Davon Johnson has decided to follow in the footsteps of his older brother David III at St John's University in Minnesota.
#"Things are going good. I didn't expect to be here after the coronavirus came along, but everything is going good," the younger Johnson told The Tribune.
#"I spent a couple of days here with my brother getting a couple of things done before I move onto the campus. So everything is going well and I can't wait to start my journey at St John's."
#With the coronavirus putting a damper on many student-athletes making their transition from high school to college, Johnson said he's looking forward to the strict protocols in place to help mitigate the spread of the disease on campus.
#"Some persons will be doing classes virtually and some persons will be doing classes face to face, so I just want to see how everything will work out," said Johnson, who will begin his classes on August 30 as he pursues a degree in accounting.
#While he was able to secure a partial scholarship for academics, due to the fact that the Ministry of Education, Science and Technology limited the amount of assistance given to students during the pandemic, Johnson said he will expect to compete for the Athletic team when the season gets started next year. "I want to compete for the track team. I just haven't been in contact with the coaches as yet," said Johnson, who goes in with a personal best of 10.9 seconds in the 100 metres.
#It was not an easy task in completing his tenure as a high school student, but Johnson said the experience will definitely prepare him for college.
#"I was really just motivated to achieve the goals that I set out for myself," said Johnson when asked how he managed to juggle competing in track and his studies to emerge as the most outstanding student-athlete for the Blue Waves at St Anne's.
#"It really comes down to being motivated and putting your trust in God, believing that he will see you through and allow you to achieve your goals and aspirations. I'm thankful to God for what I have accomplished."
#For the second consecutive year, Johnson made the CARIFTA team, picking up his first medal as a member of the under-17 boys 4 x 100m relay team that finished second at the Truman Bodden Sports Complex in George Town, Cayman Islands. He also made the finals of the 100m where he was seventh in 11.07. "I just hope to give it my all when I go to train over here. I want to get in good shape so that I can come home and make the CARIFTA team again," said Johnson, who made his CARIFTA debut in 2018 here at home at the Thomas A Robinson National Stadium.
#The 2020 CARIFTA Games, the 49th version of the top junior regional track and field competition, was scheduled for the Bermuda National Sports Centre in Devonshire, Bermuda over the Easter holiday weekend, but was postponed to 2021 because of the coronavirus.
#Having celebrated his 17th birthday on July 13, Johnson will be moving up to the under-20 division in 2021. But now that he's moved out of his family nest in Johnson Terrace, headed by parents David Jr and Joanne Johnson, Johnson feels he will be better prepared for the challenge ahead of him. "God set me up to be here right now. I had a rough time because I didn't know how I would have made it with the border closed because of COVID-19," Johnson reflected. "I just want to thank God for allowing me to be here. It's just a blessing."
#After David III informed him about his experience at St John's, having graduated two years ago and is now working for a company called Veritis in Minneapolis, Davon said he was eager to enrol at the school and he was advised that they had an excellent accounting programme, which could help him in his future endeavours from an academic standpoint.
#"I want to thank God, thank everybody who supported me and all of my family for the sacrifices that they made to send me off to school and to put me in an environment where I can excel and improve in life," Johnson summed up.
#"I also want to thank all of my friends, who encouraged me on this journey. I hope that I won't let any of you down as I come here and do what I have to do."