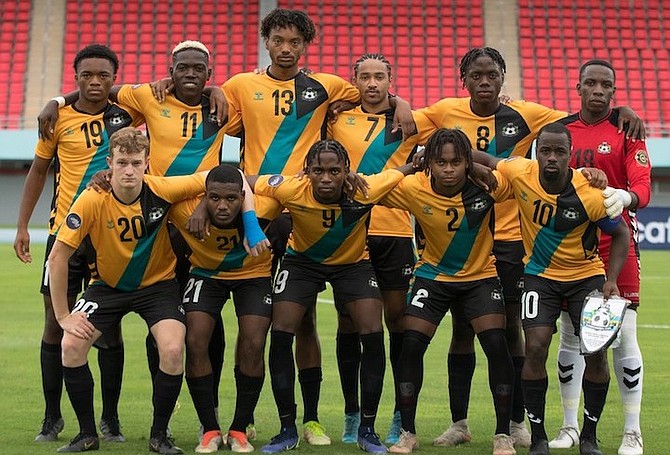 Photo: Thinq Studio
#By RENALDO DORSETT
#Tribune Sports Reporter
#rdorsett@tribunemedia.net
#AFTER finishing 1-1 in the first weekend of 2022 Concacaf Nations League play, the Bahamas senior men's national team returns home to the Thomas A Robinson Stadium to face Nicaragua.
#The Bahamas continues play in Group C of League A on June 10 when they host Nicaragua at 5pm. They complete the home and away series against Nicaragua on June 13 at 8pm at the Nicaraguan National Stadium.
#After a 1-0 win over St Vincent and the Grenadines at home followed by a 1-0 loss to Trinidad and Tobago on the road, veteran striker and team captain Lesly St Fleur said Team Bahamas remains confident headed into the weekend.
#"I think we have shown we can play against any team," following the matchup against Trinidad and Tobago. "Going back to our home game against Nicaragua, we are going in hard and we will come away with the victory."
#Nicaragua also comes in at 1-0-1 after they defeated Trinidad and Tobago 2-1 and played St Vincent and the Grenadines to a 2-2 tie.
#"We had a chance to watch the game and we saw the cracks in Nicaragua's defence. We're working on capitalising on that," said Bahamas goalkeeper Julio Jemison. "We saw a few weaknesses in Nicaragua's defensive line, we're looking to make runs behind them and also a lot of balls in the air because they're a really short team. We plan on utilising [our taller players], that height will be a real advantage for us and we are expecting a good result. The result against T and T wasn't what we needed but the game was good, it helped show us that we can compete with these teams and even more so we can beat them."