As of Thursday, October 20, 2022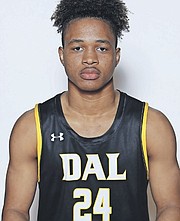 SHAMAR BURROWS
#By RENALDO DORSETT
#Tribune Sports Reporter
#rdorsett@tribunemedia.net
#SHAMAR Burrows enters his final year of eligibility with the Dalhousie Tigers and looks to step into a leadership role as the programme pursues its fourth consecutive Atlantic University Sport title.
#The fifth year guard has led the Tigers in scoring in five preseason games and posted three double doubles as the Tigers prepare for the 2022-23 campaign.
#Dalhousie began their preseason in the RBC Classic, hosted by the Brock Badgers. After a 68-48 loss to Ottawa in the opener, Burrows finished with 16 points, eight rebounds and five assists in a 71-64 win over Brock and concluded with a 73-70 win over Manitoba.
#At the Concordia Classic, the Tigers finished 2-1 and Burrows posted double doubles in consecutive games. He finished with 14 points and 15 rebounds in a 72-60 win over Concordia and followed with 26 points, 12 rebounds and five assists in a 79-69 loss to Toronto Metropolitan.
#The Tigers moved on to the Naismith Classic hosted by the Waterloo Warriors. Burrows had 13 points and four assists in an 85-79 win over the hosts, 19 points and seven rebounds in a 59-57 win over Windsor, and eight points and five assists in a 74-62 loss to his former team, Laurier.
#The Tigers conclude the preseason on October 22 against Laurentian. They open the regular season the following weekend (October 28-29) against the UNB Red Bombers.
#The Tigers concluded their 2021-22 season with a fifth-place finish overall at the U Sports Men's Basketball Final 8.
#In three Final Eight games, he averaged 12.3 points and 4.3 rebounds per game.
#On the season, Burrows was named a second team AUS All-Star. He finished third in scoring for Dalhousie, averaging 14.8 points per game shooting 73 percent. He also led the Tigers in rebounding with 6.7 boards per game.
#In their 2020-21 Final Eight appearance, the Tigers finished as the second-ranked team in all of Canadian collegiate basketball.
#They finished with the silver medal at the 2020 U SPORTS Final 8 Basketball Championships, the best finish in programme history. For the tournament, Burrows averaged 12.3 points and 8.7 rebounds per game on 49 percent shooting from the field and 50 percent shooting from three-point range.
#A fifth year guard, Burrows' numbers have progressed across the board since he transferred to the Tigers programme in 2018.
#In his first season he averaged just 3.3 points in 19 appearances off the bench and in year two progressed to 8.8 points and four rebounds per game in 20 appearances with six starts.
#Following the COVID-19 cancelled 2020 season, Burrows averaged career highs last season with 14.8 points and 6.9 rebounds per game.
#Off the court, Burrows has excelled in the classroom and achieved an Athletic Financial Award (AFA), which he said allowed him freedom and financial stability.
#Burrows is currently pursuing a master's degree in public administration.
#"It was a big step for me joining a ranked team and having expectations on me in the classroom," he told Dalhousie Sports.
#In 2019-2020, was named an Academic All-Canadian. That same year he won his second Athletic Financial Award and granted a full scholarship. "I thought I had a good chance but nothing is guaranteed. When much is given, much is expected of you. I had to work for it," Burrows said.
#"Without the AFA, I'd probably be working a lot of jobs to help support myself. The AFA gives me a lot more freedom and takes a lot of burden off me and my parents' shoulders."
http://www.tribune242.com/news/2022/oct/20/shamar-burrows-leads-tigers-final-year/?news