'Buddy' opens season with double double – 16pts, 10 rebs
'Buddy' opens season with double double – 16pts, 10 rebs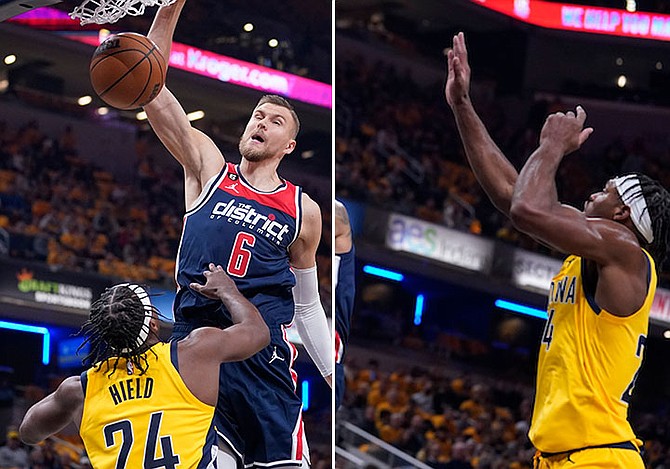 Indiana Pacers' Buddy Hield in action against the Washington Wizards. (AP photos)
As of Thursday, October 20, 2022
#By RENALDO DORSETT
#Tribune Sports Reporter
#rdorsett@tribunemedia.net
#Chavano "Buddy" Hield opened his 2022-23 campaign with a double double but the Indiana Pacers struggled at home en route to their first loss of the season.
#Hield finished with 16 points and 10 rebounds in the Pacers' 114-107 loss to the Washington Wizards last night at Gainbridge Fieldhouse in Indianapolis, Indiana.
#He shot 6-16 from the field, 4-11 from three-point range and added three assists in 31 minutes.
#Hield's rebound and three-point makes were both team leads. He was just one of four Pacers players to reach double figures along with Tyrese Haliburton (26), Jalen Smith (16), and rookie guard Benedict Mathurin (19).
#The Pacers never got closer than five points in the second half — until Mathurin's basket with 31.2 seconds left made it 110-107. But he missed the ensuing free throw and Washington closed it out at the line.
#Hield got out to a quick start from beyond the arc, after finishing second in the league last season with 262 made three-point field goals.
#Indiana will look for their first win with a matchup against the San Antonio Spurs tomorrow night at Gainbridge Fieldhouse.
#During training camp, Hield credited head coach Rick Carlisle's free flowing offence for his improved efficiency.
#Hield's 4.8 assists per game with the Pacers was an increase from 1.9 per game with the Kings.
#"Rick does a good job just letting me be myself and just letting me play freely and do random things but in accordance with his offence and control in the system. As a player, you want to be free and be myself but in the structure of his offence," he said. "Rick's offence allowed me to expand a little bit more. I was able to do more with the ball, be creative and play freely."
#One of only two players on the team aged 29 or older, Hield said the development of the Pacers' youth movement will be a joy to watch.
#"The young atmosphere keeps you healthy. Running around with young guys, I love the competitive spirit they bring everyday, it's a grind it's a challenge everyday," he said. "Everybody's voice is needed. We just have to learn quickly, adapt, and when training camp comes get after it. We brought in a group of guys that are a great fit, have great personalities, when you understand and likes each other, it's easier to have a great vibes."
#The early veteran extension deadline passed on October 17 without Hield and Pacers reaching an agreement to extend his current contract.
#Hield has been the subject of trade rumours for much of the offseason and had the sides agreed to an extension, he would have been ineligible to be traded for at least six months if the deal included a more than five percent raise. Hield will now be ineligible for an extension until next offseason.
http://www.tribune242.com/news/2022/oct/20/buddy-opens-season-double-double-16pts-10-rebs/?news