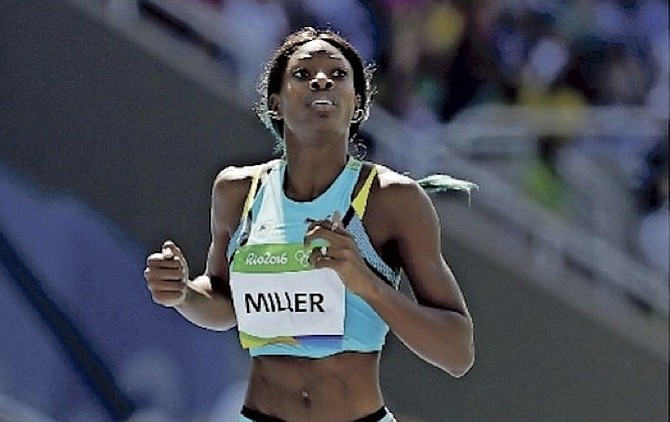 Shaunae Miller-Uibo. (File photo)T
#By BRENT STUBBS
#Senior Sports Reporter
#bstubbs@tribunemedia.net
#Shaunae Miller-Uibo is the first Bahamian female to hold an individual world record in an athletic event after she stormed to victory in the straight 200m at the Adidas Boost Boston Games on Sunday.
#Before the race, Miller-Uibo was the holder of the Bahamas women's 200 metre and indoor 300m national records, while sharing the world's fastest time in the mixed gender 4 x 400 relay with Steven Gardiner, Anthonique Strachan and Michael Mathieu.
#But in Sunday's competition, which took place on an elevated straight track constructed between Boston Common and the Public Gardens, Miller-Uibo sped down Charles Street in to make history.
#Although the event was not on an official track and it wasn't in a normal half-lap race, Miller-Uibo ran a blazing 21.76 seconds to erase the previous straight world record (22.55) held by American Allyson Felix that was established in Manchester, England on May 15, 2010.
#In that same race in London, former national record holder Debbie Ferguson-McKenzie got second in 22.96, which at the time was the second fastest ever recorded.
#Ferguson-McKenzie's time is now listed at number four with retired American Sanya Richards-Ross posting the third fastest in 22.71, set in London two years later on May 20, 2012.
#Running out of lane three in the limited field that was reduced to four after Bahamian Ty'Nia Gaither didn't start, Miller-Uibo opened a gap on the remaining Americans to easily win the race on the streets of Boston.
#Natasha Hastings was second in 22.50, followed by Kimberlyn Duncan in 22.81 and Phyllis Francis in 23.10.
#Miller-Uibo, representing the host shoe company Adidas, was one of three Bahamians competing in the meet.
#Also competing on Sunday was men's 400m national record holder Steven Gardiner. He went down to his specialty in the 200m where he placed fifth in 31.28 after he slipped and fell in the straight away race – only suffering a few bruises.
#Wayde Van Niekerk, who produced a world record in the men's 400m at the 2016 Olympic Games in Rio de Janeiro, Brazil out of lane eight, won Sunday's 200m race in 19.84. However, Niekerk's effort was short of the world record of 19.41 posted by American Tyson Gay on May 16 in Manchester.
#Meanwhile on Friday when the meet was held at Dilboy Stadium on Alewife Brook Parkway in Somerville, Massachusetts, national record holder Jeffery Gibson finished seventh in the men's 400m hurdles in 51.06.
#The USA took the top two spots as Michael Stigler won in 48.69 over Michael Tinsley, who did 49.28. Jamaican Roxroy Cato got third in 49.41.