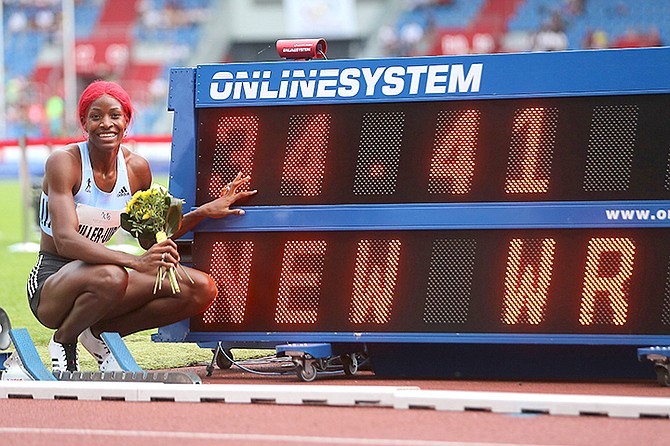 Shaunae Miller-Uibo celebrates after she won the women's 300 metres event in a new world record, at the Golden Spike athletics IAAF World Challenge in Ostrava, Czech Republic, Thursday. (Jaroslav Ozana/CTK via AP)
#By BRENT STUBBS
#Senior Sports Reporter
#bstubbs@tribunemedia.net
#Olympic 400 metre champion Shaunae Miller-Uibo left everybody watching in awe as she raced to a world record-breaking performance in the rarely contested women's 300 metres at the 58th edition of the Golden Spike Ostrava.
#Yesterday's historic performance at the IAAF World Challenge Meeting in the Czech Republic came just before Steven Gardiner added a Bahamian double delight with his season's best showing in the men's 400m.
#Running her first outdoor 300m, the 6-foot, 1-inch Miller-Uibo used her lanky height with a newly red coloured hairdo to control the race coming off the curve.
#She accelerated down the final straightaway to take the tape at the finish line in 34.41 seconds to smash the previous world's best of 35.30 set by Ana Guevara at altitude in Mexico City in 2003.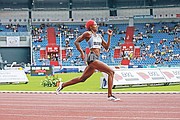 #It also was recorded as a new Bahamian record without any on the book, adding Miller-Uibo's name to the 150m (16.23 at the Adidas Boost Boston Games on May 20, 2018), the 200m (21.88 at the Welklasse Zurich on August 24, 2017) and the 400m (48.97 in Herculis on July 20, 2018).
#As the 25-year-old St Augustine's College graduate pulled away from the pack, Americans Brittany Brown and Jaide Stepter tried to close the gap in their personal best times of 35.91 and 36.12, but they didn't have enough real estate.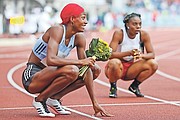 #All four other competitors had PB (personal bests) inked behind their names.
#Prior to her assault on the record, Miller-Uibo was asked about other events she competed in and she indicated that the 100m could be in her future. If she pursues it, she could chase after Chandra Sturrup's national record of 10.84 she set in Athletissima on July 5, 2005.
#Miller-Uibo, in that interview on the eve of the meet, alluded to the fact that so far, her concentration is on the 400m and 200m with the 400m being her favourite discipline.
#However, she cited that she may also try the pentathlon/heptathlon as she trains a lot with her decathlete husband Maicel Uibo in the multiple events.
#Should she venture into heptathlon, which comprises of the 100m hurdles, high jump, shot put, 200m, long jump, javelin and 800m, she will need at least 5,369 to establish the national record, which was established by Carmel Major in Baton Rouge, Louisiana, June 5-6 in 1987.
Steven Gardiner celebrates after he won the men's 400 metres at the Golden Spike athletics IAAF World Challenge in Ostrava, Czech Republic, Thursday. (Petr Sznapka/CTK via AP)
#In preparing for the IAAF World Championships in Doha, Qatar, Miller-Uibo will be going after her first title in either the 200m or the 400m, depending on which one she settles on contesting when the event takes place September 28 to October 6.
#Miller-Uibo won the 400m Olympic title ijn 2016 Rio de Janeiro, Brazil. Her world-leading performance in the 400m indicates that she's probably in the best shape of her career.
#Still unbeaten in three years, Miller-Uibo is coming off a victory in the 150m at the 2019 Adidas Boston Games on Father's Day where she repeated as the champion.
#After watching her fantastic performance in Ostrava, Gardiner – the Bahamian double 200/400m record holder – came out and posted his season's best of 44.95 to easily win the men's 400m. The 23-year-old Abaco native was trailed by Abbas Abubakar of Bahrain in 45.86. Luka Janezic of Slovenia was third in 45.97.
#Gardiner, who won his first global medal with a silver at the London Olympics, clocked 43.87 in Doha on May 4, 2018, to lower his national 400m record and he dropped his half-lap 200m national record to 19.75 in Coral Gables, Florida, on April 7, 2018.
#While it was Gardiner's first one-lap race for the season, he is coming off a loss in the 200m at the Adidas Boston Games last weekend.
#Gardiner is recovering from an Achilles tendon injury. He trains out of Coral Gables, Florida, under the watchful eyes of coach Gary Evans.
#Both Miller-Uibo and Gardiner are managed by On Track Management, founded in 1995 by Claude Bryan, who is chief executive officer, and supported by his wife Juanita Bryan, the vice president.