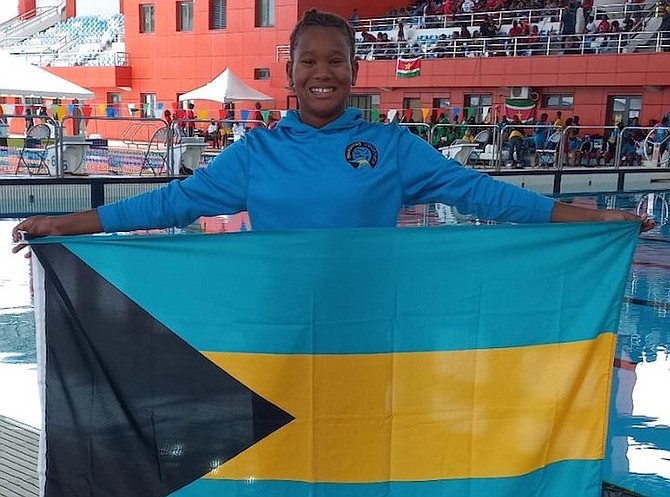 SKYLER Smith, a member of Alpha Aquatics swim club, posted her double record-breaking feat in the girls 9-10 division in the 400 metre freestyle and 100m backstroke.
As of Monday, November 28, 2022
#By BRENT STUBBS
#Senior Sports Reporter
#bstubbs@tribunemedia.net
#Grand Bahamian Skyler Smith stamped her name on a part of Bahamas Open records on Saturday to highlight the performances posted as the Lightning Aquatics Swim Club hosted its first Fall Invitational Swim Meet at the Betty Kelly Kenning Swim Complex.
#Lightning Aquatics Club, an amalgamation of the Dolphins and Orca Swim Clubs just before COVID- 19 struck, hosted the last meet on the Bahamas Aquatics' calendar for the year. The swimmers will take a break for Christmas and will be back in action in January.
#Smith, a member of the Alpha Aquatics, posted her double record breaking feat in the girls 9-10 division with her record-breaking performances in the 400 metre freestyle in five minutes and 13.98 seconds and clocked a time of 1:17.50 in the 100m backstroke.
#For 11-year-old Smith, a seventh grader at Bishop Michael Eldon High School, she was competing in her final meet in the 9-10 age group. She said it was a good way to prepare herself for her advancement to the 11-12 division in January.
#"I was pretty proud of myself," said Smith, who emerged with a dominating feat as the high point winner, accumulating 58 points, the most by any swimmer in the meet and 15 points better than her nearest age group rival, Alissa Ferguson of the Barracudas Swim Club with 43 for second place.
#"I enjoyed the 400m free the most because it wasn't really a sprint and I like long distance races."
#Already as she looks ahead to 2023, Smith said she would like to make the CARIFTA cut, go on the team to represent the Bahamas in Curacao during the Easter holiday and return home with some medals and possibly some more records in the process.
#• Other divisional winners during the meet are as follows:
#Girls 8-and-under – Delnia Hamilton of the Barracuda with 37, followed by the next four spots from the Blue Waves with Cailyn Dean (33), Kirsten Rolle (25), Makayla Ferguson (21.50) and Rinia Johnson (18.50).
#Boys 8-and-under – Logan Comarcho (52) and Fraser Menzies (32) provided a 1-2 punch for Alpha Aquatics ahead of Mantas Swim & Water Polo's Asher Bastian (30), Alpha's Lyall Menzies (23) and Sea Waves' Anthony Knowles (18).
#Girls 9-10 – Following Smith and Ferguson in order were Alpha's Isabella Cuccurullo (41), Mako Aquatics' Helsinki Mitchell (28) and Mantas Swim & Water Polo's Tiah Seymour (29).
#Boys 9-10 – Alpha Aquatics took the top spot with Blake Comarcho scoring 50 points. Mako's Nitayo Knowles (34) was a distant second, Blue Waves' Christon Joseph (34) third and Mako's Sean Norville-Smith (32) and Benecio Robinson (25) came up fourth and fifth respectively.
#Girls 11-12 – Alpha Aquatics got another leading performance from Adaiah Smith with 42. Barracuda's Saleste Gibson was runner-up with 36, Alpha's Siann Isaacs (33) third and Mako's DF McKenzie (32) and Kimaya Saunders (27) was fifth.
#Boys 11-12 – Alpha picked up another 1-2 feat as Rafael McBroom took the top spot with 44 and Noah Knowles was the runner-up with 40. Blue Waves' Dijon Simmons (36) was third and the Barracuda got fourth and fifth from Will Farrington and David Singh, both with 31.
#Girls 13-14 – Mako Aquatic got a little greedy and claimed the top three spots behind Zoe Williamson (46), Zarria Watson (43) and Seannae Norville-Smith (30). Lyford Cay Swim Club's Elina Piaux (29) was fourth and Barracuda's Chloe Rolle fifth.
#Boys 13-14 – Alpha Aquatics once again had the top spot as Tristen Hepburn picked up 44 points.
#Lightning Aquatics' Donald Saunders was second with 39, Mako Aquatics' Ellie Gibson (38) and Ayton Moncur (34) were third and fourth and Alpha's Caellum Darville (28) was fifth.
#Girls 15-and-over – Lyford Cay got its best showing from Delaney Mizell (41) and Katie Goulandris (34) for the top two spots. Alpha's Leylah Knowles (33) was third, Mako's Seannia Norville-Smith (33) fourth and Lyford Cay's Isabelle Zatarain (31) fifth.
#Boys 15-and over – Shawn Nelly, competing unattached, took the title with 45 points. Black Marlins' Thomas Bowers was runner-up with 39.
#Alpha's Daniel Ferguson (37) was third, Barracuda's Hodari Prince (31) fourth and Barracuda's Cairo Bastian (25) was fifth.
#Saunders, one of the swimmers from Lightning Aquatic, said he swum very well and he was proud of himself, considering that it was only the second meet for the season. "I performed to the best of my abilities and I really liked what I did," Saunders said. "I enjoyed my 100m backstroke the most because I was just a couple seconds off my best time."
#Saunders, a 14-year-old 10th grader at St John's College, said he plans to go to CARIFTA and win a few more medals like he did last year with a couple of golds in the relay and silver in his individual events.
#Lightning Aquatic's head coach Shawn Neely said since the merger of the Dolphins and Orca, he's seen a vast improvement from their 40-plus strong club. "The meet went very well. This was just our first swim meet and I was very pleased with the turnout and the performances from the club and the overall meet itself," he said.
#"We had some pretty good performances. Most of the kids swum at least two best times so, for the most part, that was what we were looking forward to. Now it's time to look ahead to the new year."
http://www.tribune242.com/news/2022/nov/28/skyler-11-breaks-two-bahamas-open-records/?news