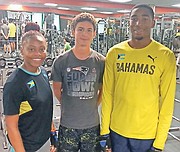 Blue Chips Athletics' Carifta qualifiers Rhema Otabor, Nathaniel Zervos and Keyshawn Strachan are pictured from left to right.
#By BRENT STUBBS
#Senior Sports Reporter
#bstubbs@tribunemedia.net
#SO far, about 12 athletes have attained the qualifying standard for this year's CARIFTA Games, scheduled for the Easter holiday weekend in Hamilton, Bermuda.
#Out of that number, nine have attained the standard in field events, four of whom are members of the Blue Chips Athletic Club, headed by coach Corrington Maycock, who all did their marks in the javelin.
#They include national junior record holder Rhema Otabor in the under-20 girls' division, Keyshawn Strachan and Michaelangelo Bullard, both in the under-20 boys' division and newcomer Nathaniel Zervos in the under-17 boys' division.
#"From the offseason, we set our goal to have them qualify and qualify early," Maycock said. "We can now focus on getting ready for the games and trying to win more medals."
#Within the next month, Maycock anticipates that there will be a few more competitors from his club qualifying. However, they will have to wait until the Bahamas Association of Athletic Associations holds its final trials March 27-28 to determine if they make the team.
#In the meantime, the athletes are all excited about their achievements.
#Otabor, posting her qualifying mark of 47.95 metres or 157-feet, 3-inches at the T-Bird Flyers Track Classic, erased Tracy Morrison's junior national record of 47.52m (155-11), set at the CARIFTA Games in Guadeloupe on April 17, 2006.
#"I'm very happy that I made the qualifying standard so early in the season," said the 17-year-old math major at the University of the Bahamas.
#"I'm happy with the marks. I'm happy that I threw that far."
#Otabor, the defending under-20 girls' champion from last year's CARIFTA in the Cayman Islands, said she had to work more on her technique and her run-up.
#"If I can correct those stuff and tweak my performance, I would be straight going into CARIFTA," said Otabor, whose aim is to throw at least 55m (180-5) this year.
#Being around so many athletes who have attained the standards and are close to qualifying, Otabor said it makes a difference because "it helps to keep our focus because we are all working hard."
#She noted that coach Maycock has pushed her, sometimes too hard, but she's seen the results, having established a CARIFTA record in her first appearance in the under-17 girls' division with a toss of 44.21m (145-0) here at home in 2018.
#Since making his successful debut in the under-17 boys' division when he threw the spear 50.14m (164-6) for the silver at home in 2018, Strachan returned to capture the gold in a CARIFTA-record performance of 64.31m (211-0) in the Cayman Islands. Now he's even more inspired to compete this year in Bermuda, even though he will be moving up to the under-20 boys' division.
#"I try to stay focused and spend a lot of time watching my videos from training," said the 16-year-old St John's College 12th grader.
#"I love this sport. I love competing. It has done so much for me already. I came from Andros and when coach Maycock first saw me at the 2016 Nationals, I didn't have a coach, but he was willing to help me achieve my goals. I really want to thank him. I think if it wasn't for him, I wouldn't be here today."
#Strachan, who also went on to win the gold medal at the NACAC under-20 Championships last year, said having qualified for CARIFTA, he would like to throw at least 68m (223-1).
#"That's my goal for this year and then progress from there," he projected. "Being around the athletes in the club really push me because you can slip up some times.
#"But I love training with them and communicating with them. I just feel like I am on top when we work out together. We help each other out tremendously."
#Last year in the Cayman Islands, Bullard got fourth in the under-20 boys' spear with his heave of 59.69m (195-10) behind team-mate Hughie Rolle, who clinched the bronze with 60.45m (198-4).
#This is just Zervos' first year working with Maycock since he took a break from playing baseball to transition to athletics. The Queen's College student made the under-17 boys' javelin standard with his toss of 53.59m (175-10) in his first meet.
#"From the first day, coach Maycock told me that I would qualify in the first meet and he had faith in me," Zervos said. "So when it happened, I was happy, but I wasn't surprised.
#Zervos said he's hoping to make it a fun year as he improves on his performance and eventually medal at CARIFTA.
#"The athletes in our club constantly remind me of what I need to do and how to better my technique," he said. "I really need to improve on my run-up. My goal is 65 metres (213-3). It's a bet that I have with my coach."
#As time progresses, Maycock said he will continue to work on the basic fundamentals with the athletes, making sure that they stay focused on the goal ahead of them and that is to go to CARIFTA and win a medal.
#Unofficially, the list of qualifiers so far for CARIFTA are as follows:
#Under-17 girls
#Shaunece Miller, high jump, 1.63 (5-4 1/4)
#Under-17 boys
#Stephen Farquharson, high jump, 1.95m (6-4 3/4)
#Dondre Saunders, high jump, 1.93m (6-4)
#Nathaniel Zervos, javelin, 53.59m (175-10)
#Carlos Brown, 100m, 10.89 seconds
#Under-20 girls
#Megan Moss, 400m, 53.67 seconds
#Rhema Otabor, javelin, 47.95m (157-3)
#Anthaya Charlton, long jump, 5.66m
#Under-20 boys
#Shaun Miller, high jump, 2.08m (6-9 3/4)
#Terrance Jones, 200m, 21.0 seconds
#Keyshawn Strachan, javelin, 63.76m (209-2)
#Michaelangelo Bullard, javelin, 61.12m (200-6)