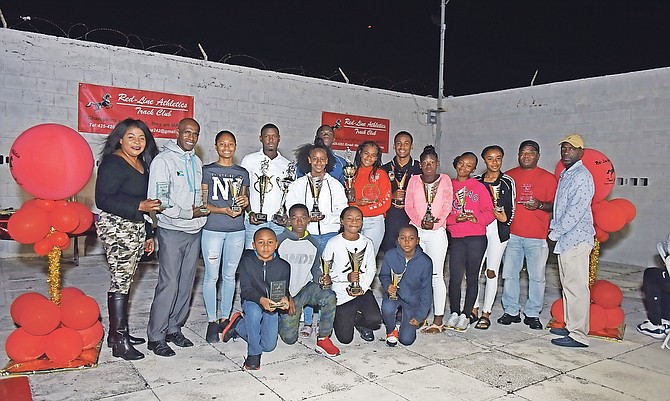 DIVISIONAL WINNERS with their awards at the Red Line Athletics Track Club awards presentation at SAC on Saturday night.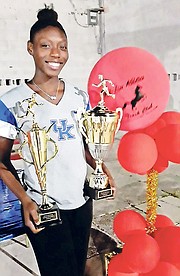 A proud Megan Moss with her awards.
#By BRENT STUBBS
#Senior Sports Reporter
#bstubbs@tribunemedia.net
#COLLEGIAN Megan Moss returned home to claim the Red-Line Athletics Track Club's coveted Athlete of the Year award.
#Although she arrived home late after her flight from Florida was delayed on Saturday night, Moss joined a host of outstanding performers at the awards ceremony that was held at the St Augustine's College pool.
#Among the winners in the various categories were Adrian Curry (under-20 boys), Joshua Miller (most improved athlete), Davon Johnson and Otto Laing (under-17 boys co-winners), Samaa Moxey (under-17 girls), Alejandro Rolle (under-15 boys), Jadan Clarke (under-13 boys), Madison Moss (under-13 girls) and Aiden Curry (under-11 boys).
#The awards were all based on the athlete's athletic performances, but head coach Tito Moss said they intend to extend it to their academic accomplishments next year.
#His daughter, Megan Moss, exemplified both her athletic and academic prowess, having graduated from St Augustine's College this year with a 3.76 GPA and accumulative of 3.55 with 9 BGCEs with 6 A's and 3 B's, while participating on the Big Red Machine's track team and representing the Bahamas on four international teams.
#Unbeaten locally in the 400m, Moss went on to compete at the CARIFTA Games in the Cayman Islands (where she is a co-record holder of the under-17 girls 400m in 53.16 seconds), the Youth Olympics in Argentina; the NACAC Under-18 and U-23 Championships in Mexico and U-20 Championships in Costa Rica.
#Having posted a lifetime best of 53.06 to earn her the number one spot in the world in the U-20 division and 23rd overall in the world, Moss is now at the University of Kentucky where she completed her first semester as a freshman with a 4.00 GPA. She will begin competition for the Wildcats when she returns to Kentucky in January.
#"I am definitely honoured to get Athlete of the Year for my club," Moss said. "I definitely had some great performances this year, but also some disappointing performances. But overall, it was a great season and all the hard work really paid off."
#While running her personal best in the CARIFTA trials was the highlight for her this year, Moss said not securing a medal at the Games was her biggest disappointment. But she admitted that going to the University of Kentucky in August has balanced it all out.
#"I've had a great experience so far making the transition," said Moss, who is pursuing a degree in human health sciences. "Both the athletic side and the academic side have been a great transition. I'm just looking forward to breaking some of my personal and school records and to qualify for the Olympic Games (in Tokyo, Japan)."
#Under the tutelage of "Golden Girl" Debbie Ferguson-McKenzie, an assistant coach at the University of Kentucky, headed by Bahamian Rolando 'Lonnie' Greene, Moss feels she's in the right atmosphere to accomplish her goals next year.
#"It's just a great and comforting environment," said Moss, who is home to take advantage of another Bahamian Christmas before she returns to school on January 1. "I just want to encourage the other athletes in the club to stay focused, continue working hard and everything will fall into place for them in the end."
#Sasha Knowles, another graduate from SAC now in her freshman year at Clayton State University, received the honourable mention for the under-20 girls' division behind Moss.
#The 17-year-old biology major is now being coached by veteran Chris 'Fireman' Brown in her new environment in Georgia.
#"I thought it was going to be difficult, but it wasn't that hard," said Knowles, who ran some cross country events and will begin her indoor season when she returns in January.
#"I'm actually glad that I am with Chris. He has a very good personality and I'm glad that I could form an athlete-coach relationship with him."
#Adrian Curry, having graduated from SAC this year as well, will be enrolling as a health science major at Ohio State in January with Devine Parker and Shaun Miller as they join Tavonte Mott.
#Together, 18-year-old Curry said they hope to make some noise as they try and qualify for CARIFTA and the Olympics.
#"I feel I worked very hard this season and I'm very glad that coach came up with the awards this year and that I won," said Curry, who was unbeaten this year for SAC's Big Red Machine in his speciality in the men's 100m, posting a season's best of 10.41.
#"Overall my season wasn't as bad, but as how some of the qualifying standards were set, it was a bit annoying for me, but I still went out and made some of the national teams and got medals and made my country proud. So this was probably one of my best seasons."
#Both Otto Laing, a sprinter/long jumper at St Augustine's College and Davon Johnson, a sprinter from St Anne's School, shared the top award for the under-17 boys division.
#Johnson, a 16-year-old 12th grader, said he was thankful to God for the opportunity to accomplish what he did.
#"I knew the work and the determination that I put in to produce my performances," said Johnson, who clocked 10.98 in the 100m and was a member of the under-17 boys 4x100m relay team that picked up a silver at CARIFTA "I'm really proud of myself.
#"Next season, I'm looking forward to making CARIFTA again and I want to win another medal for my team. I will be moving up to the under-20 division, but I know I have to put in more work."
#Samaa Mackey, the under-17 girls winner as an 800m specialist, said she put in the hard work and it all paid off.
#"I ran very fast this year," said Mackey, a 26-year-old 11th grader at SAC, who was extremely proud of her personal best of 2:41.27 in the two-lap race. "I want to make the CARIFTA team next year and to win a medal."
#Tito Moss, the founder of the club, said he advised the athletes and their parents that they will hold an awards presentation this year. He said having achieved that goal, they intend to recognise the athletes for their academics next year.
#"These kids are student-athletes and I want the emphasis to be on their academics as well as athletics," he said.
#"So as the club grows, we will be doing more to show our appreciation to them. We also honoured parents and our physio-therapist, Mike Armbrister and St Augustine's College, who allow us to use the school as our base."
#As one of the parents honoured, Ricardo Miller said since the inception of the club he has had a lot of respect for Moss as a coach and he was even more thrilled when his son Joshua decided to join.
#As a result of his performance, Joshua was named the Most Improved Athlete of the Year.
#"I'm looking for bigger and better things next year," said Ricardo Miller. "They have a lot of new athletes and they are training hard and doing well. So I will continue to support the club because I see where they are making strides."