Spence Has Second Successful Bone Marrow Transplant In Us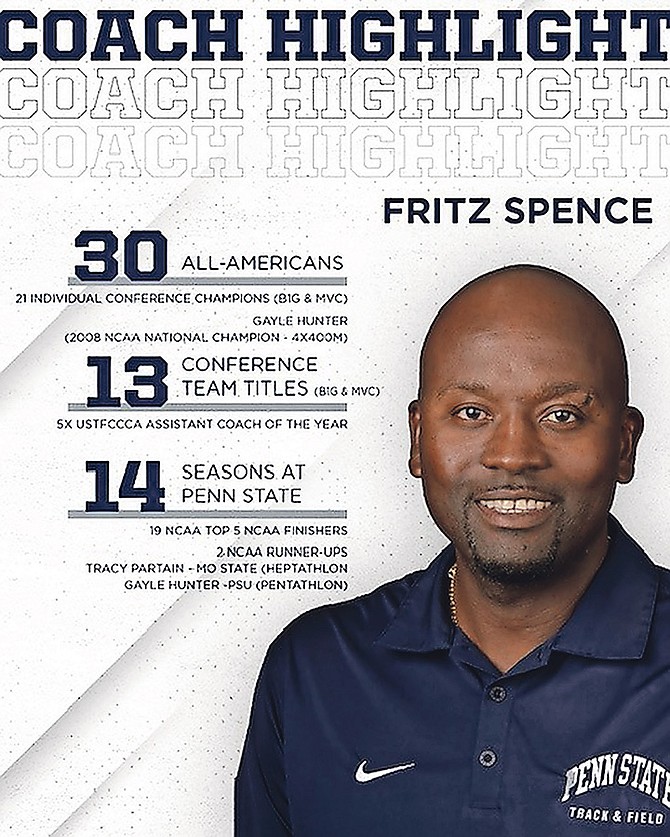 #By BRENT STUBBS
#Senior Sports Reporter​
#bstubbs@tribunemedia.net​
#A week before the United States of America shut down the country because of the effects of the coronavirus pandemic, Bahamian coach Fritz Spence had his second successful bone marrow transplant surgery to help him overcome his battle with leukemia (AML).​
#The former triple jumper who was originally coached by Fritz Grant in South Andros before he came to Nassau where he was then coached by Minister of Works Desmond Bannister, Mark Hall and Sterling Moss, was diagnosed with cancer in 2008, Spence had a relapse in 2013 and again last year. ​
#Spence, now in his 14th year as an assistant coach at Penn State, said he's coping day by day with the support from his family and the administration and staff at school.​
#"My wife has been my rock. She has gotten me through the tough times, so I rely on her for a lot of things," said Spence, who is married to Teri and the proud father of four children and a granddaughter. ​
#"I try to work my way back each time. So I'm on the upside. Penn State has been there with you throughout the lapses and I am grateful to be a part of a programme that takes care of its people."​
#The latest surgery was done on March 11 at the Penn State Milton S Hershey Medical Center in Hershey, Pennsylvania, a week before President Donald Trump shut down the American economy to deal with the coronavirus. Had he not done it then through an unrelated donor, Spence said he would have been on a waiting list as he dealt with the current lockdown.​
#"I'm feeling pretty good. I'm on the upside," Spence said. "I am ready to get back to work. I'm working from home, still recruiting and doing stuff. I'm feeling good.​
#"Some days are better than others, but I just have to continue to push through. I've been through it before, two times already. So I know what it takes to get back to where I need to be. It's a good and a bad thing, but it's good that I have that experience to fall back on."​
#Spence, now 47, was first diagnosed at 35, but that has not kept him from fulfilling his long-time dream of being a coach and giving back to his country and the community.​
#"Having an opportunity to coach at Penn State is just my second school. I've only been coaching at two schools, so I'm very fortunate, not to have been all over the place," he said.​
#"I started at Missouri State and now I'm at Penn State. But having the opportunity that I have here at Penn State, it's unbelievable and I'm thankful to my mentors like Mark Hall, Desmond Bannister and Fritz Grant. They are responsible for where I am today."​
#One day, Spence said he would like to come back home and make a contribution to the Bahamas Association of Athletic Associations, who gave him a head start as a triple jumper on the CARIFTA Games' team back in the late 1980s before he headed off. ​
#"I will continue to work and to improve myself and let everything take care of itself," Spence said. ​
#At present, Spence said he's abiding to the lockdown measures, considering the fact that they are so close to the hot spot in New York where the majority of the coronavirus cases in the United States have occurred.​
#"I'm working remotely at home with our student-athletes on a daily and weekly basis," he said. "I'm still dealing with them. We're finally done with school because we are on the summer break. But I'm still recruiting, so we're still functioning as if we are preparing for the fall semester in August."​
#Spence, however, said Penn State unfortunately doesn't have any student-athletes on their roster, following the departure of Eleuthera native and St Augustine's College sprinter Keianna Albury, who graduated last year.​
#Albury followed on the footsteps of another SAC graduate, triple jumper Danielle Gibson, who left Penn State a few years ahead of her. Penn State is also the alma mater of quarter-miler Mike Sands, the new president of the North American, Central American and Caribbean region of World Athletics, the global governing body for track and field.​
#"I would say to Bahamian student-athletes, give Penn State a choice to consider," Spence said. "You can go online and take a virtual tour and check out our top-notch facilities indoors and outdoors.​
#"We have a great educational system. We're known for producing great student-athletes because we push our students and our athletes. So we just don't focus on student-athletes coming in and just being successful on the track. We also want to be successful in the classroom."​
#At the end of the day, Spence said that is what will sustain the student-athletes when they depart and will have to support their own families one day.​
#As one of the Bahamians in the coaching fraternity in track and field in the United States, Spence said he's very fortunate to be able to do something that he enjoys doing.​
#During his tenure, he has been named five times as the USTFCCCA Assistant Coach of the Year. He has also produced 30 All-Americans, including 21 individual conference champions.​
#At Penn State, Spence has also had the opportunity to rub shoulders with Bahamian coaches Rolando 'Lonnie' Greene and Norbert Elliott. As arch-rivals in the Big Ten Conference, Greene served previously as the head coach for the Purdue Boilermakers while Elliott was an assistant coach. ​
#Greene has since left Purdue to take up the head coaching job with the University of Kentucky where Bahamian "Golden Girl" Debbie Ferguson-McKenzie is now his assistant. In his departure, Elliott has been promoted to take over the head coaching chores at Purdue.​
#For now, Spence said he's quite content making his contribution at Penn State, coaching the Nittany Lion wom­en's jumpers and multi-event athletes. He has had outstanding results in his time with the Nittany Lions, overseeing 22 All-America efforts, nine top-5 NCAA finishers, six Big Ten champions, also contributed to two top-four finishes at the NCAA Championships (2008 and 10) a Big Ten triple crown (2009 and10), USTFCCCA Scholar Team of the Year (2010) and nine Big Ten titles.
#Prior to coming to Penn State, Spence coached 14 conference champions, 10 NCAA qualifiers, and eight All-Americans at Missouri State University. He was a part of a coaching staff that won four Missouri Valley Conference Team Championships in both the indoor (2003 and 04) and outdoor (2002 and03) seasons.
#In December of 2015, Spence graduated from Missouri State University with a Mas­ter of Science in Administrative Studies (MSAS)/Applied Communication. He is also certified in CPR, First Aid and as a Fitness Trainer through the International Sports Sciences Association.
#Spence and his wife, Teri, reside in State College. They have three daughters, Ashlie, Keiva and Ale'ka one son, Ashton and a granddaughter, Aria.