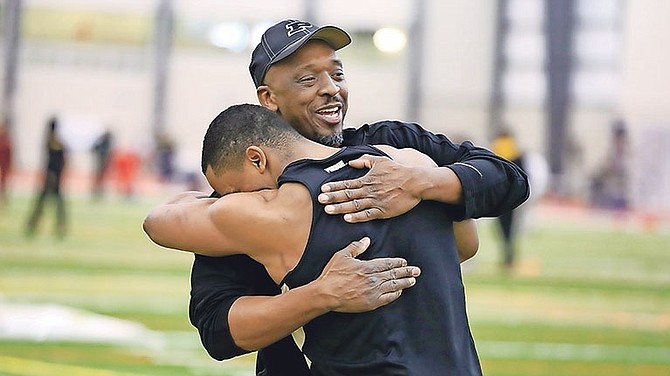 Coach Norbert Elliot embraces a student athlete at Purdue University, where he will head the Boilermakers' track and field programme.
#By BRENT STUBBS
#Senior Sports Reporter
#bstubbs@tribunemedia.net
#TWO days after they lost Bahamian head coach Rolando 'Lonnie' Greene to the University of Kentucky, Purdue University stayed at home in selecting his replacement as Bahamian assistant Norbert Elliott moved up the ladder to continue to develop the Boilermakers' track and field programme.
#Purdue vice president and athletics director Mike Bobinski announced yesterday that Elliott will become the second consecutive Bahamian head coach after it was announced on Tuesday that Greene had moved to Kentucky for his head coaching job.
#"Based on the dramatic improvement and recent success of our programme, it made great sense to look first within our own staff for our next head coach," Bobinski said. "In Norbert Elliott, we have a proven and talented coach who has been instrumental in the recruitment and development of many of our most successful student-athletes.
#"Norbert is a quality person with tremendous character, and he brings experience as a former head coach, a top-level assistant at nationally successful programmes, and as an Olympic and World Championships coach. I am excited for him to lead our programme."
#Elliott, married to assistant track and field coach and former Boilermaker standout Angela (Goodman) Elliott, has been at Purdue for six years, most recently serving as associate head coach since July of 2015, working with the sprinters, hurdlers, horizontal jumpers and relay teams.
#"I am truly honoured to be named the head track and field/cross country coach at Purdue University," Elliott said. "I would like to thank Mike Bobinski and Calvin Williams for having the confidence in me to lead one of the best track and field programmes in the country. We will continue to build on all our successes. I am excited and can't wait to hit the ground running in this new adventure."
#Elliott, a former Bahamian national triple and long jumper who hailed from St Augustine's College, helped the Boilermakers' women finished eighth at the 2018 NCAA Outdoor Championships and were 2017 Big Ten outdoor champions. They placed 14th at the last two NCAA Indoor Championships. At the same time, the men finished 13th and 15th at the 2016 NCAA Indoor and Outdoor Championships, respectively.
#Williams, Purdue's assistant athletics director, said it was good to recognise Elliott for his accomplishments.
#"Coach Elliott has a history of developing talent and is a proven leader," said Williams, who oversees the track and field programme. "I have every confidence he will continue the momentum he has helped establish at Purdue over the last six years."
#During Elliott's tenure, the women's sprinters and hurdlers have experienced tremendous success, headlined by eight-time All-American, including Bahamians Devynne Charlton, another SAC graduate who recently signed a pro contract to run for Puma, and sprinter Carmiesha Cox, a graduate of Aquinas College, who both earned All-America honours as a member of 4×100-metre relay teams, running some of the top 60-, 100- and 200-metre dashes in programme history.
#On the men's side, where Bahamian sprinter Keanu Pennerman from St Anne's High, quarter-miler Kinard Rolle from SAC and Tamar Greene are still on the roster, Elliott's first men's sprint superstar with the Boilermakers was Raheem Mostert, who took home four gold medals at the conference meets in 2014 and was named the Big Ten Indoor Athlete of the Championships.
#Mostert topped the field in both the 60 metres and 200 metres indoors and followed up with outdoor 100-metre and 200-metre titles, setting Purdue's 60-metre record and posting top-five school marks in all four races.
#Throughout his coaching career, Elliott has now coached more than 50 All-Americans and eight individual NCAA champions.
#Elliott came to Purdue from Campbell University, where he was the head track and field and cross country coach in 2011-12. Prior to his stint with the Camels, he was an assistant coach at the University of Tennessee for seven years. He previously served as head coach at Murray State University for two years, assistant coach at the University of Georgia for nine years and assistant coach at the University of Texas-El Paso for three years.
#While with Tennessee, Elliott was the recruiting coordinator for Caribbean student-athletes. He also helped coach his student-athletes to 29 All-America certificates, two NCAA Championships, eight SEC individual championships and five school records. Among his standouts was Aries Merritt, NCAA champion and current world record-holder in the 110-metre hurdles. His excellence with the sprints led Elliott to be honoured as the 2007 Mideast Assistant Sprints Coach of the Year.
#Elliott boasts an impressive international coaching résumé, as well.
#In 2001, Elliott was selected as the head men's team coach of the Bahamas at the World Championships in Canada. There, he coached the men's 400-metre world champion, women's 200-metre world champion and bronze medallist, and men's 4×400-metre silver medal team.
#At the 2000 Olympics in Sydney, Australia, Elliott coached Debbie Ferguson, a finalist in the 100 metres and 200 metres and a member of the gold-medal winning 4×100-metre relay team. Elliott coached jumps for the World Junior Champions Team for the Bahamas in 2000 and the Bahamian World Championships women's finalists in the 100m and 200m in 1999. He has also coached numerous World Championships medallists from the Bahamas and Iceland, including a stint as head coach of the Bahamas national team at the Central America and Caribbean Meet in Guatemala in 1995.
#Elliott, 55, was a two-time Olympian, representing the Bahamas in the 1988 and 2992 games in the triple jump. He has also competed on every other level of competition, including the Commonwealth Games, Pan American, Central American and Caribbean Games as well as the CARIFTA Games, winning numerous medals of every colour.