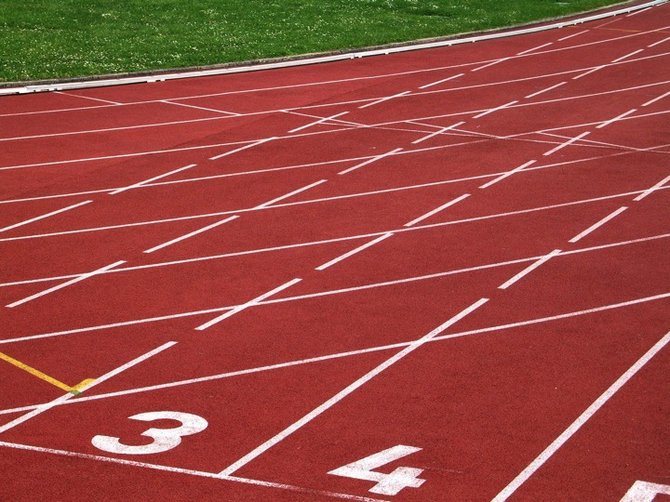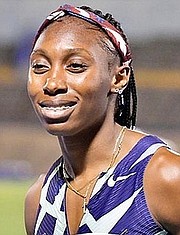 Anthonique Strachan (File photo)
#By BRENT STUBBS
#Senior Sports Reporter
#bstubbs@tribunemedia.net
#As Jamaica's two-time double sprint champion Elaine Thompson-Herah went on to post a meet record in the women's 100 metres at the Wanda Diamond League Meeting in Rabat on Sunday, a technical error left Bahamian Anthonique Strachan watching in disbelief in the starting blocks.
#Competing in the fourth leg of the 12-event series around the world in the Wanda Diamond League determined by points, Strachan was lined up in lane eight of the race. However, at the start of the gun, she remained in her position as the rest of the field took off.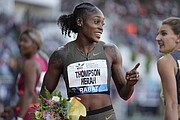 ELAINE Thompson-Herah of Jamaica celebrates her win in the 100-metre women's race during the Diamond League athletics meeting in Rabat, Morocco, on Sunday. (AP Photo/Mosa'ab Elshamy)
#"I'm okay. It's just that the speaker in my lane wasn't working and I didn't hear any of the commands," said a somewhat disappointed Strachan after the race in the Prince Moulay Abdellah Sports Complex in the capital city of Morocco. "It was just a technical error."
#There were no glitches for Thompson-Herah, who pulled away from the field midway through the race to breeze through the finish line in 10.83 seconds to lower her previous meet record of 10.87 that she established back in 2017.
#Ivory Coast's veteran sprinter Marie-Josee Ta Lou took second place in a season's best of 11.04, while Jamaican Natasha Morrison was third in 11.22, also a season's best.
#For Strachan, who came into the race having ran a lifetime and season's best of 10.99 earlier this year, it was not the outcome she anticipated.
#"I'm very upset about it because I had planned to go out there and run relatively good, but stuff happens. That's all I could say," Strachan said.
#"This was supposed to be my last meet before the Bahamas Association of Athletic Associations Nationals (in June), so I don't know. I will have to speak to my team and see."
#The 28-year-old Strachan is currently training in Jamaica as part of the Maximising Velocity and Power Track and Field Club (MVP Club), which now includes Morrison and Shericka Jackson, two of her training partners.
#In addition to running her lifetime best of 10.99 in Kingston, Jamaica on March 26, Strachan has also produced a season's best of 22.55 in her specialty in the 200m on April 23, which was shy of her personal best of 22.32 that she recorded on June 22, 2013 in Nassau.
#In securing some of her fastest times across the board this year, Strachan has even moved up to the 400m where she clocked a season's best of 52.84 on April 2. She has a lifetime best of 52.24 that she ran on June 11, 2016 in Montverde, Florida. The double sprint 100-200m champion at the International Amateur Athletic Federation's World Junior Championships in Barcelona, Spain in 2012, the same year that she got Rising Star Athlete of the Year honours.
#Strachan, who has gone through her share of adversities with injuries, is still looking forward to making her first global final as an elite or senior athlete. She has qualified for the World Athletics, formerly the IAAF, World Championships in Eugene, Oregon in July.
#Colebrooke missed final
#At the Music City Track Carnival at the Vanderbilt Track Facility in Nashville, Tennessee on Sunday, Samson Colebrooke, who also has qualified for the World Championships, had to settle for 15th place in the men's 100m.
#Colebrooke, who has ran a season's best of 10.02 on April 9, clocked 10.61 for eighth place in the last of two heats.
#Cejhae Greene of Antigua had the fastest qualifying time of 10.06, followed by Jamaica's Ackeem Blake in 10.08.
#In the final, Blake got to the finish line first in a personal best of 9.92 with Greene coming in second in a season's best of 10.02. American Kendal Williams also posted a season's best of 10.05 for third place.