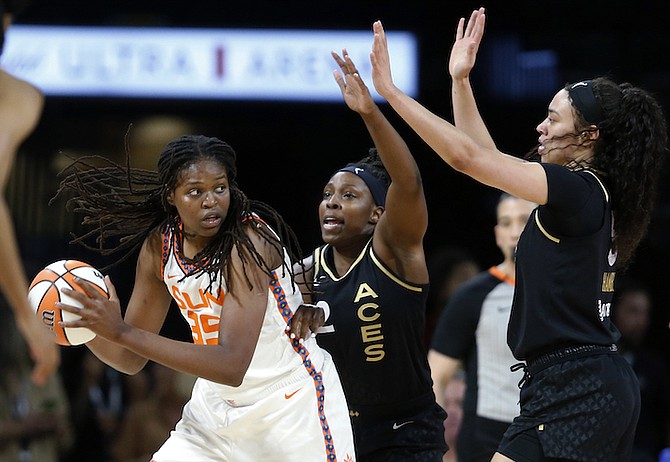 Connecticut Sun forward Jonquel Jones (35) is guarded by Las Vegas Aces guard Chelsea Gray (12) and forward Dearica Hamby, right, during a WNBA basketball game in Las Vegas on Thursday, June 2, 2022. (Steve Marcus/Las Vegas Sun via AP)
#By RENALDO DORSETT
#Tribune Sports Reporter
#rdorsett@tribunemedia.net
#JONQUEL Jones concluded May with a season low scoring effort but opened June with season highs in three consecutive games to earn WNBA Eastern Conference Player of the Week honours.
#It marked the 12th time in Jones' five-year career that she won the award and the first since September of the 2021 season.
#Jones finished with 25 points, eight rebounds, a season high six assists and three steals in the Connecticut Sun's 93-86 win over the Seattle Storm Sunday night at Climate Pledge Arena in Seattle, Washington.
#After failing to reach the 20-point barrier through the first nine games of the season, including back-to-back nine point (May 28) and eight point (May 31) games, Jones has scored at least 20 points in the last three games.
#During the week of May 30-June 5, Jones averaged 19.3 points, 8.8 rebounds, 2.8 assists, 1.5 steals and 1.0 blocks in 29.4 minutes per game.
#Prior to Sunday's contest, she finished with 20 points on 7-9 shooting and seven rebounds in a win over the Las Vegas Aces on June 2, followed by 24 points on 6-8 shooting and seven rebounds in a 92-88 win over the Phoenix Mercury on June 3.
#The Storm led by as many as 13 points in the first half, had a 63-53 lead late in the third quarter and 67-61 going into the fourth quarter. Jones added a layup to cap and 8-0 run and give the Sun their first lead since the game's opening basket.
#After a Storm basket, the Sun went on a 17-2 run to put the game away late in the fourth.
#"I think the first half was the hardest part," Jones said in her post game availabilit. "Just getting our bodies to really be locked in and just getting to that game level."
#After they won three of four on the road trip and five or their last six, the Sun now lead the WNBA's Eastern Conference at 9-3, one game behind the Las Vegas Aces (10-2) for the best record in the league.
#"I feel like in the past, we knew that we were a pretty good team. We knew that when things were going well for us, we were going to win a game. And I feel like we didn't really know how we were in terms of adversity, because in the past we would separate a little bit or things just wouldn't feel the same, like that chemistry would kind of just go away," Jones said.
#"And so I feel like this stretch that we just played, it showed us that we can win ugly games, that we can come back from deficits and still be able to stay in the game and win.
#"And so, it's a good character builder for our team for sure."
#Jones leads Connecticut in scoring at 15.6 points and one block per game, and is second on the team in rebounds per game at 8.3.
#The Sun return home to the Mohegan Sun Arena in Uncasville, Connecticut Wednesday night in the first of a four-game homestand when they host the Indiana Fever.