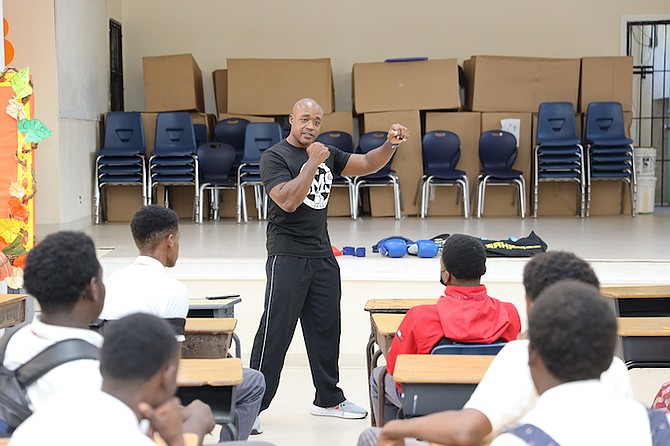 STRIKERS Boxing Club founder Ronn Rodgers talks to students of CR Walker Secondary High School during a special session in the T Nicola McKay Auditorium. Photos: Austin Fernander/Tribune Staff
As of Tuesday, November 29, 2022
#By BRENT STUBBS
#Senior Sports Reporter
#bstubbs@tribunemedia.net
#With a renewed focus on getting more young people involved in sports, Strikers Boxing Club introduced the sport to a group of students at the CR Walker Secondary High School.
#During a special session in the T. Nicola McKay Auditorium, Strikers Boxing Club founder Ronn Rodgers talked about his introduction to the sport by his uncle Ray Minus Sr at the Poinciana Arena and how the sport afforded him the opportunity to travel around the world.
#Rodgers, however, said that if young men and women are looking for a more disciplined sport to get into and to learn very quickly, it would be boxing.
#He noted that the Strikers Boxing Club is inviting persons to join them at their training site on Marshall Road or wait until they announce when they will be bringing their training programmes into the inner-city next year.
#Rodgers was originally scheduled to conduct the session with Bahamian heavyweight Amron Sands. But Sands, who is preparing for his return to the ring after recuperating from an injury, had to fly back to Florida yesterday to get back in training for his next fight.
#"The presentation was excellent. It was actually a larger turnout than I expected," Rodgers said. "I didn't realise that this school had so many kids that were interested in boxing. I knew they had a lot of troubled youths and that was why I was asked to come and speak to them, but we had some of the good kids too."
#Based on what he saw, Rodgers said they are planning to stage a regional programme where the potential boxers can train in camps situated in their regions and then eventually compete in a national amateur boxing tournament. While there is no programme of such in the federation, Rodgers said that they intend to provide the programme from the Strikers Boxing Club.
#Jihan Knowles, the 10th grade head and a geographic teacher, said he liked what he saw Rodgers was doing with the Strikers Boxing Club and so he reached out to him to speak to the youngsters at CR Walker with the view of getting them into some positive sporting activities where they are not involved in any programme at all.
#"The boys are very interested and I'm glad to see that we have some girls who are also interested," Knowles said. "The boys have a lot of energy and some of the sports are not physical enough for them and so it was decided to garner some interest from the students."
#Knowles said he was pleased to see how the boxers were able to interact with Rodgers as he demonstrated how to use the boxing equipment he brought along. He also noted that the boxers were very enthused by the number of questions that they asked.
#Jesse Johnson, a 12-year-old 11th grader at CR Walker, was one of those students.
#"I watched boxing and I like it," he said. "I learn that street fighting and ring fighting is not the same. I liked how he told us how we can get involved in training to become proper fighters. I think it's something that I am willing to take on whenever it is introduced to us in training."
http://www.tribune242.com/news/2022/nov/29/strikers-boxing-club-hits-cr-walker/?news