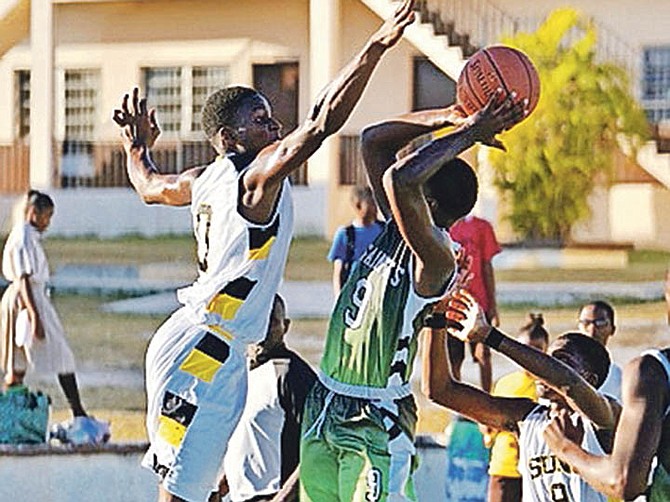 ON THE REPLAY: The Temple Christian Suns routed the visiting Kingsway Academy Saints 73-41 at home yesterday in Bahamas Association of Independent Secondary Schools senior boys action. Photo: Terrel W Carey/Tribune Staff
#By BRENT STUBBS
#Senior Sports Reporter
#bstubbs@tribunemedia.net
#IT was a lopsided Bahamas Association of Independent Secondary Schools senior boys' basketball affair as the Temple Christian Suns delighted their home crowd yesterday with an impressive 73-41 rout over the visiting Kingsway Academy Saints.
#Not long after they utilised their potent full court trap defence, the Saints found themselves in a hole as they couldn't find any answers to combat their scoring drought in the second half.
#In what started out as a pretty good matchup between two teams tied with identical 2-1 win-loss records, Temple Christian broke away on a 7-0 run to extend their lead to 17-9 early in the first quarter and they were never threatened as they held on for a 17-11 margin at the end of the first break.
#With their swamping defence intact, the Suns went on to shine 32-27 at the half. But it was what they did in the third quarter that made the huge difference. They came out of the half and went on a 19-2 spurt to extend their lead to 51-29 heading into the final break.
#And even though they rested their starters midway through the fourth, they still managed to surge to a 22-14 advantage to seal the deal as the Suns shone with three players in double figures with Miguel Barnes leading the attack with 14 points and Garreth Edgecombe and Christian Sturrup both connecting on 13 points, while Deyton Albury added eight and Mitchell Fynes chipped in with seven.
#In a losing effort, McCallister Smith canned a game high 18, Ashton Webb had eight and Dacoda Johnson five, but it wasn't enough. "Last year we played Kingsway and it was a very competitive game, so we knew they were going to come back with that same intensity," said Temple Christian's head coach Jammal Smith. "We took care of the ball and executed well on both ends of the court.
#"But it was our defence which made a statement today and that was critical in our victory," he added.
#Smith said although they are sitting pretty good in the standings, their goal this year is to win the BAISS title and so they are just taking it one day and one game at a time.
#"If we can sharpen our intensity and improve on our mental focus, the sky is the limit for us," he projected. "But we have to work hard at it every day. Nothing is going to be given to us. We have to go out there and play hard every day."
#The Suns' only loss was 48-44 to the St John's Giants, but their biggest rout came against the Nassau Christian Academy Crusaders, whom they demolished by almost 70 points.
#The Saints, whose previous loss came against the Queen's College Comets by two, simply didn't play up to their potential and they were blown out in a game that head coach Andrew Bobb said they deserved to lose, for various reasons. "We are nursing some injuries at the moment, so I knew I had a lot of bench problems," said Bobb, admitting that he was not trying to make any excuses. "I had to run some of my guys too long. Even when we managed to stay with them in the first half, it was kind of difficult to keep the pace up in the second half.
#"Other than that, I expected a tough fight. I believed my boys could have done way better. We had some careless turnovers, which were costly and the floodgates just opened after that."
#Now 2-2 on the season, Bobb said he's not giving up on his team because he feels they have a couple games they should win and enable them to get into the playoffs.
#"Hopefully we can recover from the injuries sooner than later and we can get some better performances off the bench," he said. "But the objective is to just get into the playoffs and once we do, we will take it from there."
#One of the highlights of the game came in the third quarter when Randall was hit with a foul and technical foul that sent Edgecombe to the line as he iced the three charity shots to extend their lead to 47-28. Then just before the break, Albury dribbled the ball from half court through the Saints' defence for a one-handed dunk, much to the delight of their fans.
#The theatrics continued in the fourth when Sturrup scored a fading three-pointer as he fell to the floor with the Suns enjoying a 57-29 margin.
#Before they were done, Nicholas Jones got another break away one-handed dunk that cushioned their 65-32 lead and they kept on cruising from there.