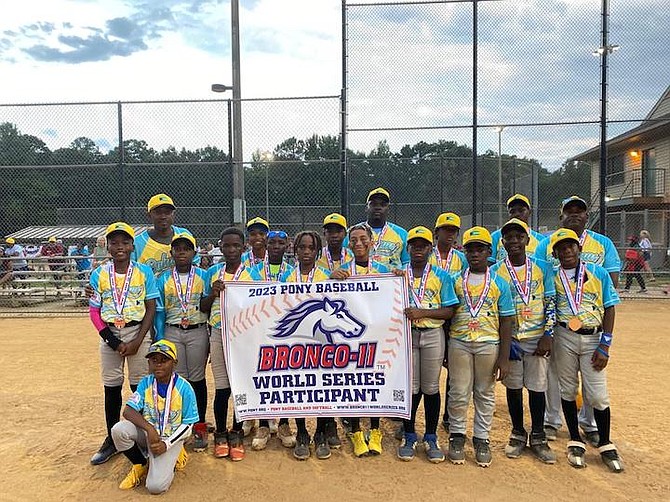 THE Bahamas under-11 national baseball team at the Pony Baseball Bronco-II World Series in Chesterfield, Virginia.
#By BRENT STUBBS
#Senior Sports Reporter
#bstubbs@tribunemedia.net
#THE Bahamas' under-11 national baseball team to the 2023 Pony Baseball Bronco-II World Series fell short of getting into the bronze-medal game yesterday in Chesterfield, Virginia.
#The Bahamas, managed by Javier 'Sonic' Bowe, dropped a 3-2 decision to West Raleigh in the East Zone Championship game on Sunday night to get eliminated from the tournament with Colman Darville pitching a superb game in a losing effort.
#West Raleigh avenged their 8-3 opening loss to the Bahamas before they eventually lost 9-1 in their semifinal match to Orange, CA. Orange also blanked the Bahamas 16-0 in their match-up during the tournament.
#Despite not getting into the medal round, Team Bahamas collected some post-tournament awards as Bosfield Butler was named the best catcher of the tournament; Kamdynn Miller finished as the runner up in the home run derby and the Bahamas also got second in the base running competition.
#The other team members were Gianno Newball and Isaac Richardson from Freedom Farm; Trevonte Saunders, Emmanuel Smith, Hasan Mitchel and James Bethel from the Grand Bahama Little League and Andrew Gibson, Geralle Gabriel, Michael Wilson, Rhamelo Bethel and Kymani Rolle from the Junior Baseball League of Nassau.
#Bowe, who was joined by coaches Jaiden Cartwright and James Clarke, felt that Team Bahamas gave it their best shot, but fell short against some stiff competition.
#"We performed very well. We ran into some competition, especially the pitching that we have not seen at this level," Bowe said. "We played as best as we could, but it was very tough for us. The competition was really tough."
#As they prepare to return home, Bowe said they just simply have to play more baseball in the Bahamas if any team that leaves the country for international competition is going to be successful.
#But although they didn't play as many games as their opponents in the United States, Bowe said the players still gave a very good account of themselves.
#And the Bahamas should be proud of their efforts, he added.
#The team is expected to return home today.