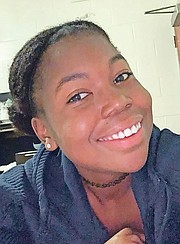 Iesha Shepherd
#By BRENT STUBBS
#Senior Sports Reporter
#bstubbs@tribunemedia.net
#WITH the collegiate sports programmes taking shape in the landscape of the coronavirus pandemic, tennis player Iesha Shepherd will be one of those Bahamian student-athletes who will be staying at home until January.
#Shepherd, one of the top female players in the Bahamas Lawn Tennis Association, should have already reported to Jackson State University to begin her senior year with the Tigers tennis team. But JSU advised all of their international students last week to stay at home until January and continue their studies online, due to the rapid spread of the coronavirus in the United States.
#The 21-year-old Shepherd, who transferred from Chicago State University, feels the move will benefit her in the long run as she will still have a chance as a junior to play tennis, although she will be a senior academically with her major in accounting.
#While she will be preparing to graduate in May, Shepherd said she will have the luxury of returning to JSU to complete her senior year and at the same time pursue her master's degree.
#"It's good and bad, but I'm okay," said Shepherd, whose classes will commence next week.
#"I'm managing because I did online in high school when I left Queen's College, so everything is fine. I'm just glad to be home. I haven't been home this long in about six years."
#Shepherd, who at the age of 16 left QC for California where she participated in Long Springs International, enrolled in their online classes as she pursued tennis.
#"This is probably like nine months that I will be home until December," she stated.
#"I feel lost because I haven't done it in a long time, so I'm still trying to find how I can enjoy this.
#"I'm really in my room during the lockdown, having just finished my summer classes two weeks ago so it's mind-boggling."
#Instead of going through her offseason routine to get ready for the upcoming season and juggling her time with her classes, Shepherd said she's adjusting to the new norm that she's engaged in.
#"I know the bigger picture and I realise all that is going on,"' she said as she reflected on the pandemic.
#"My body needs this break. I'm feeling stronger because I'm more relaxed. I think this is good and bad for me.
#"At least I'm taking my vitamins on time to deal with my asthma, I'm learning how to play my guitar again, I'm starting yoga and I'm spending more time with my dog, Star, but I think the most important thing is my mom and my parents are happy that I don't have to travel right now."
#Shepherd, the daughter of Vernita Ellis-Daley and Ivan Shepherd, said she has been instructed by the coaching staff at JSU to continue to work on her game so that she can be in her typical playing condition when she reports to school in January.
#"We have a group chat called the SWAT chat and we have two of our personal trainers and our head coach and our assistant coach in the group with our team-mates, so we are constantly in touch with each other," Shepherd said.
#"So since March when school shut down because of the coronavirus, they have been on us. Literally, there is a new workout session every day and nutritional facts of what we have to do during the quarantine period at home."
#With a Nike app to monitor the required time they take to train on a personal level, Shepherd said their conditions will show whether or not they are ready to play when they return to school.
#"We are on scholarships, so the least they expect for us to do is to keep our bodies in tact because once January starts, we will have to compete against each other to see what's the line-up," she pointed out.
#"So if you are not in shape, you will not be in the line-up.
#"So what's your purpose being there. They are constantly on you, reminding you what you have to eat and what exercises need to be done, so they are on us to show that they care and they want the best out of us."
#Listed as the number two seeds in their conference when they started the season, which was called off in March before they could play because of the coronavirus, Shepherd said they had a chance to win the title, but they will never know.
#"We were looking at the possibility of winning the title and going to the NCAA Championships and then this whole outburst happened," reflected Shepherd, who was listed at number two on the team in singles and was also included in doubles.
#Prior to going off to school, Shepherd has enjoyed a wealth of success as the former junior national champion, having won the 2015 BLTA Giorgio Baldacci National Tennis Open at the National Tennis Centre to earn her third berth on the Fed Cup, adding to her initial appearance in 2014 and her last in 2017.
#She's hoping that when she's done with her collegiate career, she will begin to make her mark as a senior player on the international tour.
#If that doesn't work out, Shepherd is hoping her accounting degree will propel her into the job market.