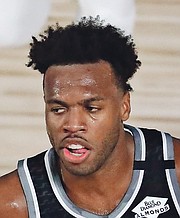 Buddy Hield
#By RENALDO DORSETT
#Tribune Sports Reporter
#rdorsett@tribunemedia.net
#THE Sacramento Kings have been eliminated from playoff contention for the 14th consecutive season.
#Buddy Hield had his best shooting performance of the NBA seeding games thus far with 16 points on 6-11 shooting (4-9 from three), but the Kings lost 129-112 to the Houston Rockets Sunday night in Orlando, Florida.
#Sacramento fell to just 1-5 in the bubble and were officially eliminated from the postseason by halftime of their game once the Portland Trail Blazers beat the Philadelphia 76ers.
#The Kings are the third team to be eliminated from playoff contention in Orlando thus far, joining the New Orleans Pelicans and Washington Wizards.
#The Kings' postseason drought is second only to the Los Angeles Clippers who missed the playoffs for 15 consecutive years.
#Prior to the COVID-19 pandemic, the Kings went on a surprising 13-7 win streak to work their way back into the playoff picture that was followed by a series of underwhelming performances in Orlando.
#"We have to understand and change our mindset as far as what it takes to win," said Kings head coach Luke Walton.
#"We have a very good group of guys and the main thing I hope we take from this whole bubble experience is learning that lesson firsthand."
#The Kings conclude their 2019-20 season against the New Orleans Pelicans (August 11), and Los Angeles Lakers (August 13).
#"I fully expect our main guys to play and to play at a hard level," Walton said. "These are two more great opportunities for us. We have to be ready to go and take advantage of this opportunity."