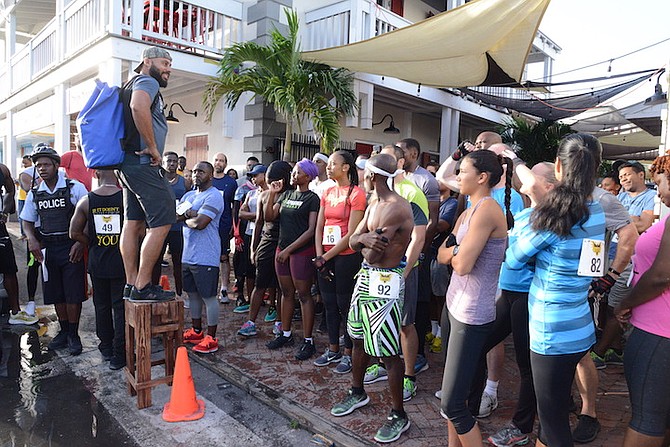 As of Tuesday, December 13, 2022
#IF you have not yet registered for the Chickcharney Challenge there's still time, as organisers of the island nation's premier obstacle course challenge have announced a new date for the wildly popular event.
#Chickcharney Chirren chief executive officer Chester Robards says that the event will now be held on January 28, 2023, after the initial date of December 3 was scrapped so as not to conflict with a number of other events scheduled that weekend.
#Following a two-year hiatus, the upcoming iteration of the event aptly dubbed "The Return" will be held at the Clifton Heritage Park.
#The Chickcharney Challenge, which is now in its seventh edition, puts one's fitness and endurance to the test over a three-mile course featuring some 16 obstacles.
#Robards says the postponement was somewhat of a "blessing in disguise."
#"We, like so many others, are still suffering from some shipping issues and so some things had not come in yet. It has also allowed more time for people who wanted to become sponsors to now come on board.
#"Hurricane Nicole also impacted the part of the beach where our starting line was going to be so hopefully it will be remediated in time for the event."
#Robards said: "We have our package pickup and happy hour at Crypto Isle the night before the event."
#The package for Chickcharney Challenge registrants would include their entrance and timing chip.
#"We are also inviting people running in the event to camp over in the park the night before.
#"If they're running at 6.30am they don't have to drive out early. They can't camp at the site in their vehicle unfortunately, but they can use a tent. We do have a limited number of them for rent," says Robards.
#Persons interested in participating in the obstacle challenge are urged so sign up as soon as possible as there are limited spots available.
#The Chickcharney Challenge is geared toward not only serious fitness enthusiasts but also those simply looking to have fun while trying something new.
#The event began back in 2015, typically attracting around 100 participants, a number Robards says he hopes to see doubled this time around.
#The event is being held in partnership with Clifton Heritage, with Colina Insurance as the lead sponsor.
#The cost to participate in the challenge is $70 for adults and $50 for persons under the age of 17.
#For groups of four or more participants the cost is $65 per person and groups with participants ages 17 and under, the cost to participate is $45 per person.
#Obstacle course racing is one of the fastest growing segments in endurance sports globally.
#An official governing body – the International Obstacle Racing Federation (IORF) – was established nearly a decade ago to legitimise efforts to have obstacle course racing become an Olympic sport.
#Robards says that when that becomes a reality, he hopes to someday see a Chickcharney participant competing in the Olympics.
#In keeping with efforts to foster greater adoption of digital payments in the country, The Chickcharney Challenge is going digital this year and accepting Sand Dollars. SunCash is the payment solution provider for this year's event
#To register for the Chickcharney Challenge go to https://www.chickcharneychirren.com.
http://www.tribune242.com/news/2022/dec/13/return-chickcharney-challenge-set-january-28/?news