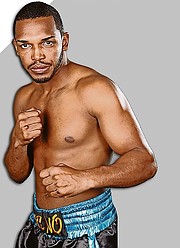 Tureano 'Reno' Johnson
#By RENALDO DORSETT
#Tribune Sports Reporter
#rdorsett@tribunemedia.net
#TUREANO Johnson has been added to a list of potential opponents for middleweight champion and super middleweight titleist Canelo Alvarez.
#Golden Boy Promotions President, Eric Gomez, said Johnson – the current WBC North American Boxing Federation champion – has been added to a list of prospective contenders that includes John Ryder Sergiy Derevyanchenko, Callum Smith, Anthony Dirrell and Jason Quigley.
#Alvarez's next fight is scheduled on DAZN on September 12.
#Gomez said the fight was as much about navigating the economy of the sport through the pandemic as it is about matching styles to make an appealing fight.
#"We're not going to close the door, we're not going to handicap ourselves, especially right now during the pandemic. You need all the help you can get," he told ESPN. "Some do, and then there's other fighters who need to wake up and don't understand it's a different world we're living in now."
#Gomez reiterated the the organisations stance on Canelo's direction with Sky Sports.
#"Canelo's always available to fight the best, he always wants to fight the best. The problem right now is fighters have to be reasonable — everyone has to be reasonable. So the first guy to step up and is reasonable, and understands we're in a pandemic, that's probably the guy who's going to get the fight," he said.
#"Because it's not like [where] we were a year ago when everything was normal and fine, and everything was business as usual. It's not business as usual, right now. We're in a pandemic."
#Johnson was scheduled to fight on April 4 in Moscow, Russia, against Magomed Madiev, but that was called off due to the pandemic.
#Now sporting a 21-2-1 win-loss-draw record, Johnson is coming off a victory over the previously undefeated Quigley on July 18 for the NABF middleweight title at the Fantasy Springs Casino in Indio, California.
#Just after his win over Quigley, Johnson was ranked No.8 in the World Boxing Council and No.15 in the International Boxing Federation. Prior to that, Johnson ended up with a draw against Fernando Castaneda on February 9 at the same venue. Those two matches came after Johnson got back into the ring after he suffered the second loss of his career on August 25, 2017, to Serhiy Derevianchenko at the Buffalo Run Casino in Miami, Florida.
#Johnson has won three minor titles. His first came on July 11, 2004 when he pulled off a 10-round unanimous decision over Mike Gavronski for the vacant WBC Continental of Americas middleweight crown at the Little Creek Casino Resort in Shelton, Washington.
#He went on to claim the WBC Silver and WBA international middleweight title in Madison Square Gardens, New York City, New York over Alex Theran on January 9, 2015.
#"We knew that the virus has hampered us for a while, but like Bahamians, boxers are resilient and so we knew it was just a matter of time that it would return," Johnson previously told the Tribune.
#"We are looking for another world champion Jamie Munguia, who is also a part of Golden Boys Promotions. Both of us are in the same club, so that fight should be easily made. Right now we are in deep talks to make that fight happen."
#Having returned home, Johnson was hoping to stay physically fit and in shape as his promoters from the Golden Boy Promotions DAZN continue to negotiate for the mandatory fight for a shot at the World Boxing Association (WBA) world middleweight title.
#"I'm training as hard as I could. I want to become the next Bahamian world champion and so I'm in dire need of getting in the best shape that I can without any interruptions.