Mako Aquatics Club members celebrate at the Betty Kelly Kenning swimming complex after winning the National Swimming Championships. Photo: Terrel W Carey Sr/Tribune staff
#By BRENT STUBBS
#Senior Sports Reporter
#bstubbs@tribunemedia.net
#The Mako Aquatics Club completed the 2019 Rev National Swimming Championships with their back-to-back victory at the Betty Kelly Kenning Aquatic Centre last night.
#At the end of the four-day meet, Mako Aquatic collected a total of 1,862.50 points to hold off the YMCA WaveRunners, who came in second with 1,458.50. The Alpha Aquatics got third with 1,159.50.
#"This one feels good. This one feels a lot better," said Mako's head coach Travano McPhee. "After the first year, we didn't know what to expect, but the team really came together.
#"We were pleased that the college swimmers came home and helped with the team. We're going back to the drawing board and hopefully go for a three-peat next year."
#The event featured a number of highlights, including FINA World Championships and Pan American Games qualifying performances as well as a number of Bahamas, Open and National records established.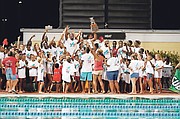 #Rounding out the rest of the teams in the competition were the Barracudas, fourth with 1,144; Lyford Cay, fifth with 365; Freeport Aquatic Club, sixth with 337.50; Blue Waves, seventh with 290; Team Orca, eighth with 182; Dolphins, ninth with 147; Mantas Water Polo, 10th with 141 and the Sea Waves, 11th with 52.
#Grand Bahamian Joanna Evans, home from her preparation for her professional career, surpassed the FINA World Championships' B cut of two minutes and 02.81 seconds by touching the wall in 2:01.55 in the girls' 15-and-over 200 metre freestyle.
#Evans, 21, also attained the Pan Am B standard in the girls' 15-and-over 100m freestyle of 59.95 when she did 57.53, along with Alpha's Ariel Weech in 59.61. Evans, however, said she intends to bypass the XVIII Pan Am, set for July 26 to August 11 and will be focusing on the World Championship, scheduled for July 12-28 in Gwangju, South Korea in her quest to qualify for the 2020 Olympic Games in Tokyo, Japan.
#"I just came home for the weekend to have some fun," said Evans, now training at her alma mater at the University of Texas pro.
#"I'm just getting ready for the World Championships and to have some fun here this weekend."
#Vereance Burrows, the elder statesman at age 30, is also hoping to make the World Championship team after he too passed up on going to the Pan Am.
#The Grand Bahamian native, now trains out of Miami Beach, Florida where he also manages a hotel/restaurant/night club/bar. "It was better than I expected, but I guess I didn't come here with any expectation," Burrows said. "I just have to do some fine tuning and I will be okay."
#In the 50 free, Burrows had to come from behind for the win in 23.33 ahead of Lamar Taylor.
#The 2008 Olympian, who also competed at the 2009 World Championships, said his dive was too high, so he had to swim down the field of younger competitors, which was quite different from him leading from the front.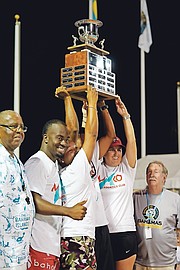 #Burrows also had a strong push in the 50m butterfly. While he got away to take the tape in a record breaking performance in 24.73, Davante Carey, the 16-year-old rising star, made his presence felt with his second place finish in 25.03. Meanwhile, Laura Morley, home to compete for Mako, made the A cut for the Pan American Games in the girls' 15-and-over 200m individual medley in two minutes and 19.0 seconds. The A standard is 2:19.99.
#"I'm really happy with that time. It was a best time for me," said Morley, who just graduated from Indiana University. "I came into this meet with no expectations because I'm in a really hard training period at school.
#"So just coming here and swimming in front of the home crowd is what really got me through it all. It was just fun to be home."
#The 22-year-old was followed by sisters Margaret, 19 and Lilly Higgs, 18, who did the Pan Am B standards of 2:28.92 in 2:20.13 and 2:6.39 respectively.
#Margaret Albury got the Pan Am A standard of 2:34.43 as she won the girls 15-and-over 2:34.09 over Lilly Higgs, who trailed in 2:39.99 for the B standard of 2:43.79.
#Izaak Bastian also attained the Pan Am B standard in the boys 15-and-over 200m IM in 2:09.71. The qualifying time was 2:11.90.
#Two competitors also achieved the Pan Am B standard in the boys 15-and-over 100m freestyle of 52.79. Alpha's Jared Fritzgerald won in 51.29 and Freeport's Lamar Taylor did 52.58.
#And in the boys 15-and-over 100m butterfly, both Mako's Davente Carey, in 55.54 and Barracuda's N'Nhyn Fernander, in 55.85, went under the Pan Am B qualifying time of 53.78.
#One of the top young swimmers to look out for in the future was Nigel Forbes from the YMCA WaveRunners from Grand Bahama.
#"It was good," said the soft spoken 13-yer-old Forbes, who attends Sunland Baptist School. "I think I performed very well, especially in the 100m butterfly." Forbes emerged as the high point winner in the boys 13-14 division with 63 points over Mako's archrival Erald Thompson III with 56.
#Other divisional winners were:
#Girls 8-and-under – Skyler, YMCA WaveRunners, with 48, two more than Alpha Aquatics' Saleste Gibson with 46.
#Boys 8-and-under – Barracuda's David Singh with 48, nipping YMCA WaveRunners' Kaylan Williams with 47.
#Girls 9-10 0 Zoe Williamson of Freeport Aquatic with 58, followed by YMCA WaveRunners' Daniel Passion with 55.
#Boys 9-10 – YMCA WaveRunners with 63 over Dolphins' Donald Saunders with 52.
#Girls 11-12 – Leylah Knowles of Alpha Aquatics' Leylah Knowles with 61, well ahead of runner-up Seannia Norville-Smith of the YMCA WaveRunners with 50.50.
#Girls 13-14 – Delaney Mizell of the Lyford Cay Club with 55, three more than runner-up Zaylie-Elizabeth Thompson of Alpha with 52.
#Girls 15-and-over – Katelyn Cabral of YMCA WaveRunners with 48 over Margaret Higgs, unattached, with 43.
#Boys 15-and-over – Davante Carey, Mako, with 49, five more than Alpha's Luke Thompson with 44.
#"It started with the 50 backstroke where I broke my own record in that," Carey said. "I went on to the 200m butterfly where I beat one of our giants, N'Nhyn Fernander, and got a Pan Am B cut.
#"The second day, I kept the energy going in the 50m butterfly, I almost beat Vereance Burrows, but I got my personal best in that. I got a couple more personal bests and I swum very well with our relay teams. So I can't be disappointed in my performance."
#The meet also featured some visiting swimmers from Liberia and Florida, who were entered to secure times to qualify for the World Championships.